Turkey tops the ranking compiled by Mabrian
Travel intelligence provider Mabrian has conducted a study on the emerging travel trends in the Russian market, and has found that Turkey is the destination that grew the most popular with Russian travellers during 2022.
The UAE and Armenia ranked second and third respectively. See the full list below.
The study was focused on hotel demand, comparing 2022 figures to 2019. In addition, Mabrian used its travel intelligence platform to analyse the more than 2 million reviews posted by Russian travellers over the past two years.
RELATED:
Visit Bahrain targets German, Russian and British markets
Air Arabia Abu Dhabi launches two Russian routes

European tourist destinations – including Italy, Germany, France, Spain and Greece – saw the most significant negative impact based on the current political situation, showing a drastic decrease in the presence of Russian tourists since 2019. Of all the countries impacted, Italy has been the destination that has seen the biggest drop in Russian visitors.
Along with the ongoing conflict, the fall of the value of the ruble during the summer of 2022 is also a factor, with the average hotel price in Italy on average 46% higher than the average in Turkey.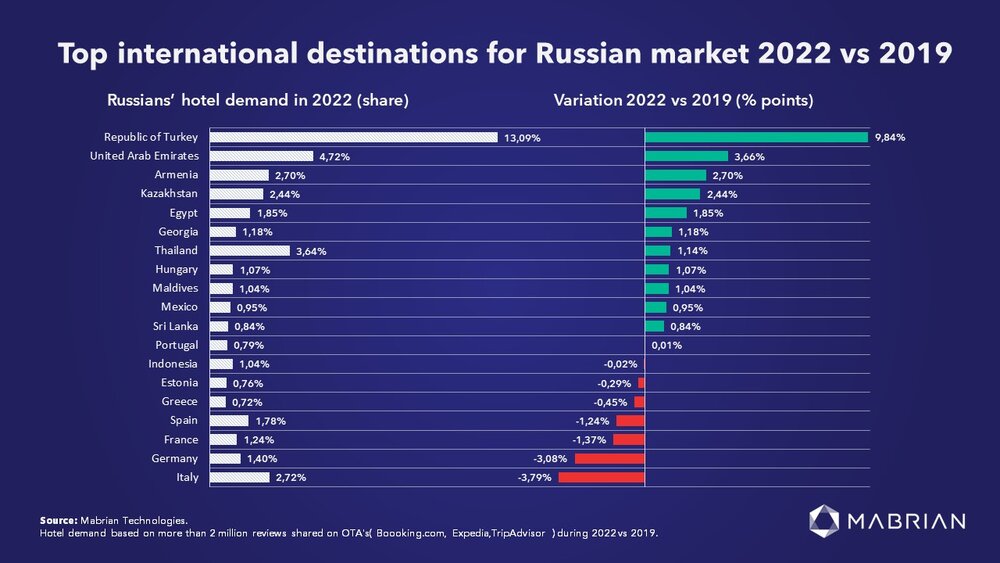 Mabrian director of Marketing and Sales Carlos Cendra said: "As one of the largest source markets for international tourism over the last 20 years, the Russian market plays a crucial role in the global travel industry, and in recent times it has become essential for destinations and companies to understand their evolving trends and preferences. Our study shows that the Russian travel market has been deeply impacted with the current situation."
For more information, visit www.mabrian.com
Don't Miss...
Royal Caribbean Arabia's Mohamed Saeed on 2023's best-selling cruises and incentives for agent