The new resort will be the first opening in Saudi's Triple Bay development
The resort will comprise beachfront residences, a hillside village and villas that line a private mangrove with a variety of accommodations. Located along Amaala's Triple Bay area, the resort will enjoy panoramic views across the Hijaz Cove to the Red Sea.
The 64 rooms, six suites, 30 villas and 25 branded residences are designed by architects U+A with interiors by Studio Carter. Integrating with the naturally occurring topography and using locally sourced materials, the look is inspired by the region's traditional coastal villages.
Spa facilities will include a cryotherapy chamber, a longevity clinic, and male and female thermal areas featuring Finnish and infrared saunas, herbal steam rooms, salt rooms, vitality pools and ice baths.
In addition, there's a Watsu pool, a sound dome, a yoga platform and multi-sensory relaxation areas.
RELATED:
Six Senses Zighy Bay appoints new director of wellbeing
Comment: Forget golden lobbies and think about how hotel guests really feel
Comment: How sustainability can make a hotel relevant

A host of activities will be offered based on Amaala's three pillars of wellness and sport, arts and culture, and sea, sun and lifestyle. There will also be clubs for kids and teens, prayer rooms and communal lounges.
Guests will be immersed in the aromas and flavours of the region as they pass the coffee roastery, bakery, water bar and shisha tea house.
Incorporating the 'Eat With Six Senses' philosophy of less is more and local and sustainable natural ingredients, the resort's all-day dining menus will be shaped by Middle Eastern and Mediterranean influences.
There'll also be a juice bar and fermentation rooms and the signature restaurant will offer Southeast Asian cuisine.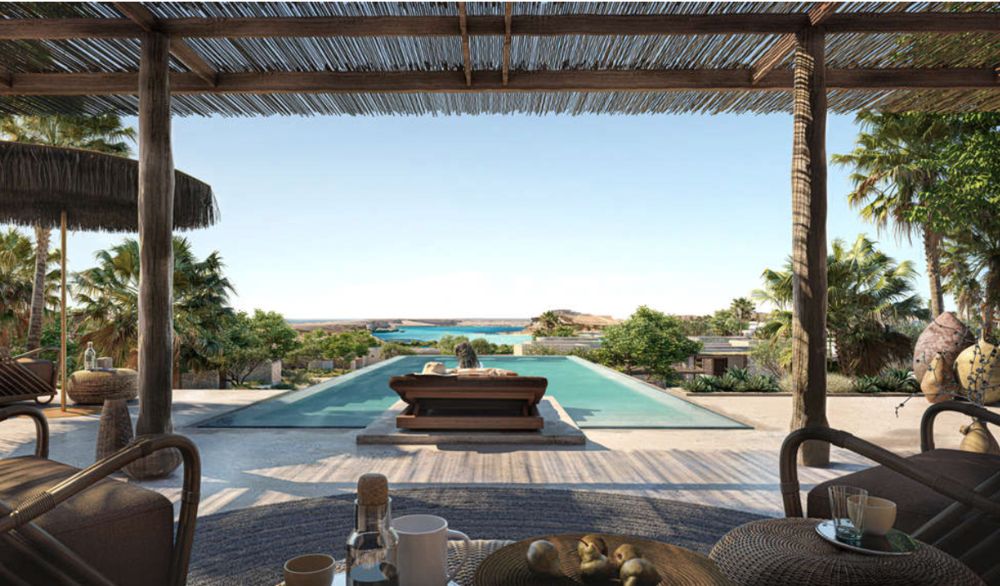 The resort will be home to 64 rooms, six suites, 30 villas and 25 branded residences
Six Senses CEO Neil Jacobs said: "We are connected by a shared commitment to the practice, appreciation and advancement of arts, culture, wellness and environmental preservation. Six Senses Amaala is part of a holistic hub for the arts, a leading diving destination, an extension of the Mediterranean yachting corridors, and an integrated wellness community, all of which we hope inspires guests to embark on transformative personal journeys."
GET YOUR FREE TRAVEL & TOURISM INSIGHT REPORT PRODUCED IN ASSOCIATION WITH DELOITTE
Sustainability is at the core of every facet of the resort's building and operating practices. This includes a dedicated desalination plant that has zero impact on the pristine coral reefs and a ban on single-use plastics.
Red Sea Global Group CEO John Pagano added: "This announcement also comes at an exciting time as we are close to welcoming the first guests to Six Senses Southern Dunes, The Red Sea, which will open in the coming months.
"Our growing relationship with the Six Senses brand across our expanding portfolio reflects our belief in the quality of operations they bring to every property, and our shared commitment to protecting and enhancing the environment."
For more information visit www.amaala.com