The Red Sea destination will launch its first hotel in 2023
Red Sea Global (RSG), the developer behind Saudi's Amaala and The Red Sea projects, has released an update on construction progress six years after it began.
The Red Sea's first three hotels and phase one of the international airport are on track to open later in 2023, and progress has also been made at a further 13 hotels and on the destination's supporting infrastructure.

Mountain resort Desert Rock, built into a rockface, is more than 50 per cent complete, while the construction of the wadi villas, guest hubs and the back of house is advanced.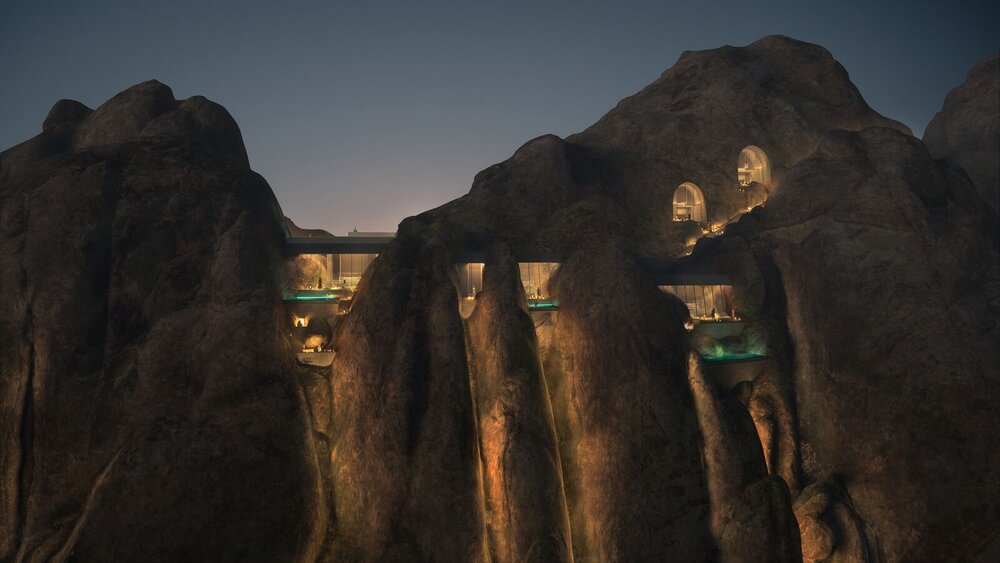 Desert Rock
Work is ongoing on all 11 Shura Island resorts. More than 100 construction contracts are in place, with a similar number out in the market for tender and the prefabricated timber structure on the Golf Clubhouse nearing completion.
RELATED:
Saudi's The Red Sea joins Serandipians' luxury network
Saudi's Red Sea Development Company partners with Accenture
Saudi's Neom announces Sindalah luxury island development
The developer is now moving onto beach formation and beautification works, which include the creation of new mangroves.
On Sheybarah Island, the first beach villas have arrived at the island; one of those and 38 stainless steel overwater villas have been successfully installed.
The developers said: "While the first overwater villa took nine hours to install, the developer perfected this process so that it now requires less than two hours."
The developer is also making substantial progress on the spa and two speciality restaurants.
GET YOUR FREE TRAVEL & TOURISM INSIGHT REPORT PRODUCED IN ASSOCIATION WITH DELOITTE
More than 760,000 photovoltaic panels have been installed to power phase one of construction. One of its five solar farms is located near Six Senses Southern Dunes, The Red Sea, which will be the first hotel to open at The Red Sea. The utilities at the resort are already being powered by the solar farm.
In addition, the Red Sea International Airport is progressing as planned and is on track to start receiving its first domestic flights later this year.
Group Red Sea Global CEO John Pagano said: "In six years, we have made exceptional progress, creating exquisite resorts and best-in-class, sustainable infrastructure in a remote location, demonstrating innovation in line with our regenerative approach and commitment to responsible development.
"While the anticipation builds for the opening of our first hotels and the initial phase of our solar-powered airport, we are busy working on the rest of phase one."
There are now more than 25,000 personnel working at the The Red Sea destination. Once fully completed in 2030, the destination will comprise 50 resorts and 1,000 residential properties across 22 islands as well as luxury marinas, golf courses, entertainment venues, restaurants and leisure facilities.
For more information, visit www.redseaglobal.com