Available from March, guests can bring their dogs
JA Hatta Fort Hotel has announced a new addition to its offering in the form of Terra Cabins.
Set to open on 1 March 2023, guests can now book their stays at the newly launched cabins, which offer a unique experience of reconnecting with nature and exploring Hatta's natural beauty.
Terra Cabins have been designed to provide a hotel-like experience in a low-impact and environmentally friendly way. They have been built using a combination of pine wood treated with a dusk-grey wash that allow the façades of the cabins to blend in with the surrounding Al Hajar mountains.
WANT A NEW CAREER IN TRAVEL? CLICK HERE
The accommodation incorporates sustainable solutions, including roofs that are slanted for the future installation of solar panels and insulation beneath the roof that helps to maintain the indoor climate.
The resort also offers dog-friendly cabins
Visitors can choose between the regular Terra Cabins, which accommodate up to four guests and include a bunk bed and double bed, and the Deluxe Terra Cabins, which accommodate up to six guests and include two bunk beds, a double pull-out bed and dedicated patio area.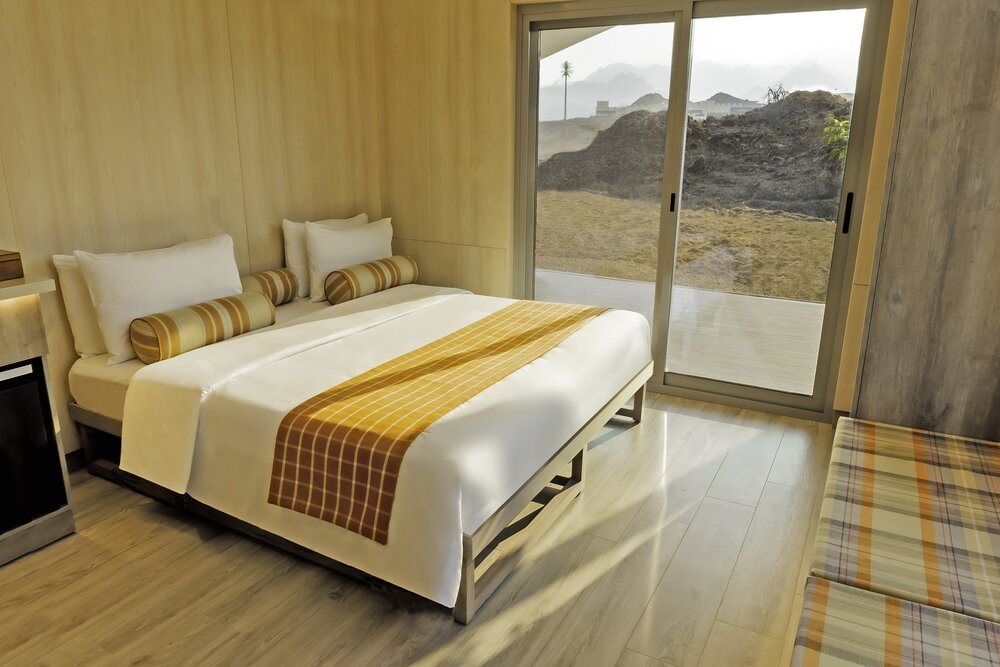 The rooms offer luxury ammeneties
Amenities include a mini-bar, walk-in rain shower and an on-demand multimedia projector. Guests also have access to all facilities at JA Hatta Fort Hotel, including 24-hour in-room dining services, specialty restaurants, and all leisure and recreational activities available at the resort.
Beyond the resort, recreational activities include hiking, biking and kayaking at Hatta Dam.
RELATED:
JA Resorts & Hotels to open new beach club in Dubai
UAE reveals plans to develop Hatta tourism
New glamping site opens in Hatta, Dubai
Commenting on the launch, JA Hatta Fort Hotel GM Deborah Thomson said: "As we looked at opportunities for growth, we equally weighed the project's impact on sustainability – which is why the Terra Cabins at JA Hatta Fort Hotel were completed with a minimal carbon footprint and sustainable future in mind.
"We are extremely proud of our momentum and continued commitment to follow an environmental movement that strongly aligns with the UAE's vision for 2023, 'The Year of Sustainability', as announced by His Highness, Sheikh Mohamed bin Zayed Al Nahyan, President of the UAE."
For more information, visit www.jaresortshotels.com