MEA region economic prospects marked by significant uncertainties, says report, but UAE presents lowest risk
The economic prospects for the Middle East and Africa (MEA) region are marked by significant uncertainties, primarily stemming from a worldwide economic slowdown, decline in oil production, and the ongoing food security issues, according to a new report from GlobalData.
Escalating heatwaves in the Middle East and a deteriorating humanitarian crisis in Africa further compound the difficulties.
Against this backdrop, the risk score of the MEA region was 53.5 out of 100, the highest compared to all other regions in GlobalData's Q2 2023 update.
The data and analytics company noted a slight dip in the MEA region's risk score from 54.4 in Q1 2023 to 53.5 in Q2 2023. This small decline was propelled by robust growth in the non-oil sector, driven by increased tourism and construction activities.
GET YOUR FREE TRAVEL & TOURISM INSIGHT REPORT PRODUCED IN ASSOCIATION WITH DELOITTE
Saudi Arabia's non-oil activities exhibited strong annual growth of 6.1% in Q2 2023, while the UAE recorded an average annual growth rate of 7.8% in non-oil activities during H1 2023.
In the 21st update version of GlobalData's 'Global Risk Report Quarterly Update – Q2 2023', which evaluated 56 countries in the MEA region, two countries were identified in the very low-risk zone, five countries in the low-risk zone, 14 countries under manageable risk, 20 countries under high risk and 15 countries in the very high-risk zone.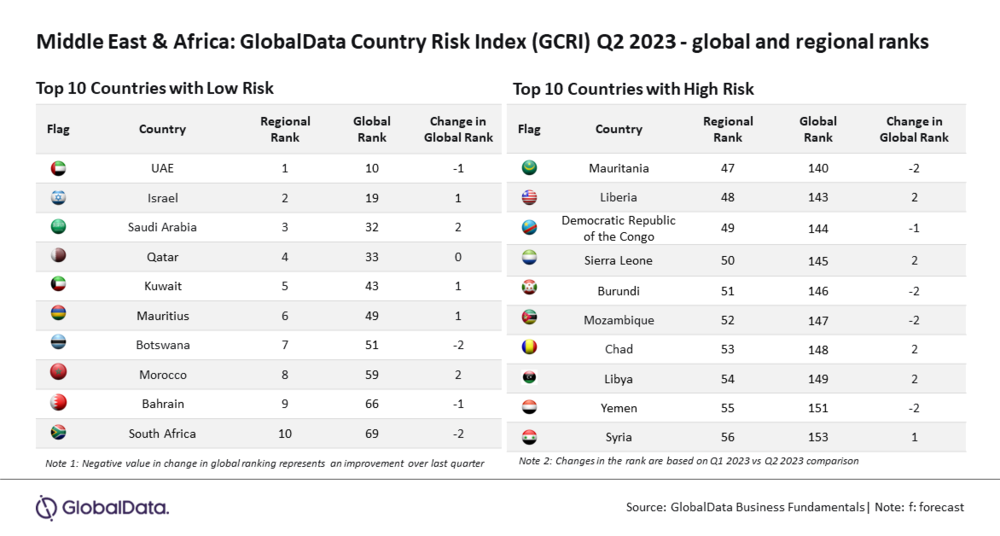 It's significant that among the top 15 high-risk nations out of a total of 153 countries assessed, 11 countries belong to the MEA region, and in the list of the 15 lowest-risk countries worldwide in the same update, only the UAE is included, topping the list.
Bindi Patel, senior economic research analyst at GlobalData, said: "GlobalData's projections indicate a substantial slowdown in the GCC nations' growth, dropping from 6.5% in 2022 to 2.1% in 2023. This deceleration is primarily attributed to the anticipated contraction of the hydrocarbon sector, driven by oil production cuts.
BUILD YOUR OWN TRAVEL BUSINESS. JOIN TRAVEL COUNSELLORS' NEXT EVENT TO FIND OUT HOW
"However, the growth outlook for 2023 is expected to be sustained by a 4.3% expansion in non-oil activities, as estimated by the World Bank. This growth surge is underpinned by increased private consumption and robust fixed investments."
A severe humanitarian crisis continues in Africa with the seven East African countries – Djibouti, Ethiopia, Kenya, Somalia, South Sudan, Sudan and Uganda – experiencing unprecedented levels of food insecurity, affecting nearly 60 million people, as reported by the World Food Programme in June 2023.
RELATED
Inside the Connecting Travel Insight Report launch at Conrad Dubai
Report: The rise of medical tourism in the Middle East
New report suggests hotel guest satisfaction is declining
In Q2 2023, a severe heatwave intensified climate change concerns across the region. Egypt reached 100°F (38°C), causing record power use and daily outages into September.
Jordan faced rising electricity demand. Baghdad sweltered at 120°F (49°C) with power shortages, while Kuwait hit 122°F (50°C) and Iran declared emergency holidays due to heat and electricity issues.
Patel concluded: "The region faces substantial economic, humanitarian and environmental challenges. Despite these difficulties, there are pockets of growth in non-oil sectors, and regional economies must look towards green growth strategies to both accelerate economic development and address climate change concerns."
For more information, visit www.globaldata.com