Dubai carrier's new seat offering proves a success in first year
Dubai-based carrier Emirates is celebrating the first year of full-service operations of its popular Premium Economy class since launching in August 2022.
Since Emirates debuted its Premium Economy Class, customer response has been overwhelmingly positive with demand exceeding expectations and bookings growing month on month.
Nearly half of all customers flying in Emirates Premium Economy are solo travellers and more than 60% are Emirates Skywards members.
RELATED:
15 Interesting facts about the Emirates A380
Emirates launches short flights from Dubai's DWC airport
Emirates launches flights to Montréal

Emirates currently flies its A380s with the latest Premium Economy cabins to 11 destinations including London Heathrow, Sydney, Melbourne, Auckland, Christchurch, Singapore, Los Angeles, New York JFK, Houston, San Francisco and Dubai.
As more retrofitted aircraft enter scheduled service, the airline is set to launch its Premium Economy product to two more destinations, Mumbai and Bengaluru, from 29 October 2023, with additional cities being announced soon.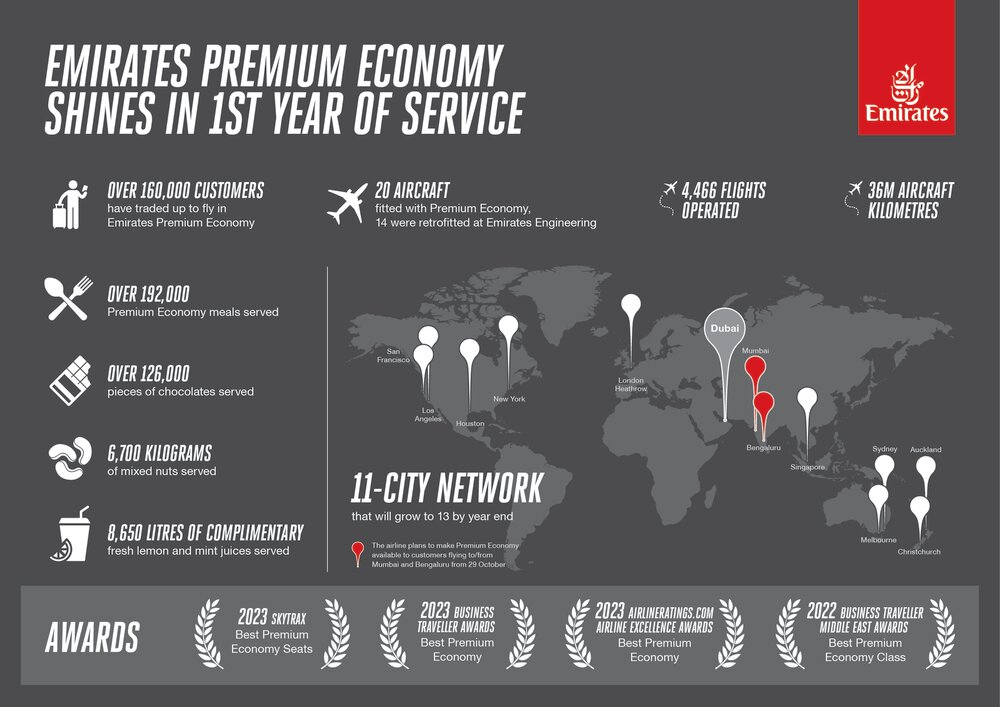 Source: Emirates
Emirates currently operates 20 aircraft fitted with Premium Economy, 14 of which were retrofitted in-house by the Emirates Engineering team in Dubai over the course of the last nine months.
Premium Economy menus are updated every month to ensure a diversity of dishes for well-travelled customers and the beverage selection includes Australian sparkling wine Chandon Vintage Brut 2016, alongside a choice of white and red wine.
GET YOUR FREE TRAVEL & TOURISM INSIGHT REPORT PRODUCED IN ASSOCIATION WITH DELOITTE
The Premium Economy roll-out is a core component of the airline's multi-billion-dollar retrofit programme, which will see the interior upgrade on 67 Emirates A380 cabins, as well as 53 Boeing 777 cabins.
By the end of the programme, more than 4,000 Premium Economy seats will be installed, along with over 700 First Class suites and 5,000 Business Class seats refurbished with the latest interiors.
For more information, visit www.emirates.com