The first in a series of travel trade roadshows took place in Riyadh and Dubai
Ahlan Arabia roadshows by dnata Representation Services took place in Riyadh and Dubai in January 2023.
Bringing together the travel industry, the events foster networking and knowledge-sharing. The first editions of the new series were well attended by global participants travelling to the UAE and KSA from across a range of destinations, looking to meet with regional travel industry partners. Event partners in attendance ranged from a bedbank (Yalago) to tourism boards and DMCs, including Arabian Adventures, Mercan Turkey, Red Sea Global, Spain Tourism, Tourism Ireland and Visit Qatar; and travel ancillaries WIS Group and travel insurance provider AIG, as well as several hotel groups.
Among the prestigious hotel groups present were Club Med, Constantinou Bros Hotels, Dreams Corfu Resort & Spa, Destination Hospitality Management, Dusit International, Five Hotels, Ikos Resorts, Sani Resorts, JA Resorts, Mode Sathorn Bangkok and Santhiya Resorts & Spa Phuket.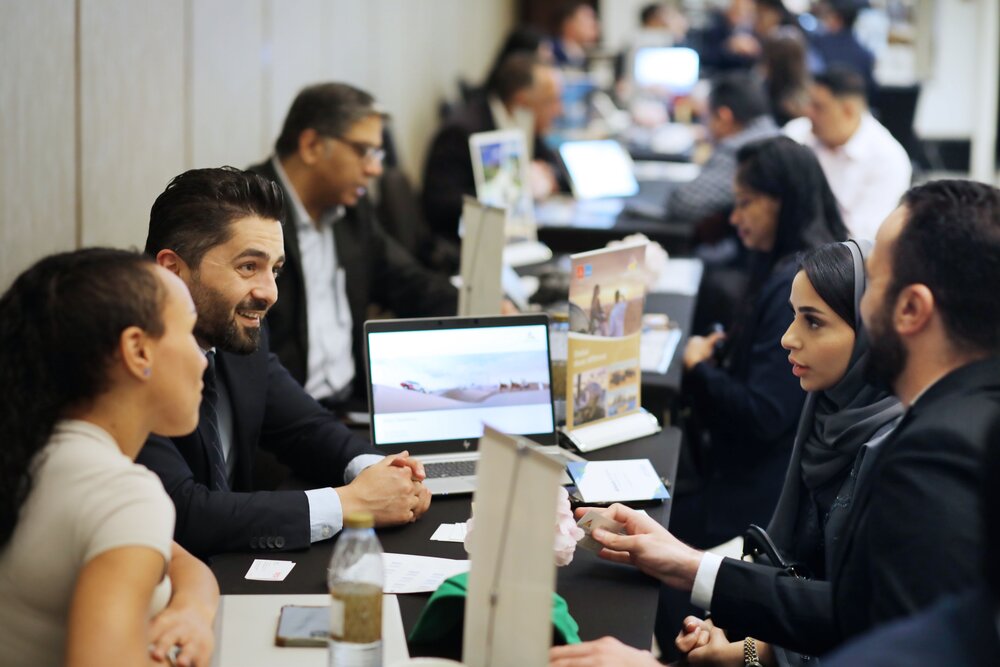 Representing various areas of expertise, featured partners showcased diverse hospitality and tourism product offerings, while media partner Connecting Travel hosted an industry panel discussing the most effective ways to connect with Middle East travellers.
Esteemed guest panellists included Matt Vlemmiks, leisure manager at dnata Travel; Katie Tarek, marketing and business development manager at Travel Counsellors, and Danielle Wilson Naqvi, chief travel seeker at Unique Family Travels.
RELATED:
Dnata inks partnership with American Express American
Dnata Travel reveals most populat holiday spots for UAE travellers
Vlemmiks said: "There are 13 dnata Travel retail stores across the UAE and we intend to grow our retail footprint further in 2023 with at least one store ready to be launched within the next few months. They are emerging as a preference with customers who want to make in-person travel bookings in the wake of the pandemic.
"When it comes to in-store promotions, location is key. We push different products in different stores. For example, The Dubai Mall offers volume with the greatest footfall, while Nakheel Mall typically offers the highest value per booking and is, therefore, better suited to luxury travel offerings. Al Barsha Mall typically sees a higher presence from local travellers and is therefore ideal to target UAE citizens."
Overseeing marketing for the UAE branch of Travel Counsellors, Tarek advised the audience on how to host the most effective fam trips for the travel trade.
Tarek said: "The optimum number of nights on a short-haul trip is four, between Monday and Friday so that agents are back in time to spend the weekend with their families. Hosts should never show more than two properties over a four-night stay, and it's also important to select the right agents for fam trips. At Travel Counsellors, we run a report on a set booking period to see how each agent has performed in that area. We may pick the top sellers or what we call 'high potentials', such as top sellers for other areas who haven't yet sold in the target market."
Working as a sole trader, Naqvi shared how she relies on Instagram for marketing. "Through Unique Family Travel, I try to bring the travel experience to life and showcase what resorts have to offer. I mostly post in the evenings, due to convenience rather than strategy and I share films of room tours and landscapes; I don't do food as I'm not a food photographer and can't do the dishes justice. Posts featuring unique properties do best. I've made $100,000 bookings from some of my pictures."
WANT A NEW CAREER IN TRAVEL? CLICK HERE
For more industry insights and meaningful connections, join the next Ahlan Arabia roadshow. Commenting on the success of the events, Rakhi Purohit, head of representation services at the dnata Travel Group said: "On behalf of dnata Representation Services, we'd like to thank all who attended our first round of Ahlan Arabia. Our new roadshow concept proved immensely valuable for delegates, and we're looking forward to bringing more opportunities for valuable travel industry networking and knowledge-sharing at our next round of roadshows in March."
New dates for a second edition of Ahlan Arabia roadshows by dnata Representation Services have now been announced. The Ahlan Arabia roadshows will take place in Riyadh on 13 March 2023 and in Dubai on 15 and 16 March 2023. The travel trade is invited to register their interest by emailing ahlanarabia@dnata.com.
For more information on dnata Representation Services, visit www.dnata.com/travel
In partnership with dnata Representation Services