All aboard for the new-season luxury spa treatments
To mark the start of the new season, Royal Scotsman, A Belmond Train, has announced a long-term partnership with Dior Beauty to create the Dior Spa Royal Scotsman, which will join the journey from 10 April 2023.
In homage to Christian Dior's love for Scotland, the new Dior Spa Royal Scotsman will be housed in one of the train's plush carriages. Completely dedicated to wellness, the carriage will boast two lacquered treatment rooms, restyled with Dior's iconic burgundy toile de Jouy motif.
BECOME A TRAVEL COUNSELLOR:
JOIN THE NEXT VIRTUAL DISCOVERY SESSION ONLINE
Dior Spa Royal Scotsman will offer guests a tranquil space to unwind and rejuvenate as the train snakes through Scotland's awe-inspiring peaks and dramatic valleys.
The new bespoke wellbeing menu will feature three tailor-made treatments devised by the French Mason's wellness experts to cater to the specific needs of the train's guests.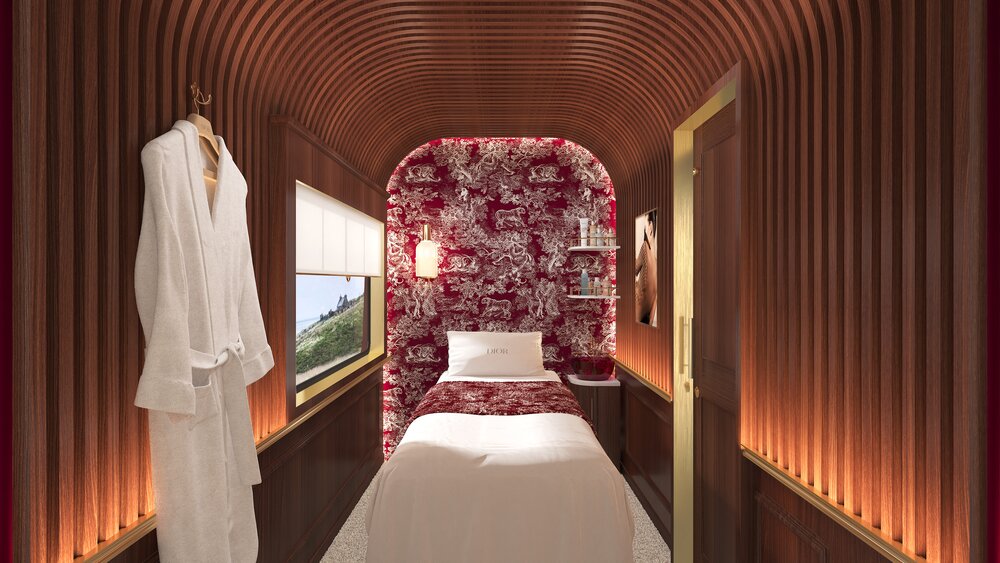 Dior Spa Royal Scotsman
In addition, running from 30 June to 3 July 2023, a new Highland Survival Adventure itinerary has been designed for adrenaline-seekers featuring several outdoor challenges in some of the most secluded locations in the Western Highlands.
Led by WILDNIS' guides' former Royal Marines Sergeant George MacHardy and seasoned survivalist Eliza Brown, participants will learn survival skills as they connect to nature.
The first day of the new three-night journey will be spent on board, as the train departs Edinburgh for Fort William. Day two will be dedicated to outdoor activities. Guests will explore the indigenous flora and fauna, take part in a modern-day Royal Marines Commando Assault Training programme and feast on an al fresco lunch prepared by WILDNIS chef and 'field to plate' cuisine advocate, Tom Byrom.
RELATED:
The Royal Scotsman's Grand Suites launch this May
Top 10 luxury train rides in the world
Belmond confirms divisional leadership appointments
On the third day, guests will put their skills to the test with an abseil down a cascading waterfall, rewarded by a reinvigorating wild swim session before Brown teaches guests how to survive in the wild.
Back on the train for their final night onboard, guests will dine on Scottish delicacies as Royal Scotsman makes its way back to Edinburgh, where it will arrive the following morning.
For more information, visit www.belmond.com