Discounted menus and guest chefs will attract foodies to Atlantis, The Palm and Atlantis The Royal
Atlantis Dubai will be hosting the fifth edition of its Culinary Month from 15 October to 29 November 2023 across both Atlantis, The Palm and Atlantis The Royal, both on Palm Jumeirah in Dubai in the UAE.
Throughout the event, Atlantis Dubai will host world-renowned chefs, including Mugaritz's Andoni Luis Aduriz and DiverXO's Dabiz Muñoz.
Four-hands Dinner
Culinary month will include a series of four-hand dinners with Atlantis Dubai's most esteemed chefs and visiting talents from Michelin-star-winning restaurants, among them Dabiz Muñoz from three-star DiverXO, and Andoni Luis Aduriz from two-star Mugaritz, both in Spain.
Gastón Acurio x Dabiz Muñoz
La Mar by Gastón Acurio at Atlantis The Royal
7pm to 11pm, Friday 3 to Saturday 4 November
AED990 per person
Christophe Devoille x Paul Occhipinti
The Royal Tearoom at Atlantis The Royal
2pm to 5pm, Saturday 4 to Sunday 5 November
AED590 for two
Grégoire Berger x Andoni Luis Aduriz (pictured)
Ossiano at Atlantis, The Palm
From 6pm, Wednesday 8 to Thursday 9 November
AED1,500 per person
RELATED:
Atlantis The Royal: How the Dubai icon is spurring international demand
Hotel Review: Inside Atlantis The Royal, billed as the world's most luxurious hotel
Dubai's Atlantis The Royal debuts
Special Events
During Culinary Month, special events include the Last Supper in Pompeii at Dinner by Heston Blumenthal, available from 6pm to 11pm from Wednesday 1 to Thursday 30 November, for AED1,250 per person.
Ariana Bundy's Saffron Harvest Menu will take place from 12pm to 3pm and 6pm to 11pm from Wednesday 1 to Wednesday 8 November for AED295 per person.
From 3pm to 5pm on Monday 27 November A Masterclass with José Andrés will invite guests to cook with the legendary Washington-based Minibar chef for AED1,500 per person.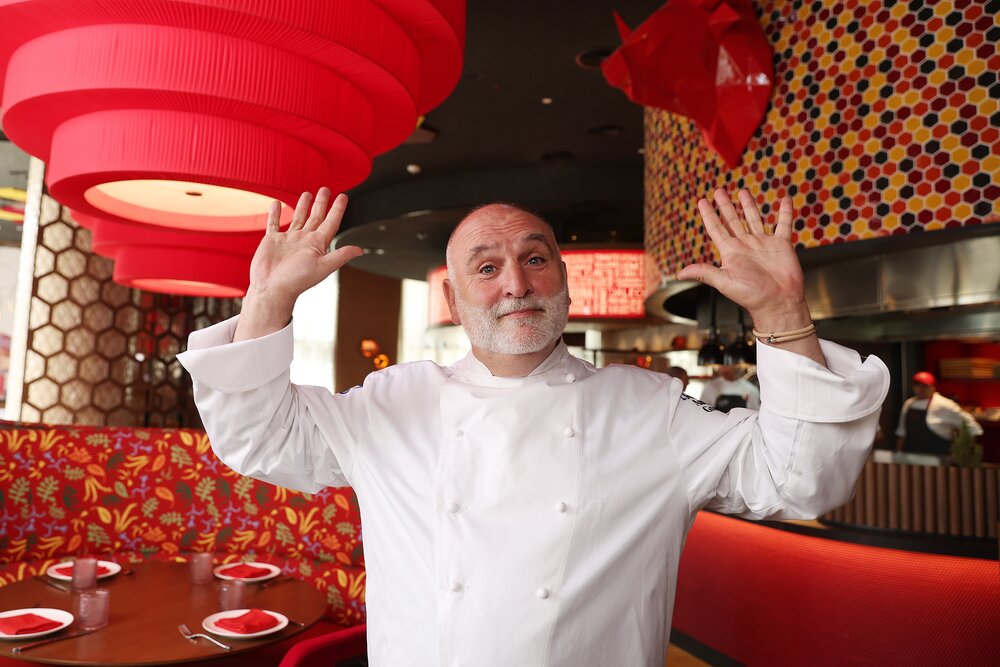 José Andrés
BUILD YOUR OWN TRAVEL BUSINESS. JOIN TRAVEL COUNSELLORS' NEXT EVENT TO FIND OUT HOW
Atlantis Restaurant Week
As part of the Culinary Month programming, guests will be able to experience Atlantis Dubai's restaurants at reduced pricing during Atlantis Restaurant Week, which will takes place from 6pm to 11pm from 15 to 21 October.

Participating restaurants include Nobu Dubai, Hakkasan Dubai, Dinner By Heston Blumenthal and Ling Ling.
AED150 menus will be available at Jaleo by José Andrés; Malibu 90265; Ayamna; Bread Street Kitchen & Bar, and En Fuego
AED350 menus will be available at Nobu by the Beach and Seafire Steakhouse
AED550 menus will be available at La Mar by Gastón Acurio, Dinner By Heston Blumenthal, Ling Ling, Estiatorio Milos, Hakkasan Dubai and Nobu Dubai
For more information, visit www.atlantis.com/dubai/whats-on/culinary-month