The famed British astronaut's series of talks will include sessions tailored for teens
Tim Peake is visiting Anantara Kihavah Maldives Villas Resort in November 2023 to host a special evening of conversation with guests and a separate talk about space dedicated to teens.
Situated in the Baa Atoll, a UNESCO Biosphere Reserve, Anantara Kihavah is home to the first overwater observatory in the Maldives and the most powerful telescope in the region.
The private island resort's location just above the equator means that both hemisphere's stars are visible from the resort. Coupled with minimal light pollution and open skies, it's possible to see sights such as the pale-yellow rings of Saturn and the counter-rotating zones and belts of Jupiter and the Omega Centauri in the Milky Way.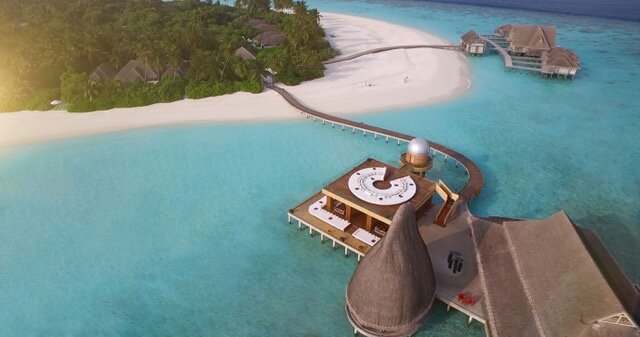 The resort has the most powerful telescope in the region
A relaxed and intimate talk on Peake's 'Journey Beyond Earth' will take place early evening on Thursday 2 November on Anantara Kihavah's Sky Deck, an overwater observatory combined with a luxury cocktail bar.
Tim will act as a personal guide through life in space, offering insights into what it's really like to be an astronaut, while guests enjoy cocktails and champagne.
RELATED:
Minor Hotels to open Avani property in Maldives in 2023
Minor Hotels to debut in Egypt in 2025
First Look: Avani+ Fares Maldives Resort
Tim's talk will be complemented by a 60-minute stargazing session at Sky with Anantara Kihavah's resident Sky Guru, Hammadh, who will take guests on a journey across stars and planets, clarifying what can be seen both with the naked eye and using the resort's powerful research-grade 16" Meade LX200 telescope.
A separate talk for teens aged between 10 and 18 will take place on Friday 3 November. A bestselling author, Peake has published a popular series of books for young teens, including the Swarm Rising books and The Cosmic Diary of our Incredible Universe. His chat about his books and life as an astronaut will be followed by a 60-minute stargazing session with Hammadh, tailored to younger guests.
GET YOUR FREE TRAVEL & TOURISM INSIGHT REPORT PRODUCED IN ASSOCIATION WITH DELOITTE
'Journey Beyond Earth: An Inspiring Conversation with Tim Peake' will take place on 2 November. Tickets cost US$165 per person, for up to 20 people accompanied by champagne, cosmic-inspired cocktails and canapes, and includes a 60-minute stargazing session with Sky Guru Hammadh.
For younger guests, tickets for 'Exploring Space with Tim Peake' cost US$125 per person for up to 10 guests with cosmic-inspired mocktails and snacks and a stargazing session with Hammadh.
For more information, visit www.anantara.com/kihavah-maldives