Luxury resort to reopen 1 April with several new offerings, including helicopter tours
Reopening for the season on 1 April 2023, Amanzoe will offer new experiences, including one-off dinners with three Michelin-starred chefs and helicopter tours to ancient cities.
Set on a peaceful Peloponnese hillside overlooking the Argolikos Gulf and its endless blue seas, Amanzoe is surrounded by gardens and olive groves.
Designed by renowned architect Ed Tuttle, Amanzoe comprises a collection of 12 one- to nine-bedroom villas. Every bedroom has its own en-suite bathroom and every villa features modern amenities, private pools, landscaped gardens and expansive terraces encouraging outdoor entertaining.
The cherry on the cake, Amanzoe's Acropolis-inspired Villa 20 features nine bedrooms with space to sleep up to 18 guests, plus six private pools and a 650-square-metre spa.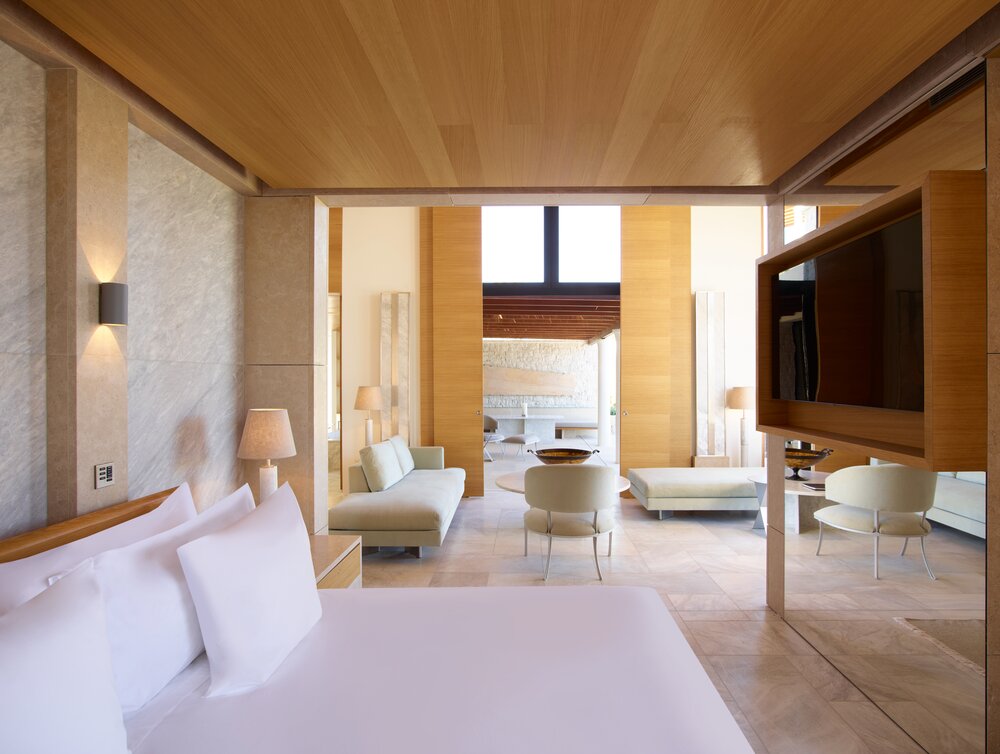 Amanzoe comprises 12 villas
Those visiting Amanzoe early in the season have the opportunity to discover the culinary skills of renowned chef Norbert Niederkofler of three-Michelin-starred restaurant St Hubertus at Rosa Alpina, an Aman partner hotel. The chef will host two exclusive dining experiences taking place on 30 April and 1 May 2023.
Amanzoe will also introduce several new culinary offerings in 2023. Those visiting the report's main pool for sunset cocktails now have the option of dishes from the Japanese-inspired Nama menu in a new, laidback setting with lounge seating.
In addition, a new Greek bostani breakfast made by a personal chef made with ingredients from the garden includes homemade local dishes such as spanakopita (spinach pie), freshly-picked fruit and seasonal marmalades.
BECOME A TRAVEL COUNSELLOR: JOIN THE VIRTUAL DISCOVERY SESSION ONLINE ON THURSDAY 23 MARCH
The property's spa is launching a new Optimal Living Mindfulness Retreat offering a comprehensive programme of mindfulness, breath work and meditative movement classes. Available for guests staying five nights or more from 6 April to 26 May 2023, the retreat is inspired by the four ancient Hellenic Delphic Maxims of 'Know Thyself', 'Perfection is the Middle Way', 'Certainty Brings Ruin' and 'I Am'.
The maxims will be unveiled through daily talks with local specialist Konstantinos Chrysikakis. Additional activities will include gentle exercise, meditation and massage, leading to improved mental wellbeing.
RELATED:
Janu Tokyo resort to open in autumn 2023
Aman Group reveals details of luxury cruise yacht
Aman New York to welcome guests
Another new launch for the coming season is the resort's updated fleet of high speed watercraft. Trips include visits to the car-free island of Spetses, known for its sea-faring traditions, neoclassical mansions and horse-drawn carriages, and to picturesque Hydra, also car-free and famous for its vibrant dining scene.
New helicopter experiences offer a unique way to visit several of the region's most exceptional sites in just one day. Four itineraries range from a scenic tour over the nearby ancient sites of Nafplio, Epidaurus, Mycenae and Monemvasia, to trips to the islands of Milos or Santorini, with the option to enjoy a leisurely lunch or even a vineyard tour between flights. A visit to the archaeological site of Olympia is another possibility, inviting discovery of the original birthplace of the Olympic Games.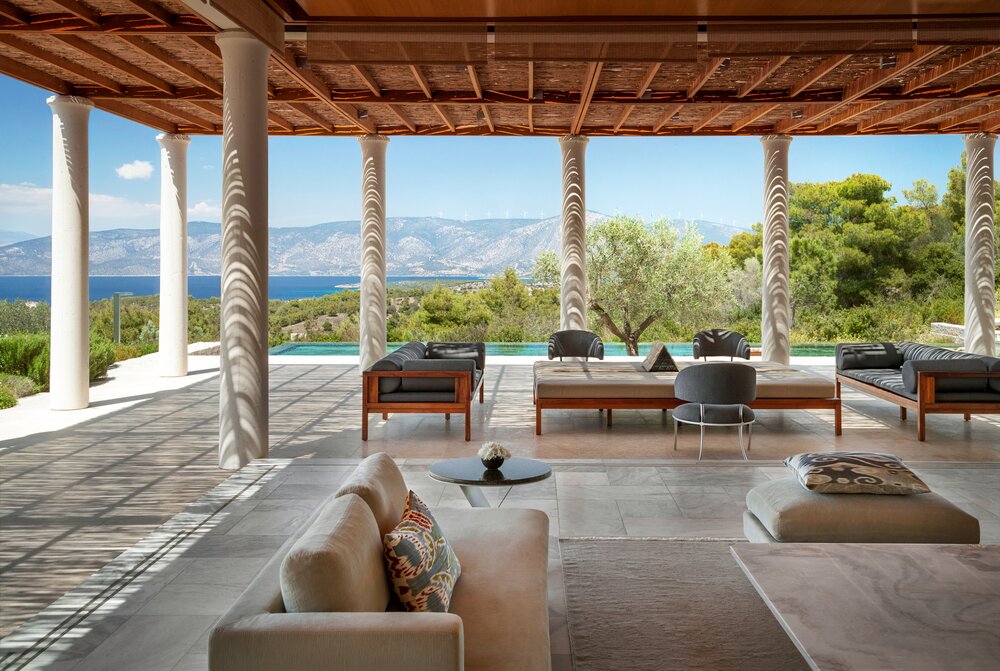 Villa 20 features nine bedrooms and six private pools
As the season progresses, Amanzoe will continue to offer its already extensive programme of activities with future plans including the introduction of a Summer Series. Taking place on specific dates throughout the year, the programme of entertainment and events will include dance performances, live music and theatre taking place in the resort's dramatic amphitheatre.
For more information, visit www.aman.com/resorts/amanzoe