Special discounts are now available on the Jais Flight and Jais Sledder
RAK Leisure (RAKL) has announced that Ras Al Khaimah's mountain-top Jais Adventure Park will remain open throughout the summer season so visitors can enjoy the adrenaline-fuelled experiences that include Jais Flight, Jais Sky Tour and Jais Sledder all summer long.
Visitors can now avail a limited-time discount of 20% off the ticket price of the world's longest zip line, Jais Flight, and 10% off the cost of the region's longest toboggan ride, Jais Sledder.
From now until 15 September 2023, Jais Flight and the adrenaline-pumping zip line experience Jais Sky Tour will operate Wednesday through to Sunday from 10am to 6pm.
RELATED:
Highlander hiking event returns to Ras Al Khaimah, UAE
Tomorrowland announces new desert getaway in Dubai
Sonara luxury camping concept launches in Ras Al Khaimah
The Jais Sledder will operate Tuesday through to Sunday, from 1pm to 7pm on weekdays and from 11am to 7pm on weekends.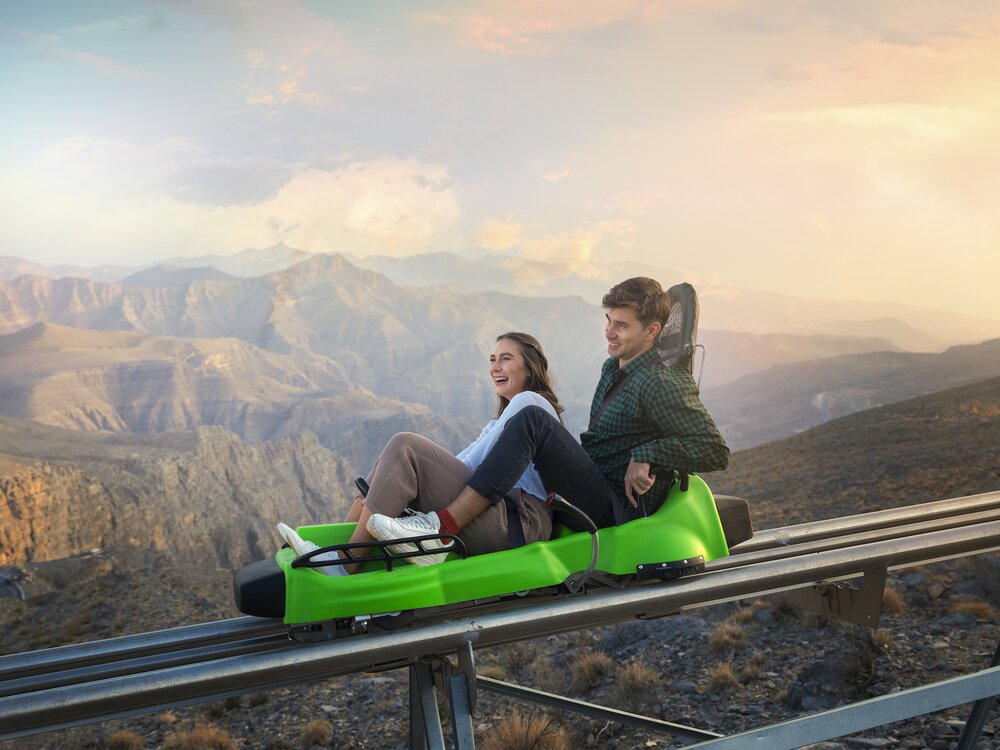 Jais Sledder
RAK Leisure general manager Steven Bishop said: "Jais Adventure Park will remain open for the entire season so people can still enjoy the great outdoors and our mountain playground even throughout the summer. Ras Al Khaimah is the perfect emirate for people who are wanting to plan a summer escape that gets them outside and is filled with adrenaline-packed fun. "
GET YOUR FREE TRAVEL & TOURISM INSIGHT REPORT PRODUCED IN ASSOCIATION WITH DELOITTE
Jais Adventure Park visitors will also be able to fuel their experiences throughout the summer at the UAE's highest restaurant, 1484 by Puro, and dine on dishes from around the world while taking in the impressive mountain views.
1484 by Puro and Puro Express will operate Tuesday through to Sunday from 9am to 9pm, and the destination's dessert café, SYR.UP by Puro, will also be operating Tuesday to Sunday from 9am to 9pm, so visitors can indulge in treats such as doughnuts, waffles, pancakes, soft serve ice cream and hot and cold drinks.
Located at the highest peak of the Ras Al Khaimah mountains, Jais Adventure Park provides adventurers with a variety of attractions and experiences for people of all ages.
To find out more, visit www.visitjebeljais.com