The Mediterranean-style hotel features just 50 rooms
Radisson Hotel Group has expanded its portfolio in Turkey with the opening of Radisson Blu Hotel, Kaş.
The property is the group's first hotel in the Antalya region and is part of its mission to expand its presence in Turkey to more than 45 properties.
Radisson Blu Hotel, Kaş features 50 rooms and suites in a Mediterranean-inspired design with pastel colours and stone floor tiles that offer garden or sea views and either a balcony or private pool.
RELATED:
How I got here: Tim Cordon, COO of Radisson Hotel Group, Middle East & Africa
Radisson Hotel Group reveals 2023 Middle East expansion plans
Radisson Hotel Group opens new hotel in Morocco
The hotel is home to à la carte restaurant Zeugma, which offers guests breakfast and dinner options inspired by local Turkish cuisines, with dishes including grilled beef tenderloin medallion and Turkish delight iskender kebab. At Terasu'shi Restaurant, guests can savour Asian cuisine, while Ares Bar provides a comfortable setting to relax and enjoy a wide selection of drinks.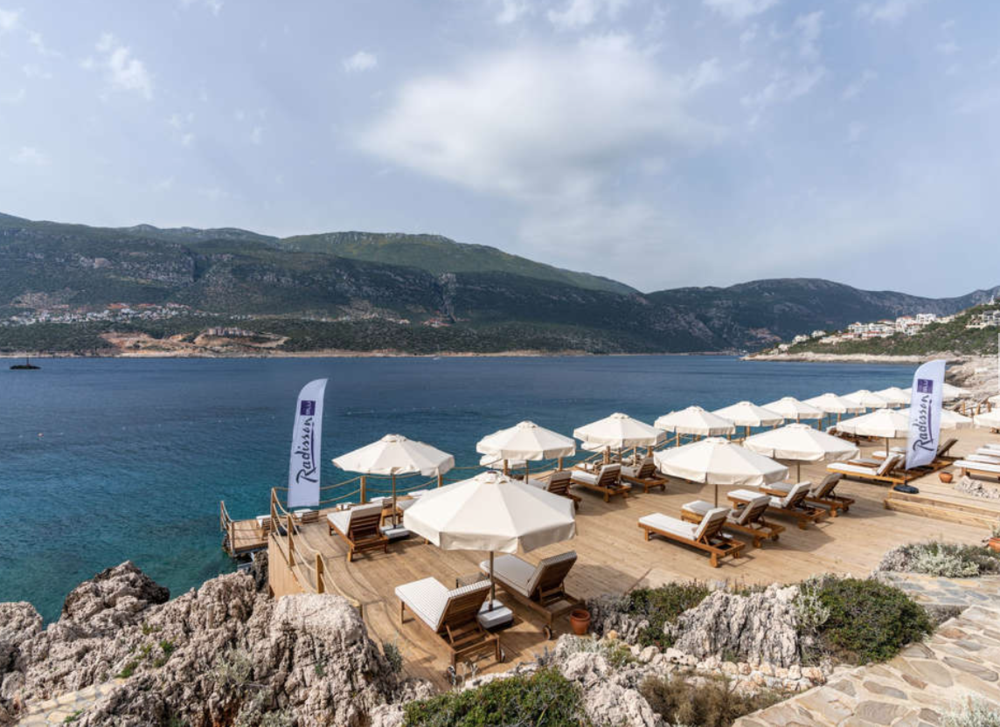 The resort is surrounded by beaches
Guests wishing to relax can indulge at the Pur Well Massage & Therapy Center, offering a range of treatments including classic massages, aromatherapy, skincare and special therapy packages.
GET YOUR FREE TRAVEL & TOURISM INSIGHT REPORT PRODUCED IN ASSOCIATION WITH DELOITTE
Radisson Blu Hotel, Kaş is situated on the Mediterranean coast and is surrounded by beaches. Guests can explore the sea life in Akvaryum Bay, which is an ideal spot for swimming, snorkelling and diving, or they can take a boat tour to Kekova.
The nearby Kaputaş Beach is one of the most famous beaches in Turkey and the island of Meis is just a 30-minute ferry ride from Kaş. For guests seeking a historic and culturally rich experience, a visit to the ancient city of Patara is a must to see the historical ruins dating back to 100 AD, including a Roman theatre, triumphal arches and stone columns.
For more information, visit www.radissonhotels.com/en-us/hotels/radisson-blu-kas