The launch of Iaïla, Seychelles marks the brand's debut in the country
Tribute Portfolio, part of Marriott Bonvoy's collection of independent hotels, has opened its latest addition: Iaïla, Seychelles, a Tribute Portfolio Resort.
Located close to Anse Royal, the white-sand beach on the Southeastern coast of Mahé, the resort aims to showcase the hidden gems of the island for travellers who seek independent experiences and a connection with the local community when travelling.
Designed by MMAC Design, each of the resort's 76 bespoke guest rooms is decorated with nature-inspired aesthetics, featuring a mural of the Seychelles' national plant silhouette, hand woven macramé bed board and room separators made with wood and rattan, the natural materials used in the island's traditional architecture.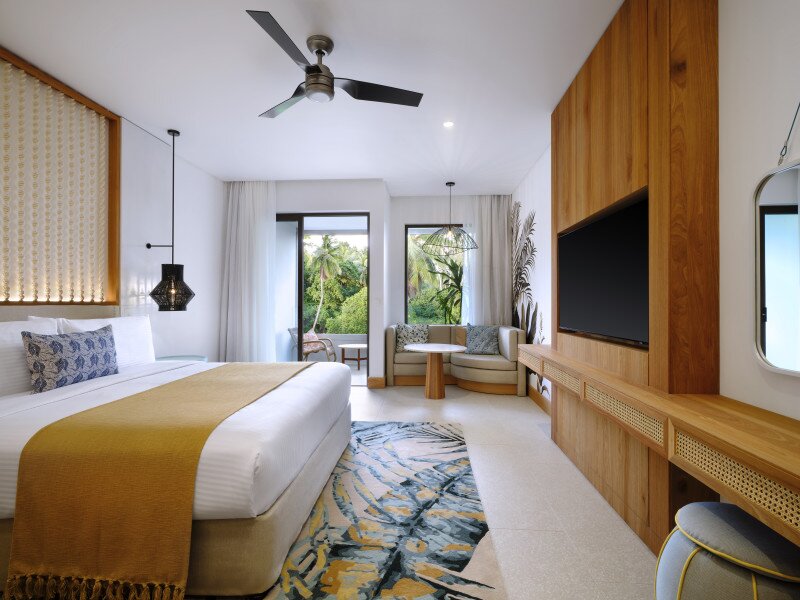 The resort comprises 76 bespoke guest rooms
The resort also features eight boutique suites, including the Senior Suite with a private plunge pool and terrace overlooking the Indian Ocean and surrounding mountains.
Dining options include five restaurants and bars, designed to capture the spirit of the community and attract guests and locals alike. Laroul offers an international array of cuisines and cultures with a distinctive Seychellois touch throughout the breakfast and dinner services. Signature dishes feature daily catches from the Indian Ocean and seasonal produce, such as grilled red snapper and star fruit flambé.
Kafe Kreol Beachside Bar and Restaurant is a rustic concept serving up authentic Creole and Italian cuisine paired with both classic and locally inspired cocktails made with Takamaka Bay rum and fresh local produce, such as coconuts and tamarind.
Poolside Laroul Bar offers expertly prepared drinks and snacks.
RELATED:
Marriott International to expand Saudi footprint
Marriott to launch more than 20 Middle East properties in 15 months
The Ritz-Carlton, Amman announces new sales and marketing director
Onsite facilities include an outdoor swimming pool, a 24/7 gym, spa, barbershop and kids' recreation area. Guests can also take part in thoughtfully curated village experiences, including Creole cooking classes, traditional weaving demonstrations and evenings dancing around a bonfire to the traditional sounds of Moutya music.
Additionally, guests can enjoy sunrise yoga, jogging along the resort's tropical trails, jewellery making classes using foraged shells, and water sports including paddle boarding, kayaking and snorkelling at the famous uninhabited 'Ile Souris' coral island, which is frequented by an array of coral fish and sea turtles.
After a day of inspiring adventures, guests can relax at the Iaïla Spa with expert therapists who offer a full range of facial and body treatments, which include healing practices using organic and handmade products made with local ingredients, such as coconut, vanilla and cinnamon.
BECOME A TRAVEL COUNSELLOR:
JOIN THE NEXT VIRTUAL DISCOVERY SESSION ONLINE
Commenting on the news, Marriott International vice president, Premium & Select Brands, Europe, Middle East and Africa, Sandra Schulze-Potgieter said: "We're thrilled to be opening Iaïla, Seychelles, a Tribute Portfolio Resort and to introduce the brand to this vibrant, leisure destination.
"As the first Tribute Portfolio property in the Seychelles, further growing the brand's footprint in EMEA, this resort advocates the brand's passion for captivating design and sincere service, while offering experiences that connect guests to the spirit of the destination."
Marriott Bonvoy Members will earn points for their stay at the new resort, and at other properties across Marriott Bonvoy's portfolio of 30 extraordinary brands, including all-inclusive resorts and premium home rentals, as well as through everyday purchases with co-branded credit cards.
For more information, visit www.marriott.co.uk