The global culinary event will take place on Wednesday 5 June 2024
Harnessing the glitz and glamour of the Nevada state, the accompanying event programme is backed by 50 Best's host partner, the Las Vegas Convention and Visitors Authority (LVCVA).
"We are thrilled to head to the US as we announce Las Vegas as the location for The World's 50 Best Restaurants 2024 awards, in collaboration with our host destination partner, LVCVA, and venue partner Wynn Las Vegas," said Director of Content for The World's 50 Best Restaurants, William Drew.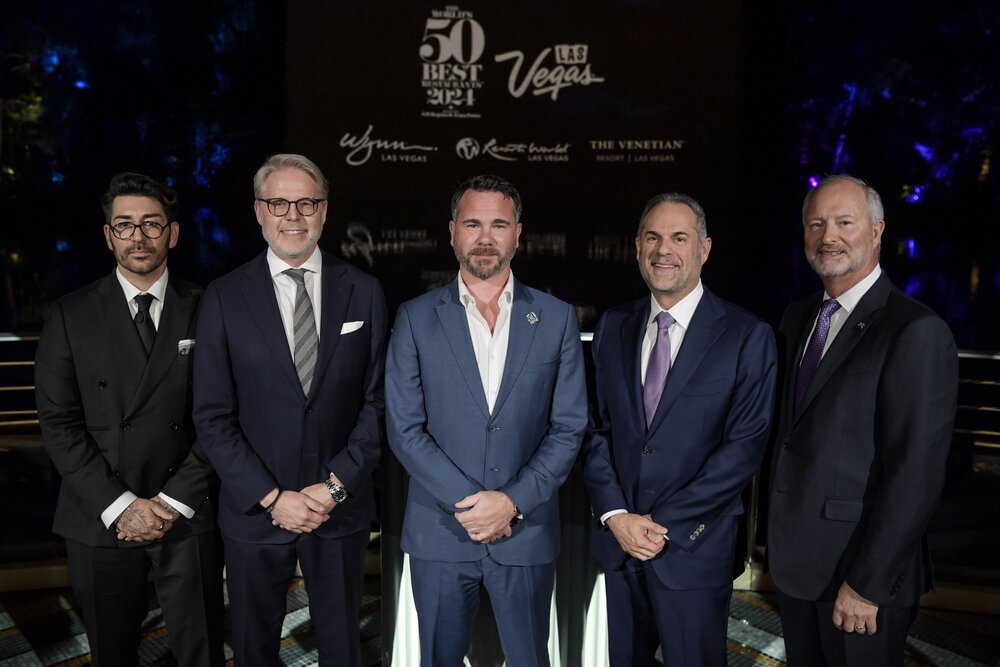 W50B's Tim Brooke-Webb with Vegas partners
Commenting on the partnership, president and CEO of the LVCVA, Steve Hill said: "We are honoured that The World's 50 Best Restaurants recognises Las Vegas as a global culinary destination and has selected us as the official host destination for the 2024 awards. Just like the city itself, the culinary landscape in Las Vegas is constantly evolving, and we are thrilled to showcase the breadth and depth to world-renowned chefs, restaurateurs, and culinary leaders from around the world."
BUILD YOUR OWN TRAVEL BUSINESS. JOIN TRAVEL COUNSELLORS' NEXT EVENT TO FIND OUT HOW
Brian Gullbrants, chief operating officer of Wynn Resorts, North America, added: "It's our sincere privilege to be the host resort for the prestigious The World's 50 Best Restaurants 2024. For nearly two decades, Wynn Las Vegas has been the epicentre of this city's gastronomic community with our uniquely curated restaurant portfolio.
"We have sought to advance the culinary conversation with progressiveness and true excellence in hospitality. Now, we set the stage to celebrate the very best chefs, restaurateurs and culinary enthusiasts from around the world."
Highlights of the event programme will include thought-leadership forum #50BestTalks exploring some of the most pertinent topics affecting the hospitality world today; a 50 Best Signature Sessions series of collaborative dining events open to the public, which sees 50 Best chefs cooking alongside local talent in one-off dining experiences, and a Chefs' Feast showcasing the finest cooking in Las Vegas.
For more information, visit www.theworlds50best.com, www.lvcva.com and www.visitlasvegas.com