Find the clock icon to put the tool to the test
Kayak has integrated ChatGPT, the AI-powered language model developed by OpenAI, into its Best Time to Travel tool.
This addition is intended to allow Kayak users to compare flight and hotel prices gathered by the metasearch engine alongside seasonal information, such as the weather forecast, to determine the best time for their next trip. Local cultural events are also flagged.
In the early stages of development, marked by a clock icon on the www.kayak.com site, the tool is not yet visible on the www.kayak.ae website or app (which users in the GCC region are automatically redirected to), but it can be found by directly visiting the link www.kayak.com/best-time-to-travel.
RELATED:
98% of UAE travellers are open to visiting cheaper, lesser-known destinations
EMEA travellers booking trips further in advance, according to Skyscanner
Europe hotel rates see inflated spike
To determine the best time to visit a destination, Kayak's travel search engine uses data from billions of search queries and predicts flight prices up to nine months in advance.
Best Time To Travel users are asked to type in the destination they wish to travel to in order to receive the best month to travel there as well as a second recommended date focused on events and festivals in the area.
BUILD YOUR OWN TRAVEL BUSINESS. JOIN TRAVEL COUNSELLORS' NEXT EVENT TO FIND OUT HOW
Connecting Travel asked the tool when to travel from Dubai to Croatia to test its capabilities. The tool recommended March primarily, and, as the second best time to travel, June during the Summer Festival. Recommended flights and hotels were listed, but no direct flights were available, which serves as a reminder of the limitations of artificial intelligence compared to the insight of an experienced agent.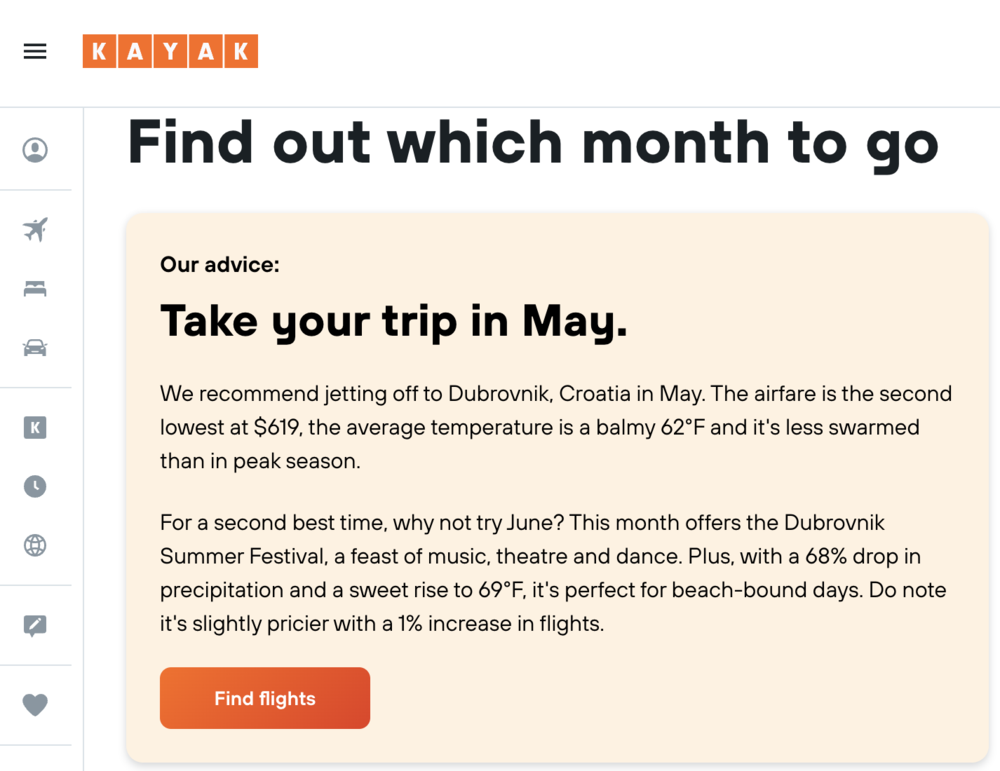 Kayak chief commercial officer Annie Wilson commented: "Today's travellers want to know as much as possible before they set off on their trip, so they can get the best experience that suits their budget.
"Thanks to our new Best Time to Travel service and the recent integration of ChatGPT, there's no need to rely solely on the opinions of friends or acquaintances when it comes to travel planning."