Jayasom Wellness Resort, Amaala joins a collection of international brands at the destination
Destination wellness resort operator Jayasom has revealed plans to open its inaugural flagship health resort in Amaala, one of the world's most ambitious tourism destinations developed by Red Sea Global (RSG).
With 177 rooms, Jayasom Wellness Resort, Amaala will be situated in Triple Bay and will comprise a family wellness centre alongside an adults-only zone, as well as residences for sale to private owners.
The resort facilities are designed to immerse guests in a journey of personal transformation, with approximately 7,000 square metres dedicated to holistic health, fitness, physiotherapy, nutrition, aesthetic beauty and a spa.
WANT A NEW CAREER IN TRAVEL? CLICK HERE

From exercise-based programmes to build strength and flexibility to minimally invasive beauty procedures using the latest US FDA-approved technology, all programmes will be supported by a nutritional plan.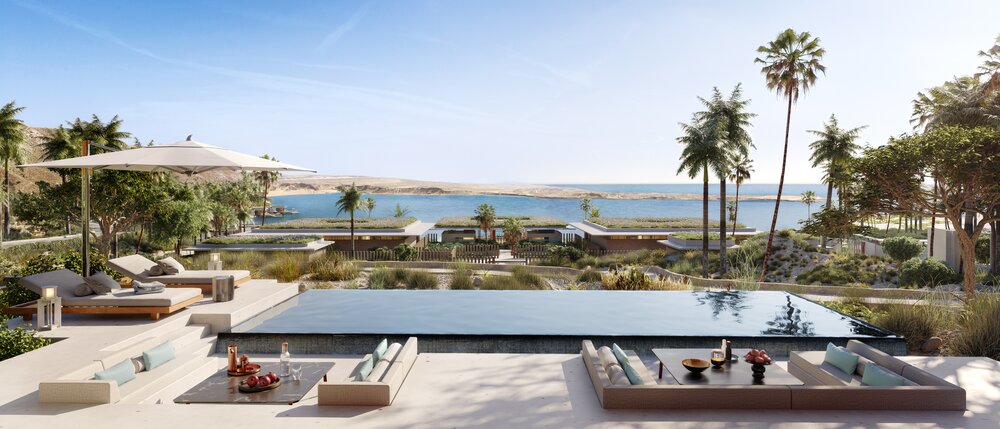 The resort's adult accommodation
The resort design features spaces dedicated to contemplation, self-healing and self-discovery, and there will also be wellness trails and yoga pavilions.
Commenting on the news, Jayasom CEO Karen Campbell said: "We are delighted to announce our inaugural flagship property and look forward to sharing our integrative wellness approach with visitors and residents at Amaala. Health is a key motivator for travellers today and we are honoured to be leading the way on this ambitious project in partnership with RSG."
RELATED:
Clinique La Prairie health resort to open in Saudi Arabia
Saudi's Red Sea Global launches water sports operators
Saudi's The Red Sea joins Serandipians' luxury network
Red Sea Global Group CEO John Pagano added: "Jayasom will offer our guests a holistic sanctuary where they will be surrounded by the stunning natural landscape of the Red Sea coastline. We want visitors to truly appreciate the beauty of this unique destination while focusing on their transformative journey through the world-class wellness facilities on offer. This partnership is yet another exciting step in growing our luxury brand portfolio at Amaala and welcoming our first guests next year."
Jayasom Wellness Resort, Amaala will form part of the first development phase of Amaala, comprising eight resorts, scheduled to welcome its first guests in 2024. Upon completion, Amaala will be home to more than 3,000 hotel rooms across 25 hotels, and approximately 900 luxury residential villas and apartments.
Also under development in the Jayasom portfolio is a retreat in Ibiza, with more planned in Japan, India, Malaysia and China.
For more information, visit www.jayasom.com