Hilton's paper- and plastic-free stand will feature reusable material, as well as local food and plants
The 30th edition of Arabian Travel Market (ATM) will explore the future of sustainable travel. The exhibition will also feature a sustainability category at its annual exhibitor awards for the first time.
Exhibiting organisations will be recognised based on the extent to which they have considered the environmental impact of their stands, as well as their efforts to reduce their carbon footprint, and Hilton hotel group has its eye on the prize.
Jochem-Jan Sleiffer, president, Middle East, Africa & Türkiye, Hilton, said: "This year, we've carefully created an ATM stand that not only reduces our environmental footprint, but also showcases the lasting positive impact Hilton has on its local communities.
"We have worked with several of our trusted partners to deliver some of the most innovative examples of sustainability you'll see at this year's Arabian Travel Market (ATM), so our sights are firmly set on the ATM Most Sustainable Stand award.
"These efforts at ATM are part of a much broader set of sustainability goals for Hilton, paving the way to a net-zero future and creating an engine of opportunity in the communities where we live, work and travel."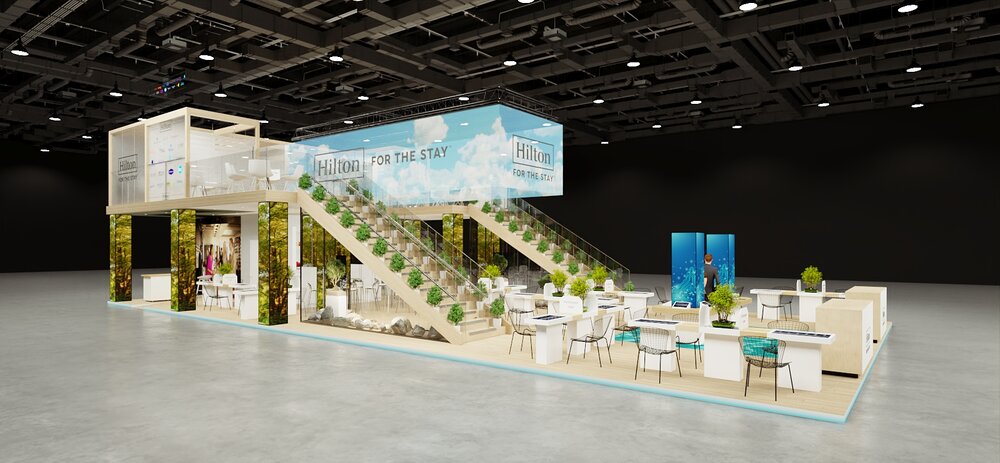 Hilton's stand will be free from paper and single-use plastics. Working with Nuevo Design to source directly from environmentally responsible suppliers, all building materials featured will be reused, recycled or from sustainable origins.
Nuevo Design also implements energy reduction initiatives throughout their production and construction process, from using eco-friendly cleaning products to energy-efficient lighting and equipment.
Hilton found that one of the biggest causes of waste in stand building comes from packaging, and to combat this it will use packaging material from previous trade shows and then store this packaging for future use with Nuevo Design.
Working with Goumbook, Hilton has sourced plants locally that have strong air purification properties and don't require natural light, making them resistant to the show's indoor conditions and fit to be re-used after the event.
RELATED:
Hilton names new cluster GM at Al Seef hotels in Dubai
Conrad Hotels & Resorts debuts in Morocco
Hilton debuts Conrad brand with new Sardinian coast hotel
During the event, all Hilton marketing materials will be shared electronically and attendees will be invited to connect with the hotel group via the Emperia app.
Hilton will measure carbon output from team members travel to the event and offset this through the Goumbook partnership, which will involve the planting of more than 550 mangrove trees in support of the UAE's Ministry of Climate Change and Environment's goal to plant 100 million mangroves by 2030.
All F&B items for the event will be sourced within a 50-mile radius from Fresh on Table, a UAE-based agritech platform, and Hilton has partnered with a carbon labelling company Klimato to calculate and display the CO2 impact per dish, helping visitors and team members make environmentally conscious decisions about their meals.
Dishes are designed to be leave zero waste, but any food left over will be collected by Reloop to make eco-friendly compost, and filtered back into the UAE farming community.
All packaging material will also be fully compostable, including bamboo plates and cutlery made from the bark of UAE palm trees manufactured by a Dubai-based Palmade.
BECOME A TRAVEL COUNSELLOR:
JOIN THE NEXT VIRTUAL DISCOVERY SESSION ONLINE
BE WTR will offer zero-plastic and zero-waste water dispensers with still and sparking water. Coffee will come from Nespresso, and all Nespresso coffee capsules are fully recycled at BEE'AH's recycling facility in Sharjah. In addition, coffee grounds will be given to Greenfields Farms in Umm al Quwain to use as a compost mix base. Tea will be by AVANTCHA, organic-certified, brewed in biodegradable silk tea bags, and naturally farmed as part of its commitment to sustainability.
The winner of the ATM Most Sustainable Stand award will be announced at this year's ATM, running from 1 to 4 May 2023 at Dubai World Trade Centre.
As part of Hilton's global Travel with Purpose ESG targets, the hotel group aims to cut emissions intensity by 75% in managed hotels and by 56% in franchised properties by 2030.
Don't Miss...
Royal Caribbean Arabia's Mohamed Saeed on 2023's best-selling cruises and incentives for agents