The Oscar winner stars in the airline's summer campaign
Emirates has revealed its latest ad campaign, which features world-famous actress Penelope Cruz.
Cruz is a frequent flyer with Emirates and has visited Dubai multiple times.
The new TV spots will air globally from June 2023, in both English and Penelope's native tongue, Spanish. With the slogan 'travel is not just about the end destination; it's also about how you get there', the short ads show Cruz sampling all the exclusive luxuries that Emirates First and Business Class customers experience.
Assets highlighted include the airline's A380 Onboard Lounge, to opportunity to take an indulgent shower above the clouds or cheer on a football game shown on live TV, to generous helpings of first-class caviar.
RELATED:
Emirates passengers can now access free Wi-Fi onboard
Emirates to launch daily flights to Toronto to meet demand
Emirates and Air Canada launch joint loyalty programme
Cruz is also filmed adjusting the personal temperature controls in her private First Class Suite, using bespoke binoculars to enjoy the sky-high views, and wearing the Emirates hydra-active moisturising pyjamas to settle in for a siesta in her lie-flat bed, surrounded by an array of luxury amenities.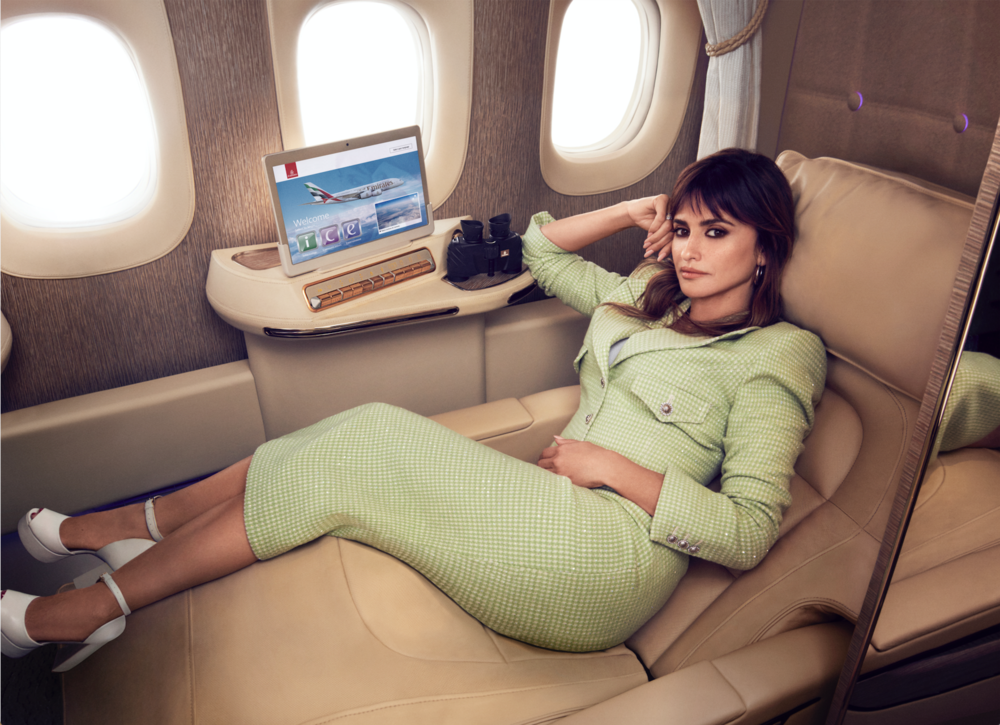 The campaign will launch this summer
Emirates senior vice president of Brand and Advertising Richard Billington commented: "Emirates is all about Flying Better, where the journey to your destination matters as much as the place itself. We take care of every detail in the Emirates experience and wanted a brand ambassador who reflects the Emirates brand – it needed to be someone classy, stylish, and having modern global appeal. Penelope was the perfect fit."
GET YOUR FREE TRAVEL & TOURISM INSIGHT REPORT PRODUCED IN ASSOCIATION WITH DELOITTE
Following in the footsteps of other globally successful ads such as Burj Girl, Jennifer Aniston and Gerry the Goose, Penelope Cruz's ad series will be aired globally and featured on Emirates' own digital channels, with more joint activities to be announced over the coming year.
For more information, visit www.emirates.com