The emirate ranked among cities including London, Tokyo and Paris
Holiday rental portal Holidu has commissioned a comprehensive study to explore the culinary appeal of 75 cities worldwide. These cities were selected based on their strong presence in multiple rating directories, acknowledging both renowned food hubs and emerging gastronomic destinations.
Rounding out the top five is Dubai in the UAE as a destination with a number of upscale and award-winning restaurants. The emirate is home to a large expat community, which has contributed to the boom in the culinary industry alongside the recent introduction of the Michelin Guide, which has attracted talent to the region.
London took first place as the best city in the world for food diversity. Whether you are looking for traditional British fare, exotic cuisines from faraway lands, or innovative dishes that challenge your taste buds, London has it.
RELATED:
98% of UAE travellers are open to visiting cheaper, lesser-known destinations
EMEA travellers booking trips further in advance, according to Skyscanner
Europe hotel rates see inflated spike
New York City too second place for its melting pot of cultures and cuisines, followed by
Paris in third place, famed for its traditional boulangeries, bistros and brasseries and multitude of Michelin-starred restaurants.
Ranked fourth, Tokyo's vibrant dining scene spans traditional Japanese fare, international haute cuisine and iconic train station ramen stops with loyal queues forming daily.
BUILD YOUR OWN TRAVEL BUSINESS. JOIN TRAVEL COUNSELLORS' NEXT EVENT TO FIND OUT HOW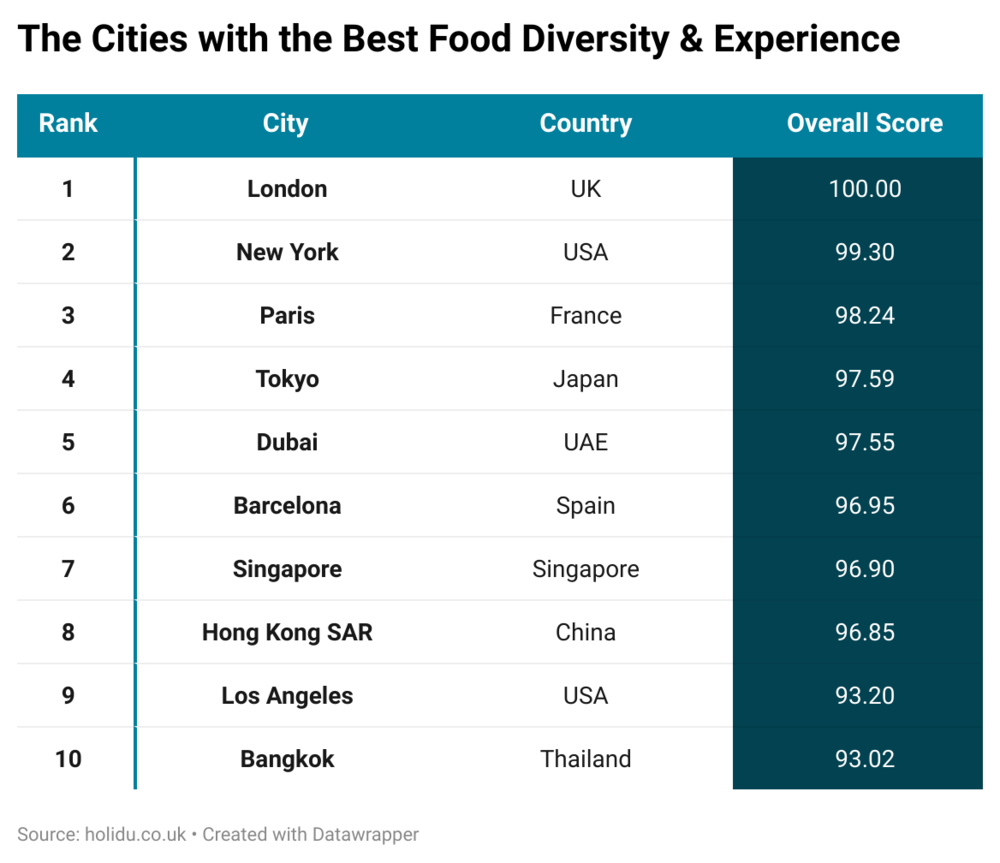 Holidu senior PR manager Sarah Siddle said: "Whether you've always dreamed of trying monjayaki on a hidden street of Tokyo or dining on machboos at a Bedouin feast in the Dubai desert, this study is the ultimate foodie bucket list.
"Every delicious destination in this index can offer inspiration to food industry professionals as well as burgeoning chefs, gastronomes and globetrotters."
For more information, visit www.holidu.co.uk