Set in an up-and-coming area in the UK capital, rooms will cost from US$490 a night
The Art'otel group has confirmed that Art'otel London Hoxton will officially welcome guests from March 2024.
This is the second UK opening for the Art'otel following art'otel London Battersea Power station this year.
Fusing art, design and hospitality, the property will to add to London's evolving Hoxton neighbourhood, and feature works by signature artist D*Face – full name Dean Stockton – who fellow-artist Banksy named 'the sticker king of London'.
RELATED:
6 Excellent hotels for art lovers
Como Hotels and Resort to launch first French property
Interview: Kimberly Rose Kneier on rising wellness trends in 2023
Rising up in the heart of Hoxton, the hotel is home to 357 art-inspired guest bedrooms and suites.
The hotel also comprises a selection of 48 unique suites including a 196-square-metre Masterpiece Suite. Interconnecting rooms can be configured to create two-bed and three-bed suites. Amenities will include environmentally conscious toiletries, bathrobes and hairstyling tools by Dyson.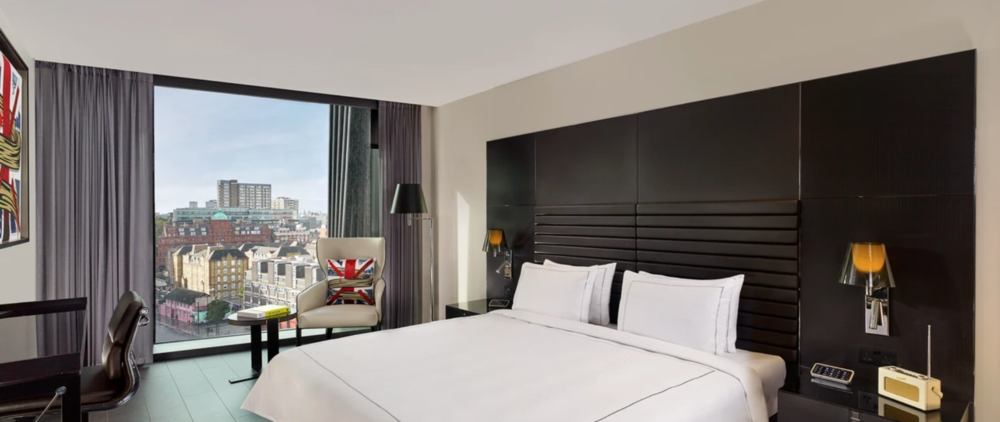 Facilities include bars and restaurants with outdoor terraces, an immersive art gallery, flexible events spaces for up to 300 guests, and a state-of-the-art 60-seat auditorium for movie screenings and product launches.
There will also be an indoor swimming pool, and spa with four treatment rooms, a sauna and a steam room, as well as a skyline gym on the 26th floor.
BUILD YOUR OWN TRAVEL BUSINESS. JOIN TRAVEL COUNSELLORS' NEXT EVENT TO FIND OUT HOW
On the ground floor, guests can enjoy a cafe and bar with its own outdoor terrace, plus an art-filled bar, lounge, and restaurant on the first floor. Further details of the restaurants and bars, including the 25th floor destination restaurant with views across the capital, will be announced at a later stage.
Resembling a cogwheel design, architects Squire & Partners have created a building that puts Art'otel London Hoxton front and centre in the creative community, next to fashionable Shoreditch with easy access to multiple tube stations.
Rooms will start at £400 (US$490) per night.
For more information, visit artotellondonhoxton.com