To mark 15 years of operation, here are 15 things you may be surprised to discover about the iconic aircraft
Emirates will celebrate its 15th anniversary of operating the Airbus A380 this year. To mark the occasion, Connecting Travel has gathered 15 fun facts about the aircraft.
1. Runways had to be rebuilt to accommodate it.
When the A380 first began flying in 2008, many airports had to overhaul their runways to accommodate it as the aircraft is so big. It weighs around 575 tonnes, equivalent to two and a half times the weight of New York's Statue of Liberty.
2. The A380 is the largest passenger aircraft ever made.
It can accommodate up to 615 passengers in a two-class configuration, with more than 550 square metres of usable floor space across two decks.
3. Each A380 is staffed by two dozen crew.
Up to 24 Emirates crew operate on every A380 flight.
4. The A380 wingspan is almost 80 metres.
The huge wings are as wide as an Olympic size swimming pool.
5. A380 First Class compartments feature showers in the sky.
Complimentary toiletries include Emirates Private Collection Bvlgari amenity kits.
RELATED:
Emirates launches short flights from Dubai's DWC airport
Emirates launches flights to Montréal
Emirates to launch daily flights to Toronto to meet demand
6. A380 First Class compartments house 14 fully-enclosed Private Suites.
They were designed to give passengers the feeling of having their own private jet.
7. More than 43 million dine-in guests eat on A380 flights every year.
Dishes are created from 12,000 recipes per year, rustled up by 1,800 chefs.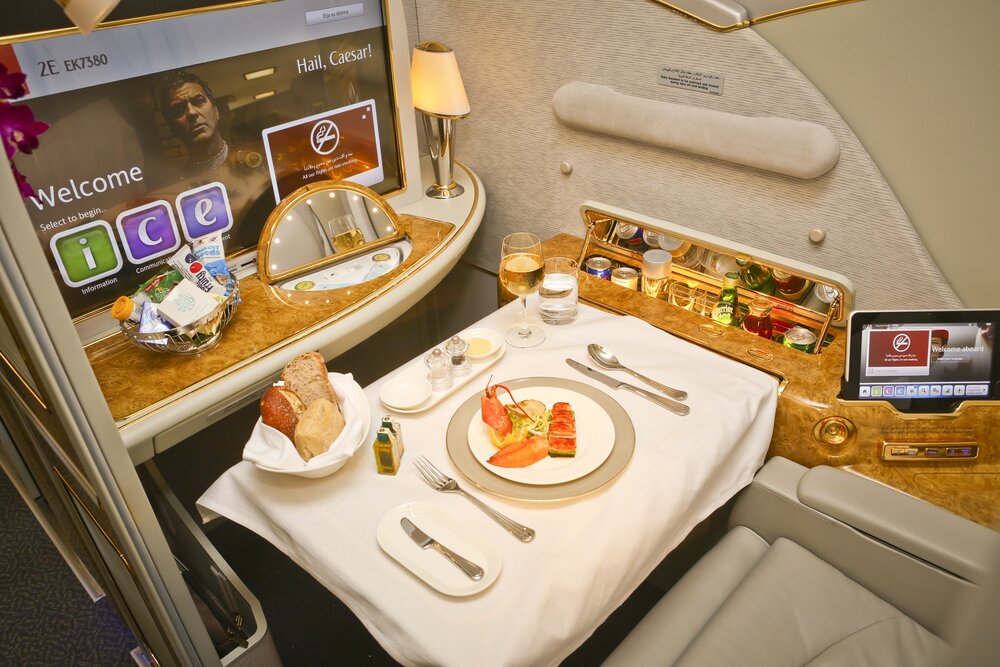 Emirates A380 First Class
8. First Class guests can enjoy unlimited caviar.
Caviar can be served with unlimited Moët Hennessy Champagnes, which have been available onboard Emirates for more than 30 years.
9. Emirates is the only commercial airline officially serving Moët & Chandon, Veuve Clicquot and Dom Pérignon.
The airline has exclusive agreements in place with champagne houses until 2024.
10. The shortest A380 flight is just under two hours and 50 minutes.
The route flies from Dubai to Jeddah. The longest Emirates A380 route is Dubai-Auckland, with an estimated flight time of more than 17 hours.
GET YOUR FREE TRAVEL & TOURISM INSIGHT REPORT PRODUCED IN ASSOCIATION WITH DELOITTE
11. The A380 is one of the longest-range aircraft in the world.
It's capable of flying distances of up to 15,000km between take-off and landing.
12. The A380 cruising altitude is 15 times higher than Burj Khalifa.
With a cruising altitude of 43,100ft, the A380 also flies more than 42,000ft above The Shard in London.
13. The A380 inflight entertainment system has 6,500 channels.
Fliers can choose between movies, TV shows, live sports and breaking news on Emirates' Ice in-flight entertainment system.
14. A US$2 billion retrofit programme is underway.
Cabins across 67 A380s are being retrofitted to include the latest products and interiors, including new Premium Economy seats.
15. Emirates is the largest operator of the A380.
Dubai's national carrier has a total of 116 of the aircraft in its fleet.
For more information, visit www.emirates.com