The Beverly Hills Conference and Visitors Bureau CEO is harnessing the power of show business
Connecting Travel talked to Julie Wagner, CEO of Beverly Hills Conference and Visitors Bureau (BHCVB), about maintaining and sustaining a reputation as the world's first luxury destination and remaining relevant to today's luxury travellers harnessing the star power of television and show business.
CONNECTING TRAVEL: Beverly Hills is billed as the world's first luxury destination, often marketed by the world's most high-profile platform – show business! How has the destination highlighted its movie industry connections?
JULIE WAGNER: The city of Beverly Hills has a long-standing association with the entertainment industry, and its unique connections have played a significant role in establishing its status as a premier luxury destination. The destination has capitalised on this and the fact that many celebrities, eat, play, shop and live here.
Through various experiences, visitors are able to get a rare glimpse into the lives of their favourite celebrities, such as movie stars' home tours and urban walks, that follow where movies and TV have been shot across the city.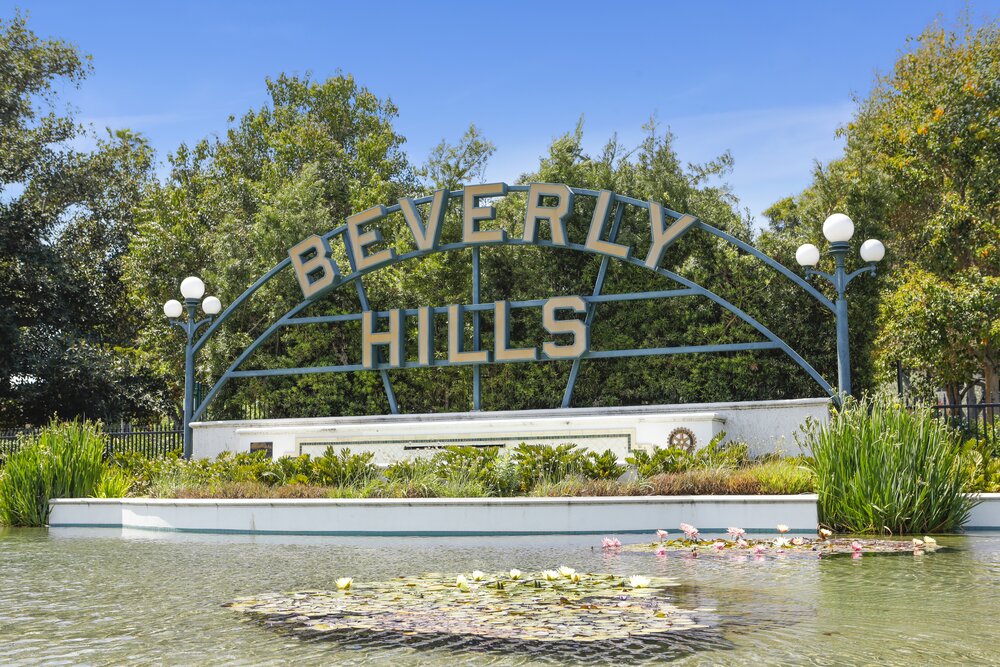 Beverly Hill's iconic signage
Less formally – and always by chance, because celebrities often come here – visitors are sometimes surprised by sightings of famous people on the streets and in the establishments in Beverly Hills. Meanwhile, restaurants in Beverly Hills have paid homage to the glamour and history of these connections with dishes and cocktails inspired by and creatively named after stars and movies. This further enhances the allure of the destination.
And of course, the entertainment industry is how the city because what it is today when Douglas Fairbanks and Mary Pickford choose to build one of the first homes here at the same time the Beverly Hills Hotel was opened.
Fairbanks and Pickford laid the foundation for the city's reputation as the ultimate luxury destination, attracting visitors from around the globe
CT: According to Expedia Group's 2023 Travel Trends Report, 39% of global travellers booked a vacation to a destination they saw in a movie or TV show. Which films and shows have generated the most business for Beverly Hills?
JW: Beverly Hills has served as a backdrop for various films that have showcased the city's sophistication. From classic movies to contemporary productions, our city has captured the imagination of filmmakers and audiences alike. Historic landmark Greystone Mansion alone has been the filming location for so many films, ranging from 1963's House of the Damned to 2014's Teenage Mutant Ninja Turtles.
GET YOUR FREE TRAVEL & TOURISM INSIGHT REPORT PRODUCED IN ASSOCIATION WITH DELOITTE
One television show from the 1990s played a pivotal role in making our zip code, 90210, globally recognised and synonymous with luxury and sophistication. Beverly Hills, 90210 captivated audiences worldwide and the show's popularity played a significant role in generating interest and curiosity about the city and securing international recognition of Beverly Hills as a symbol of elegance and exclusivity.
To this day, Beverly Hills continues to be a sought-after filming location with our picturesque streets, elegant mansions and luxurious settings providing the perfect backdrop for both movies and television productions.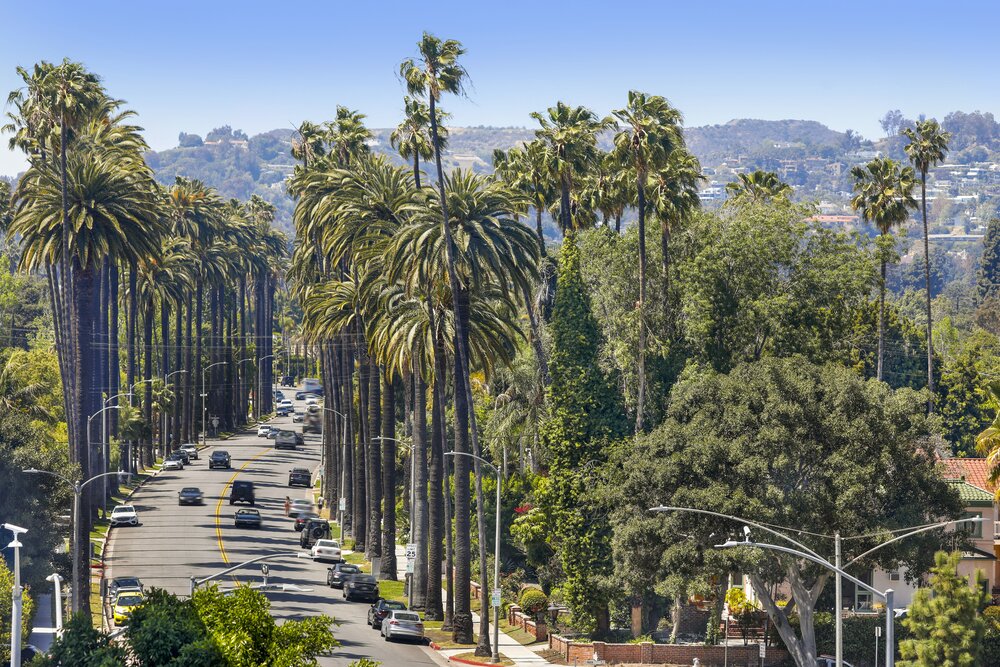 The famous streets of Beverly Hills
CT: Is the entertainment industry as relevant today in marketing to new audiences?
JW: The entertainment industry is certainly part of the allure and, as long as images of celebrities living their lives here are captured, it will continue to have influence on how people see us.
Visitors want to go where the stars are in the hope of seeing them or living like them. When you sit down at our restaurants, or walk into our hotels, you never know who you might see. People love that aspect of Beverly Hills and it's a powerful driving factor for many travellers.
The ongoing influence of social media and digital platforms has also amplified the relevance of our connections to the entertainment industry in marketing to new audiences. Platforms such as Instagram, TikTok and YouTube have made it easier than ever for individuals to share their celebrity encounters, thereby fuelling the desire to visit destinations like Beverly Hills.
This modern form of word-of-mouth marketing expands our reach and impact, attracting new audiences who are eager to be part of our celebrity culture, ensuring that the relevance and appeal of Beverly Hills remains strong
CT: How do you collaborate with film and TV makers to ensure a destination keeps getting the right exposure?
JW: Unlike other parts of Los Angeles, we have our own film permitting department. We are very much involved in the planning process and collaborate with filmmakers and TV makers to understand their creative vision and align it with the unique attributes.
For significant productions, our city government also gets involved to ensure accuracy and authenticity. Their participation helps maintain the integrity of our city's image and ensures that Beverly Hills is portrayed in a way that resonates with our residents and visitors. This collaborative approach allows us to safeguard Beverly Hills' identity while offering filmmakers the support they need to create compelling and engaging content.
Our goal is to showcase the unique aspects of our city, its glamorous atmosphere, and the exceptional experiences it offers. Through the right collaborations, we can highlight the charm of Beverly Hills, capturing the imagination of audiences and enticing them to explore our renowned destination.
---
VIDEO: JULIE WAGNER TALKS TO CONNECTING TRAVEL'S SARAH HEDLEY HYMERS ABOUT MARKETING BEVERLY HILLS
CT: Beyond the big and little screen, how do you promote the destination to Ultra High Net Worth (UHNW) travellers?
JW: At Beverly Hills, we employ various strategies to reach affluent travellers and ensure they are aware of the exceptional experiences our destination offers. One of our key approaches to marketing the city is through relationship-building with influencers who have a significant impact on UHNW travellers, whether it be engaging with travel trade professionals, influential members of society, or members of the media.
We also create marketing initiatives that are noteworthy and accurately highlight the unique aspects of Beverly Hills. Our social media channels feature user-generated content to show what people are doing in Beverly Hills, which creates an authentic and relatable narrative that resonates with travellers.
Our biggest focus is on promoting the hotels and, during our shoulder seasons when there is less traffic, we develop strategic creative campaigns to showcase the city
CT: Moving forward, considering emerging markets, where do you see potential for growth and why?
JW: Our biggest markets outside the US are the Middle East, the UK, Canada, Australia and Mexico. As a marketing organisation with a limited budget, we try to target audiences where we will know we will have influence. When we start to see more traffic from regions that are new, we look to create programmes that will attract new business. A couple of examples of this include Mexico and Southeast Asia. However, we also focus on established markets with creative programming that is different than our competitors, such as in the UK and Australia. The Middle East has always been the gem in our crown, because not many of our competitors directly market to this region, which provides us with a lot of opportunities to be top of mind.