The COMO Shambhala Estate GM has incentivised the travel trade, inspired staff loyalty and updated wellness programming
As general manager of COMO Shambhala Estate, one of the world's leading wellness retreats, located in a luscious idyll in Bali, Gede Suteja is setting standards in health-conscious hospitality. Connecting Travel talked to him about the magic formula for making a name in the booming wellness sector.
Connecting Travel: What are the USPs of your hotel?
Gede Suteja: COMO Shambhala Estate's environment is magical. The immense greenery helps to stimulate relaxation and healing through the eyes. The trees and plants create the purest of air to breathe. The natural holy water spring located in Kedara, our water gardens, provides a source of fresh, mineralised water throughout the property. In addition to our bespoke wellness programmes, we offer both Ayurvedic and Traditional Chinese Medicine (TCM) consultations. Our experienced practitioners use these ancient healing practices to help guests achieve balance in their physical, mental and emotional well-being.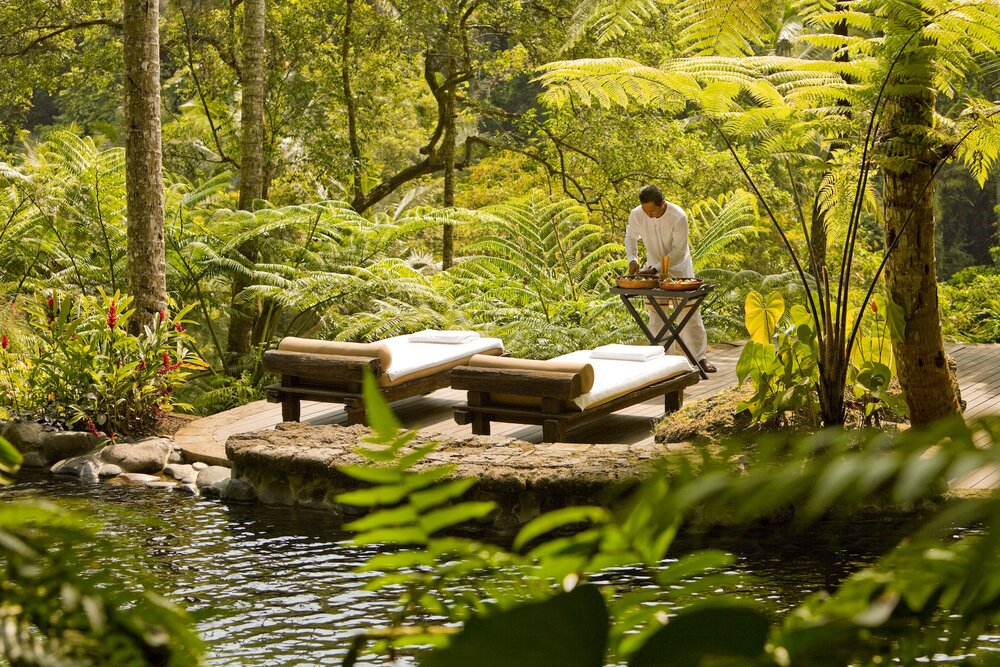 Kedara Water Gardens
To enhance the benefits of our treatments, we use our COMO Shambhala blended oils, which are specially prescribed to support each guest's needs. Our wellness cuisine is also unparalleled. What we eat plays a vital role in our overall wellness, and we're committed to providing guests with nutritious, flavourful meals with a focus on fresh, locally sourced ingredients.
Ultimately, at COMO Shambhala Estate, our vision is to inspire a commitment to lifelong wellness. We believe that true wellness is a journey, and our mission is to meet individuals where they are in that journey, nurturing and inspiring their commitment to wellness, and pproviding them with the tools and support they need to live their best lives.
GET YOUR FREE TRAVEL & TOURISM INSIGHT REPORT PRODUCED IN ASSOCIATION WITH DELOITTE
CT: Which properties are in your comp set?
GS: As a world-famous wellness retreat, our competitors are other global wellness retreats, such as Ananda in the Himalayas, Kamalaya and Chiva-Som in Thailand, and Gwinganna in Australia, and Aro-Ha in New Zealand.
On the other hand, as a private natural hideaway, it competitors are also some of the traditional luxury hotels located in Ubud, such as Mandapa, a Ritz-Carlton Reserve, Four Seasons and Capella.
CT: What incentives and support do you offer the travel trade?
GS: To support the travel trade we have a network of global sales offices and representative agents covering nearly all continents and countries, from Australia and Asia Pacific, to Europe, the Middle East and the Americas. On the property level, we have special industry rates to enable travel agents to experience the Estate at preferential rates.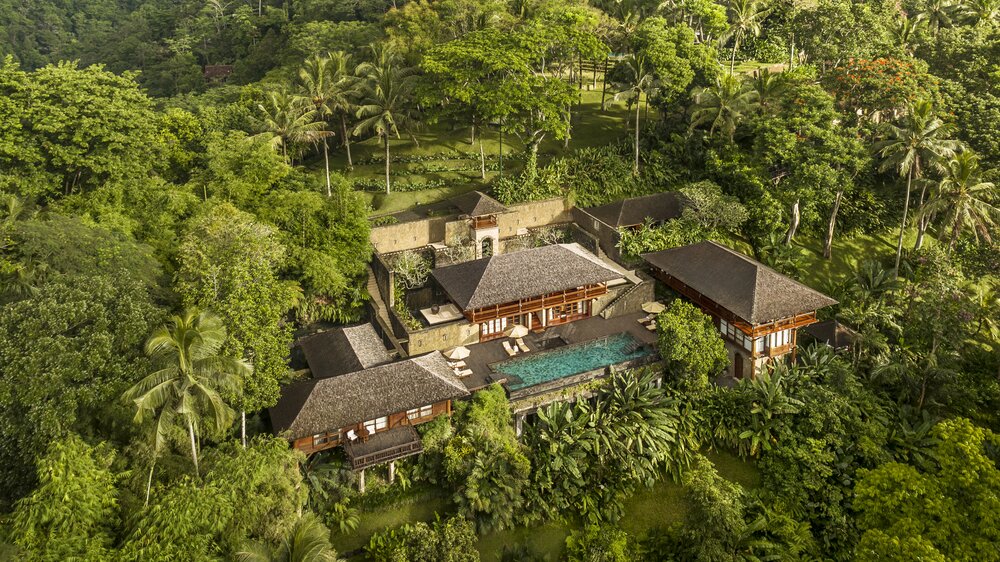 COMO Shambhala Estate
CT: Who should potential travel partners contact and how would you prefer they make contact?
GS: The easiest way to contact the hotel is via our regional sales office in the respective markets. The list of contacts can be found online at www.comohotels.com/contact-us, under the 'Sales' tab
CT: What are currently your source markets?
GS: Our key source markets are the USA, the UK, Singapore, Australia, Germany, Switzerland, Korea, Japan and the UAE. Our future target markets are very much in Middle East, with a focus on Saudi Arabia and Qatar, as well as India and China, where more and more travellers are looking for a wellness experience in a luxury setting
CT: How do you cater to guests from the Middle East?
GS: We focus on connections with travel trade, offering full range of options to book the Estate – from direct connections to major booking B2B and B2C engines on sales side. On the marketing side, we have direct campaigns and work with sales and media to highlight the USPs of the hotel.
RELATED:
Interview: Kimberly Rose Kneier on rising wellness trends in 2023
Hotels hardness the power of sound for healing
COMO Hotels and Resorts to host space camps this summer
CT: What's the hotel's policy on sustainability?
GS: The Estate has sustainability engraved in its core. It has been built in the most sustainable way, with villas and residences erected within the existing environment, preserving the beauty of the land and using recycled timber and natural materials in their construction. Today, the Estate policy on sustainability covers range of areas, from purchasing to support of the local charity foundations.
CT: What are your strategies for increasing occupancy and revenue?
GS: We have an integrated approach to increase occupancy and revenue, incorporating investment of the revenue back into the product, with constant upgrade and enhancement of the facilities, as well as the enhancement of our offerings, as we continuously work on new wellness programmes.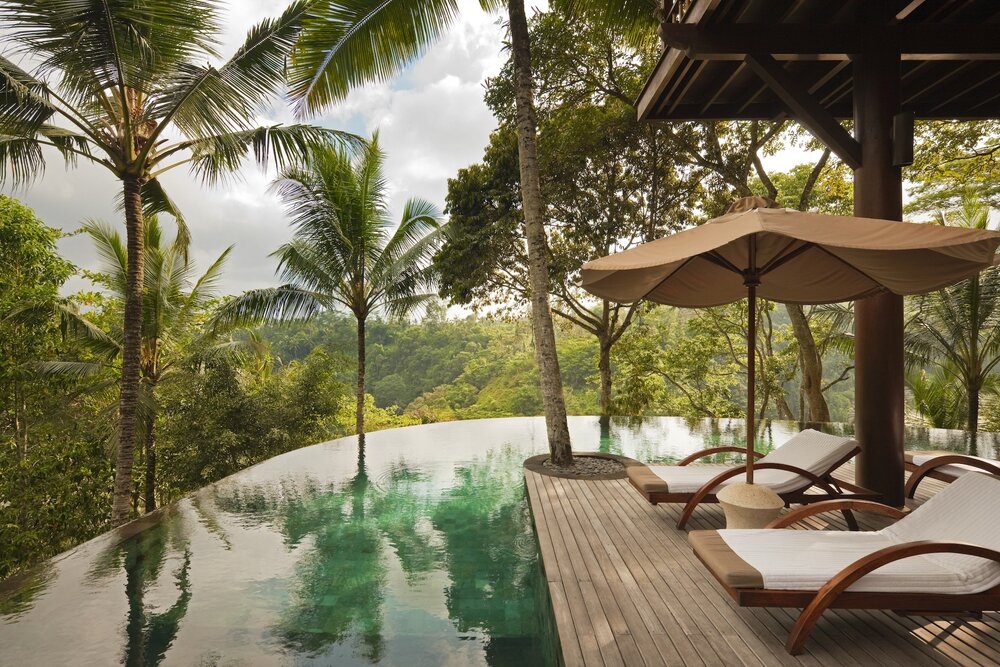 The resort has several 'postcard' pools
CT: How do you attract and maintain good staff?
GS: We have built long-term family relationships with our team members, with many of our employees working for the company for more than 10 years. One of the reasons for this is the genuine care shown. For instance, during the pandemic, we had to close the hotel to guests, however, we continued to keep operations at reduced scale to ensure every team member would have a source of income.
CT: And, finally, are there any new developments in the pipeline for COMO Shambhala?
GS: Yes, we have some exciting new developments: a new fully covered and lit tennis court is nearly completed. We're also expanding our wellness programmes based on the new equipment and technology we plan to install this year, which includes devices to support better sleep quality, hyperbaric chambers and an ice bath.
COMO Shambhala Estate is located in Payangan, Bali, Indonesia. For more information, visit www.comohotels.com/bali/como-shambhala-estate. For media enquiries, contact Felipe Gomez on felipe.gomez@comohotels.com