After ranking at number 30 in this year's World's 50 Best Restaurants, the Swedish chef is ready to rock the emirate
Björn Frantzén's eponymous restaurant in Stockholm just landed at number 30 on the World's 50 Best Restaurants 2023 list, revealed in a star-studded ceremony in Valencia in June 2023. The famous chef also holds outposts in Bangkok, London, Singapore and Shanghai. Later this year, he will bring his brand to Dubai for the first time – but Björn Frantzén's culinary journey began with humble roots as a chef in the Swedish army.
Drawing upon this Nordic heritage and his French training, today he layers Asian influences into his dishes. By skilfully blending these diverse elements, Frantzén achieves a delicate balance, where light ingredients and artful techniques intertwine harmoniously showcasing Nordic simplicity and Japanese artistry on every single plate.
Dubai diners have much to look forward when Studio Frantzén and his new FZN chef's table concept opens in what used to be Nobu Dubai's home at Atlantis, The Palm later this year. Connecting Travel met with the chef to find out more.
Connecting Travel: Can you tell us about your upcoming opening in the Middle East?
Björn Frantzén: I have been visiting the Middle East for the past nine years, and have seen the growth of the restaurant industry. Dubai, in particular, has experienced significant growth, especially in the wake of the pandemic. It's a place where a lot is happening, much like how the Nordic culinary scene was 15 years ago. It's an exciting time for the region, with great chefs opening restaurants and local culinary talent pushing boundaries.
I'm thrilled to open my restaurants in Dubai. The city is an international melting pot, and we hope to attract a wide range of interest from diverse clientele. Studio Frantzén, located in the old Nobu space, follows the same concept as our London location, offering a purely à la carte menu.
We're also opening FZN, a take on my surname, which will offer a fine-dining tasting menu experience, built on our culinary philosophy of Nordic cuisine with Asian influence, and some local adaptations.
We've invested a lot of time, energy and research into crafting non-alcoholic drinks pairings to appeal to Middle Eastern diners
CT: What is your culinary philosophy?
BF: My roots are based in the Nordic region, forming the core foundation of my food. I've worked in France, and there are influences of French techniques in my cooking. I'm inspired by Asian flavours and techniques, especially Japanese cuisine.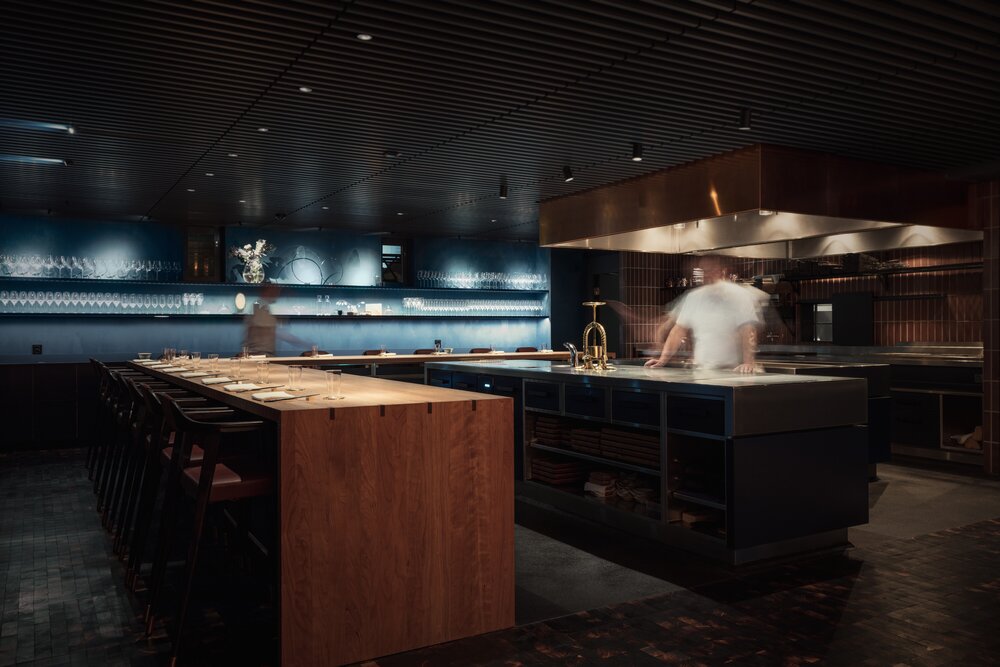 Frantzén, Stockholm
CT: Where are your source markets from at your other venues?
BF: Over the years, we've seen growth in our local clientele, particularly with Swedish locals making up approximately 60% to 70% of our diners at Frantzén in Stockholm. The people of Stockholm are amazing supporters of the restaurant industry, investing their time and resources in exploring the culinary offerings across the city. Even during the challenging times of the pandemic, once dining restrictions were lifted in Sweden, Frantzén was consistently fully booked.
It's great to see our local guests becoming regular diners, visiting on average two to three times a month
CT: What impact does being ranked in The World's 50 Best Restaurants have on a venue?
BF: I think The World's 50 Best has been very important for the industry. Its launch coincided with the rise of social media and the growth of Instagram, increasing its significance in many ways.
From a personal perspective, I recall the excitement when it all began 10 or 11 years ago. Since then, The World's 50 Best has evolved into a cherished platform – a place to have fun and celebrate colleagues from around the globe.
For more information, visit www.frantzengroup.com