Vincent Miccolis, managing director for Middle East, Africa, Turkey and India at The Ascott Limited, sheds light on changing guest preferences
The Middle East's hospitality sector has undergone a transformative shift with the advent of the apart'hotel concept. Countries such as the United Arab Emirates (UAE), Qatar and Kingdom of Saudi Arabia (KSA) are experiencing a resurgence within tourism sectors as travellers from across the world flock to the region. In the UAE, Dubai alone surpassed its pre-pandemic tourism figures achieving a 20% year-on-year growth and welcomed 8.55 million international tourists in H1 2023. Qatar's hospitality sector recorded a 20.35% increase in hotel and hotel apartment revenues in the first six months of the year, according to the country's Planning and Statistics Authority (PSA). Ranked 13thon the World Tourism Organizations (WTO) Index in 2022, KSA experienced a 64% increase in international visitors with approximately 7.8 million tourists visiting the Kingdom by Q2 2023.
Rising tourist numbers show increased diversification of guest preference, correlating to rising demand for affordable and comfortable living accommodation. The innovative model is revolutionising traveller experiences and redefines regional industry competitiveness. Here's how:
Flexible accommodation for the modern traveller
Apart'hotels has ushered in a new era of hospitality, focused on evolving modern traveller preferences. By combining apartment living convenience with hotel services, apart'hotels offer distinctive hybrid experiences appealing to short-stay tourists and longer-term business travellers. The concept offers spacious living areas, fully equipped kitchens and unparalleled autonomy often missing from traditional hotels. In H1 2023, Ascott achieved a 15% increase in regional occupancy rates across key operating markets including UAE, KSA, Oman and Africa.
Related:
The Ascott Limited acquires Oakwood Worldwide
Ascott's loyalty programme leads to 50% repeat guests
Ascott unveils refurbished Somerset West Bay Doha
Redefining the competitive landscape
The rising demand for apart'hotels encourages healthy competition within the hospitality sector. In response, hotels are revamping their room and suite offerings and amenities to maintain their competitive advantage among increasingly dynamic traveller profiles, targeting those who prefer the 'home away from home' feeling that an apart'hotel offers. In recent months, Ascott's regional properties experienced a diverse intake of guests from across the world, including solo travellers, couples and families.
GET YOUR FREE TRAVEL & TOURISM INSIGHT REPORT PRODUCED IN ASSOCIATION WITH DELOITTE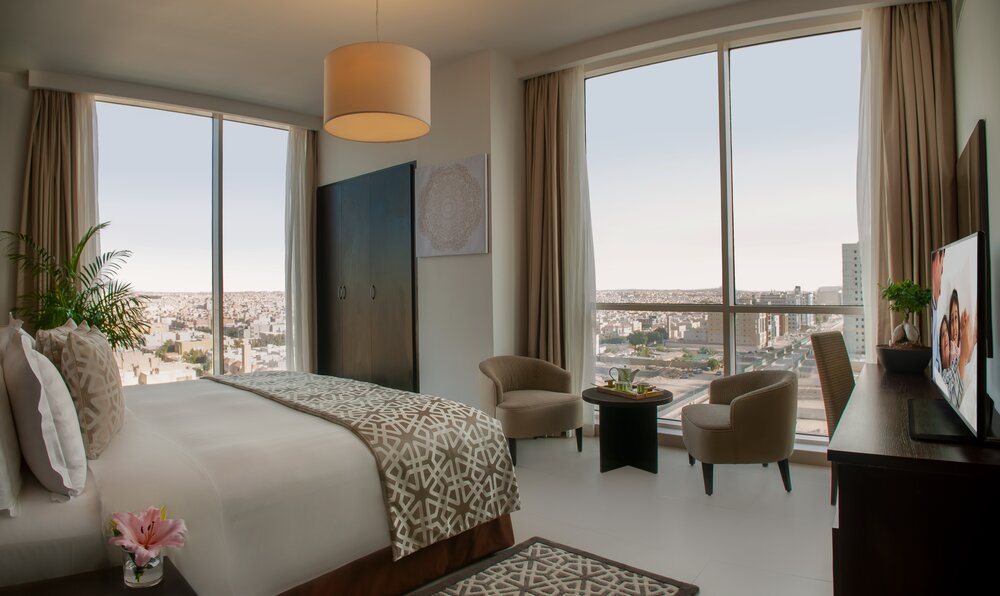 Ascott Rafal Olaya
Investment opportunities
Investors are embracing the rising demand for serviced residences, which is driving investment portfolio expansion strategies, growth of refreshed hospitality brands and transformation of existing ones. Apart'hotels operate on a cost and operationally effective model with limited inclusion and reduced staff, resulting in higher profit margins. Apart'hotels' burgeoning growth presents a host of opportunities, including:
Dynamic accommodation: Apart'hotels represent a flexible hospitality sector, catering to diverse guests' needs, from families seeking expansive living spaces to digital nomads or business travellers wanting extended stays. According to a recent report by Nomad Capitalists, the UAE ranks among the top 15 destinations in the world for digital nomads.
Flexibility and adaptability: Apart'hotels set a new standard within the sector by providing fully equipped kitchens and home-like amenities, aligning with emerging trends including remote working and self-sufficiency. It offers creative designs that optimise spatial efficiency, providing the perfect mix of a hotel and comforts of home.
The apart'hotel concept stimulates spirited market competition and innovation. Hospitality management groups can enjoy significant economies of scale by incorporating it into their operational strategies.
For more information, visit www.discoverasr.com/en/ascott-the-residence