Find out what's launching and when
What a difference a year makes. Twelve months ago, cruise lines were still struggling with Covid rules and regulations; now they're counting down to the launch of almost 25 ocean ships, river ships and yachts.
The mix includes everything from floating resorts with record-breaking waterparks to vessels built for exploring the polar regions. Here's the lowdown on all the new ships – and where to find them.
January
Mekong Serenity, APT
This river ship holds 88 passengers, has a top-deck pool and alfresco cafe, plus a complimentary speciality restaurant serving a five-course Vietnamese menu. Itineraries include a 15-day Vietnam and Cambodia Highlights holiday, pairing seven nights sailing the Mekong with hotel stays in Ho Chi Minh City and Siem Reap. www.aptouring.com.au
March
Diana, Swan Hellenic
Named after the Roman goddess of the wilderness, the 192-passenger Diana is designed for exploring the polar regions. It has a mix of cabins and suites, an outdoor heated pool, three restaurants and tenders to take passengers ashore. Itineraries include a nine-day cruise around the island of Spitsbergen. swanhellenic.com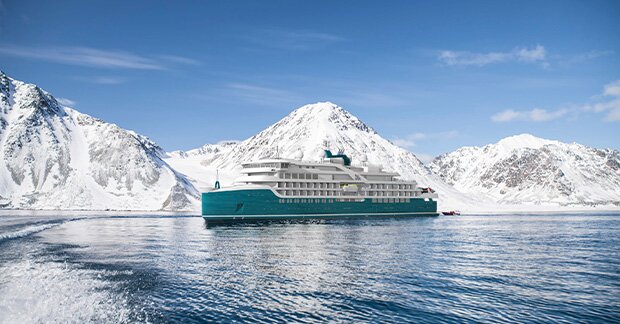 April
Scenic Eclipse II, Scenic
Scenic pioneered the 'discovery yacht' equipped with submarines and helicopters for the ultimate in exploring, and it's done it again with the 228-passenger Scenic Eclipse II. Itineraries include a 12-day cruise from Lisbon to Barcelona, departing 12 April 2023. scenic.co.uk
American Serenade, American Cruise Lines
This is the sixth in a series of European-style river boats from ACL, holding 175 passengers. Itineraries include a seven-night Mississippi cruise round-trip from New Orleans, departing 13 April 2023. americancruiselines.com
Viva Two, Viva Cruises
The river ship, which accommodates 190 passengers in a mix of cabins and suites, has three restaurants, with prices covering all dining options, drinks, tips and Wi-Fi. Itineraries include a seven-night maiden voyage from Frankfurt to Passau, departing 1 April 2023. viva-cruises.com
Viking Saturn, Viking
The vessel will feature the same restaurants, cooking school and all-balcony accommodation as its eight sister ships. Itineraries include a 15-night Iconic Iceland, Greenland and Canada cruise from Reykjavik to New York, departing May 2023. viking.com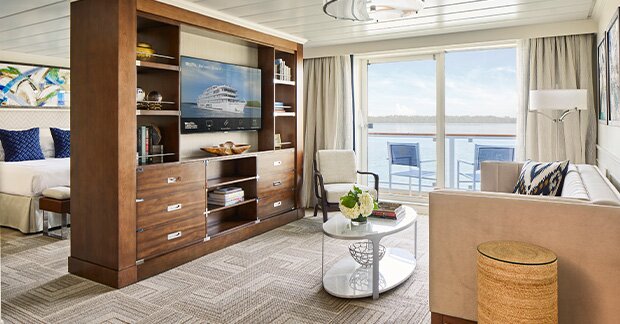 May
Vista, Oceania Cruises
Oceania Cruises' first new ship for a decade has more restaurants than its predecessors, plus poolside cabanas, a holistic centre and Owners' Suites that stretch the width of the ship. It has capacity for 1,200 passengers. Itineraries include a 12-day Caribbean cruise round-trip from Miami, departing 19 November 2023. oceaniacruises.com
Resilient Lady, Virgin Voyages
Virgin's third adult-only 'Lady' ship features Rock Star suites, up to 20 places to eat, a tattoo parlour, and tapas and champagne bars. It can accommodate 2,770 passengers. Itineraries include a seven-night Greek Island Glow cruise round-trip from Athens, departing 14 May 2023. virginvoyages.com
Explora I, Explora Journeys
The first of six vessels being built for MSC Group's new luxury brand, Explora I has six restaurants, 12 bars, private cabanas, ocean terrace suites with daybeds, and a chart-topping 3,014sq ft Owners Residence. The ship will have capacity for 922 passengers and will debut in the Mediterranean. Itineraries include a seven-night cruise from Copenhagen to Reykjavik, departing 1 August 2023. explorajourneys.com
Amadeus Riva, Amadeus River Cruises
A Café Vienna, Amadeus Club lounge and suites with walk-out balconies feature on Amadeus' new 160-passenger Riva. It will sail the Rhine and Danube, as well as waterways in the Netherlands and Belgium. Itineraries include a seven-night cruise from Amsterdam to Nuremberg, departing 23 May 2023. amadeus-rivercruises.co.uk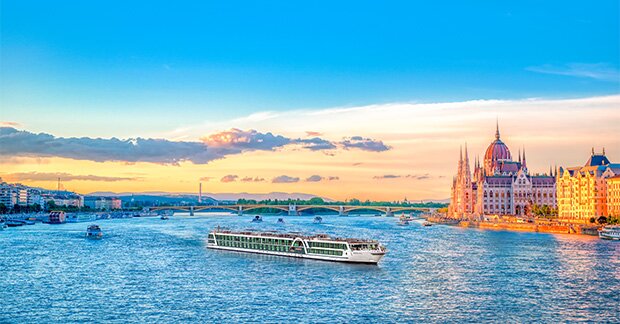 June
MSC Euribia, MSC Cruises
Ten restaurants, 21 bars, five swimming pools and an exclusive Yacht Club await on MSC Euribia, which holds up to 6,327 passengers and is named after the Greek goddess of 'mastery of the seas', Eurybia. It will be the second MSC ship powered by liquefied natural gas. Itineraries include a seven-night Norwegian fjords cruise round-trip from Kiel, departing 10 June 2023. msccruises.co.uk
July
Silver Nova, Silversea Cruises
Silversea's new liquefied natural gas-powered ship will be the first luxury vessel to make emission-free port calls. In a change to the line's usual design, suites run from front to back on four decks (they usually occupy one half of the ship), with the Otium Suite offering 270-degree views. The ship, which has capacity for 728 passengers, also features an infinity whirlpool and alfresco food court. Itineraries include a nine-day cruise from Lisbon to Rome, departing 25 July 2023.
silversea.ae
RELATED:
Hurtigruten unveils 2023 coastal cruise programme excursions
Hurtigruten Norway launches its first hybrid ship
Hurtigruten Expeditions adds 7 new Arctic adventures for 2023
American Eagle and American Glory, American Cruise Lines
These new 'go anywhere' coastal catamarans have been designed by ACL to sail on almost any river or waterway in the US. The 109-passenger vessels feature swim/activity platforms at the stern, as well as kayaks and tenders for trips ashore. Eagle launches in July 2023, Glory in October 2023. Itineraries include a seven-night Cape Codder cruise round-trip from Boston on American Eagle, departing 14 August 2023. americancruiselines.com
August
Norwegian Viva, NCL
NCL's 3,219-passenger ship will bring plenty of va-va-voom in the form of a three-level go-kart track; the largest free-fall dry slide at sea; a food hall with 11 eateries; and The Haven, a gated residence for suite passengers. Itineraries include an eight-night Italy, Greece and Croatia cruise from Civitavecchia (Rome) to Trieste, departing 10 October 2023. ncl.com
Emerald Sakara, Emerald Cruises
Emerald Cruises' second 100-berth yacht will explore Greece, Croatia and the Caribbean. The vessel, which has mostly balcony cabins, will offer an infinity pool and marina with paddle-boards and snorkelling equipment. Itineraries include an 11-day Charming Mediterranean cruise from Rome to Lisbon, departing 28 October 2023. emeraldcruises.co.uk
Viking Aton, Viking
Aton will be the third Viking ship operating itineraries on the Nile. The vessel holds 82 passengers and will feature the company's trademark Aquavit Lounge for alfresco dining, as well as Explorer suites that face the ship's stern. Itineraries include an 11-night Pharaohs & Pyramids cruise-and-stay holiday, pairing a seven-night Nile cruise from Luxor with four nights in a hotel in Cairo departing 27 August 2023. viking.com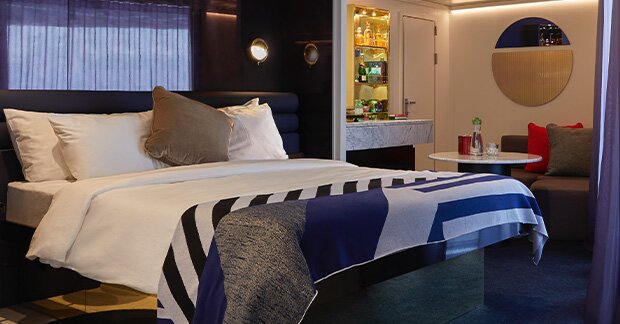 October
Carnival Jubilee, Carnival Cruise Line
Get ready for some 'yee-ha' as the 5,374-passenger Carnival Jubilee sets sail from the Texan port of Galveston with Bolt, a rollercoaster that hurtles around the top of the ship at speeds of up to 35mph. There are three waterslides, a ropes course and so many places to eat that passengers will have to spend two weeks on board to try them all out. Itineraries include a seven-day Western Caribbean cruise round-trip from Galveston, departing 10 February 2024. carnival.com
Seabourn Pursuit, Seabourn
Seabourn's second purpose-built expedition ship features two submarines, kayaks and Zodiacs, allowing guests to get out and explore. The 264 passengers can also sip champagne in lounges that are the work of legendary designer Adam Tihany. Itineraries include a 14-day Guyana and Amazon cruise from Barbados to Manaus in Brazil, departing 10 October 2023. seabourn.com
November
Seven Seas Grandeur, Regent Seven Seas Cruises
A sister ship to Regent's self-styled 'most luxurious ship in the world, the 750-passenger Grandeur has redesigned the Chartreuse and Compass Rose restaurants, and added a sun room in the Regent Suite. Itineraries include a seven-night Caribbean cruise round-trip from Miami, departing 14 December 2023. www.royalcaribbean.ae
GET 50% OFF CRUISES WITH NCL'S NEW YEAR CRUISE SALE
December
Celebrity Ascent, Celebrity Cruises
Celebrity's fourth Edge-class ship caters for 3,260 passengers and features 'infinity balcony' cabins, two-storey villas, the multi-purpose Magic Carpet movable deck, designer decor, and an exclusive area for suite passengers called The Retreat. Itineraries include a seven-night maiden cruise round-trip from Fort Lauderdale, Florida, departing 3 December 2023. www.celebritycruises.ae
Brilliant Lady, Virgin Voyages
The line's fourth vessel will be identical in design to Resilient Lady. Cruises go on sale early next year. virginvoyages.com
Icon of the Seas, Royal Caribbean International
It's all about families on Icon, which will be the biggest ship in the world, with capacity for up to 7,600 passengers. It boasts the biggest water park at sea and a suspended infinity pool. Itineraries include a seven-night Western Caribbean & Perfect Day cruise round-trip from Florida, departing 13 April 2024. www.royalcaribbean.ae
---
All Change: Other Cruise Moves to Note
Costa Cruises' Costa Venezia is moving to the US to sail under the new Costa by Carnival brand, which launches next spring and promises a fusion of Carnival's food, service and entertainment with Italian design. The ship's name and itineraries have yet to be revealed.
APT Travelmarvel is launching its river ship Apsara on the Mekong in Vietnam and Cambodia in January. The vessel previously sailed as AmaLotus for parent company APT.
Ambassador Cruise Line's second ship, Ambition, will enter service in May 2023. Previously sailing as AIDAMira for the German line AIDA Cruises, the ship will carry 1,200 passengers and offer itineraries from seven UK ports, including Tilbury, Dundee and Falmouth.
Crystal Cruises' new owner, A&K Travel Group, plans to relaunch Crystal Symphony and Crystal Serenity late next summer. The ships are undergoing major revamps that will increase the size of the suites, add solo cabins and reduce their passenger capacity to about 800.