Sarah Hedley Hymers attended the hotel's headline-grabbing grand reveal ahead of the 10 February opening
Hotel openings don't often make headlines around the world, but the launch of Atlantis The Royal was something quite unlike Dubai has ever seen before.
Until now, the most famous hotel launch in the emirate's history was the opening ceremony of the hotel's big sister Atlantis, The Palm, just next door. The format was similar. Celebrity guests flocked from all corners of the globe to see Australian mega star Kylie Minogue perform, followed by fireworks that could be seen for miles.
The debut of Atlantis The Royal – Atlantis Dubai's ultra-luxury edition – had to be bigger and brighter. Headliner Beyoncé brought the calibre of American celebrity to Arabia, but the rumoured US$28 million show wasn't the only extravagance. Behind the scenes, VIP guests were treated to room favours that included bottles of Moët & Chandon and US$500 Valentino scarves in the hotel's white-and-gold colour theme. Valentino is one of the Royal's flagship boutiques.
One floor of the hotel was converted into a grooming parlour, with teams of hair and makeup artists stationed in rows of 'glam suites' to provide complimentary styling services to all guests around the clock.
I had professional hair and makeup styling three days in a row and never wanted to apply my own eyeliner again
On the first evening, reality star and model Kendall Jenner hosted an 818 Tequila party in the ludicrously glamorous rooftop lounge Cloud 22, promoting her own premium brand of the popular spirit to the gathered A-listers, Jay-Z among them, smoking cigars and being cordial with the umpteenth admirer telling him "I am your biggest fan". Beyoncé delivered her ballad-focused show on night two, and on the third day, Nobu by the Beach hosted brunch with special guest Rebel Wilson.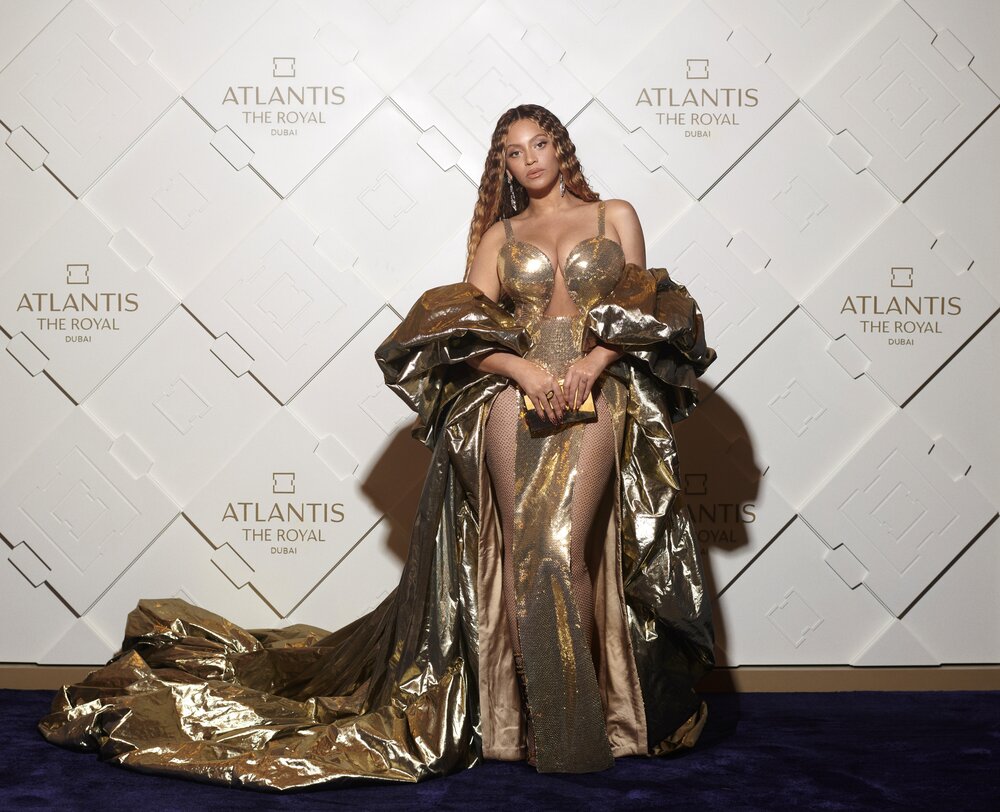 Beyoncé had a private red-carpet shoot
Other famous faces included American actresses Ellen Pompeo and Ashley Park; British TV stars Letitia Wright, Jodie Kidd, Mark Wright, Michelle Keegan, and Marvin and Rochelle Hume; One Direction's Liam Payne; Irish singer Ronan Keating; the casts of Dubai Bling and The Real Housewives of Dubai, and the makeup empire founder Huda Kattan, as well as the hospitality heavyweights behind the event, Kerzner International CEO Philippe Zuber and managing director and executive vice president of Atlantis Dubai, Timothy Kelly.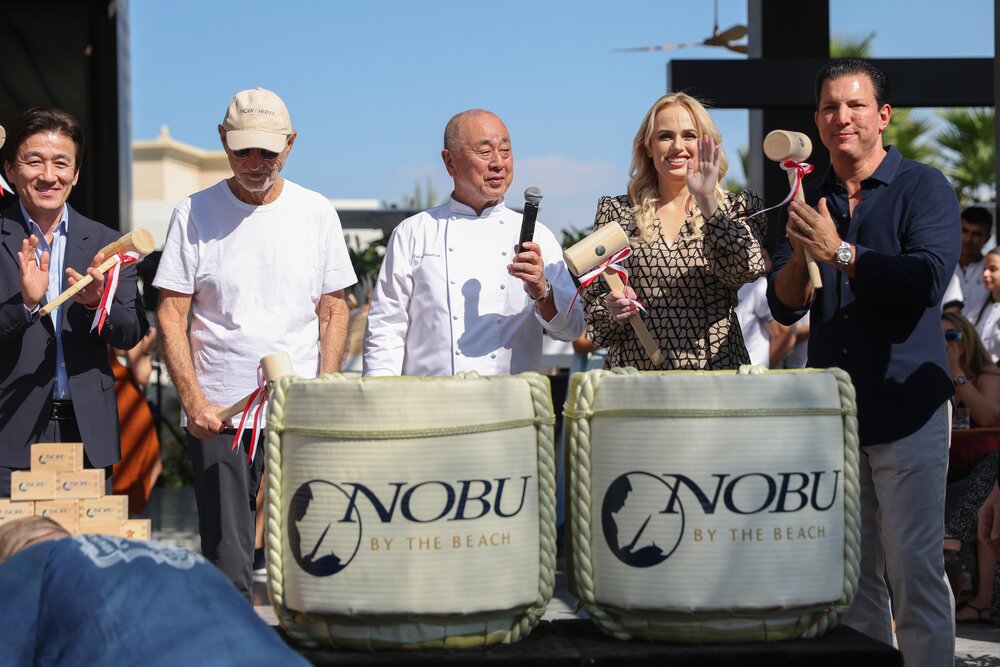 Chef Nobu, Rebel Wilson and Atlantis Dubai MD Timothy Kelly
Everything was free, from room service to the champagne vending machines. With cocktails on tap, caviar on the eggs Benedict and celebrities on the blue carpet, the weekend-long party was exhilarating. But what's in store for the first paying guests after the VIPs have packed up and gone home?
Accommodation: There are four penthouses in this curving cantilevered 795-key property. The largest, the Royal Mansion, has four bedrooms, 100-year-old olive trees in the foyer and an infinity pool. It's yours for around US$95,000 a night.
The most impressive category among the 102 suites are the Sky Pool Villas, not villas in the traditional sense, but rather 118 square metres of sky-high quarters featuring large terraces with glass-sided pools and swinging wicker basket chairs screaming to be 'Instagrammed'. Rack rate runs at around US$7,850.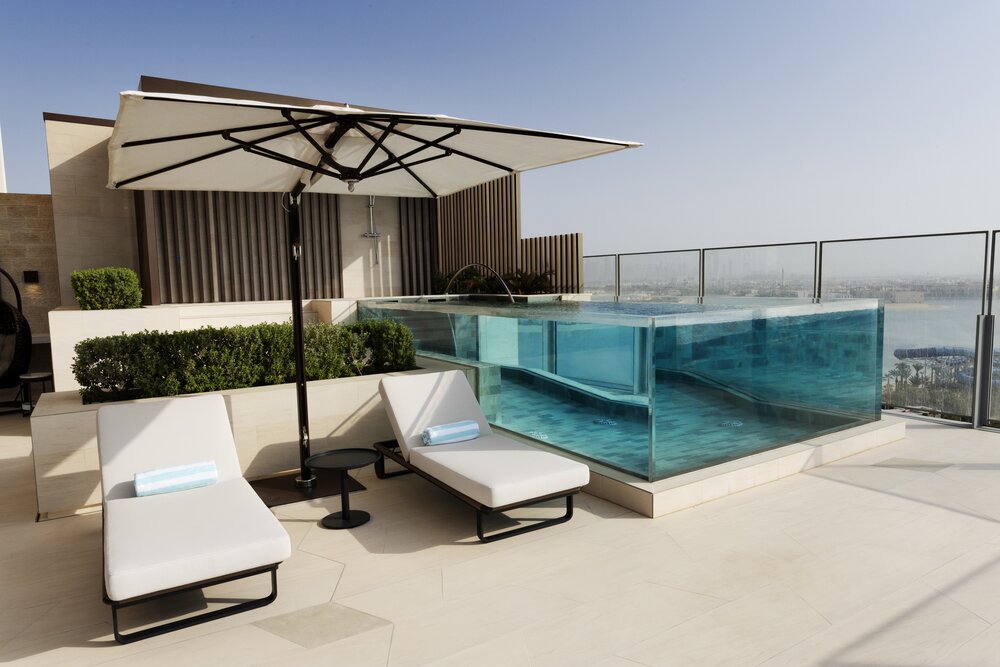 Sky Pool Villa
The entry-level Palmscape and Seascape accommodation is roomy too at 55 square metres, plus balcony, with a rate of US$965. Advise clients to take Palmscape rooms for the most engaging panorama incorporating Dubai's skyline, from the Burj Al Arab to Bluewaters Island, also overlooking the hotel's Skyblaze Fountain, created by WET Design, the team who brought us Dubai Fountain and the Fountains of Bellagio in Las Vegas. I quizzed more than 30 VIP guests on the royal blue carpet about their accommodations and they unanimously swooned over the views.
Other reoccurring highlights were the gold room amenities – gold (albeit coloured plastic) combs and toothbrushes, and gold metal nail clippers and razors. The Humes weren't alone in raving about the thickness of the slippers and bathrobes.
Brassic actress Michelle Keegan was particularly impressed with how deep the bathmats are. They did feel particularly plush underfoot
Food and drink: Heston Blumenthal was absent from the celebrations but his Dubai outpost of Dinner was a hit with diners and his famous meat fruit – pate encased in tangy orange jelly shaped to look like a mandarin, inspired by a dish from ye olde England circa 1300s – was perfectly executed, despite being reproduced in massive volume as canapé for the hundreds of guests.
The culinary star of the show, José Andrés, last seen smoking cigars and shooting 818 with Jay-Z and Kendall Jenner, made it to our lunch on Saturday despite his late night prior. The humanitarian was headed to Ukraine the next day to continue his aid work. He is a driving force.
RELATED:
Dubai's Atlantis The Royal debuts
Dubai's Bab Al Shams Resort to reopen
NH Collection Dubai The Palm opens on Palm Jumeirah
Andrés' branch of Jaleo at Atlantis The Royal is the first venue I'll return to. It offers authentic Spanish dishes – undoubtedly the best paella in Dubai, cooked on an open fire in the centre of the restaurant in a traditional paella, the pan the dish is named after – alongside innovative dishes in line with his menu at two-Michelin-starred Minibar in Washington DC. Think cones of cauliflower foam topped with caviar, crisp fingers of sourdough topped with sea urchin roe and silk sheets of lardo. Sounds vile, tastes divine, and as comforting as warm salty buttered toast.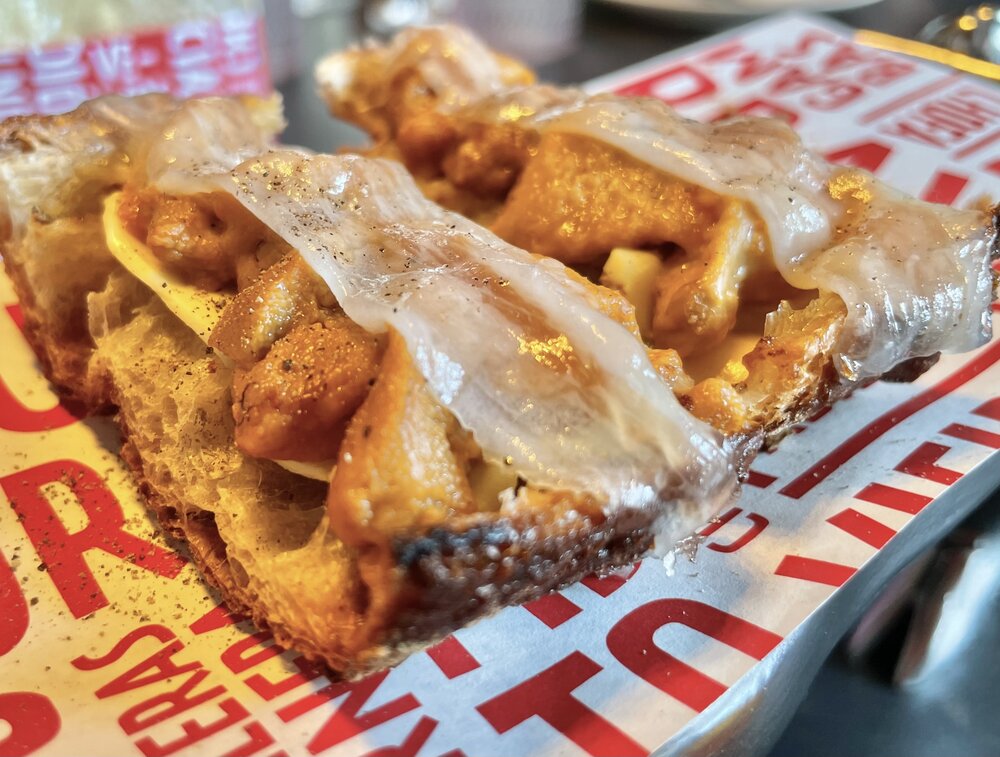 Uni and lardo: a winning combo
Other gourmet highlights include Gastronomy, a slick food hall, constructed in marble with high ceilings and enticing deli counters loaded with artisan breads, cheeses and charcuterie, and open cooking stations dishing up caviar-topped Eggs Royale and steamy baskets of dim sum.
Next door to that, The Little Venice Cake Company brings a slice of talent amassed by Mich Turner OBE. The 'Queen of Couture Cakes' told me the team at London's Dorchester hotel recommended her to the management at Atlantis The Royal. She'd already worked with the British Embassies in Dubai and Abu Dhabi and was keen to establish her first-ever international outpost in Dubai's newest ultra-luxury hotel. A retail space and show kitchen, Mich and her team will host cake-making masterclasses and sell her most famous creations, among them the Raspberry Rose and Pistachio Cake created for the late Queen Elizabeth II's Platinum Jubilee, alongside occasion cakes to order.
Expect to see a glut of Mich's creations gracing UAE Instagram feeds in the coming month
With 17 F&B outlets in total, this is a dining destination as much as a place to stay. Other venues include Peruvian restaurant La Mar by Gastón Acurio; shoreline Estiatorio Milos by acclaimed Greek chef Costas Spiliadis; Ling Ling, sister to Hakkasan; Nobu by the Beach, the brand's first-ever beach club; The Royal Tearoom lobby lounge; American diner Malibu 90265; beachside Food Marquet, which has 13 different kinds of frozen slushie drinks on tap, and House of Desserts. Bars include Elements overlooking the hotel's fountain and Resonance, also by Heston Blumenthal.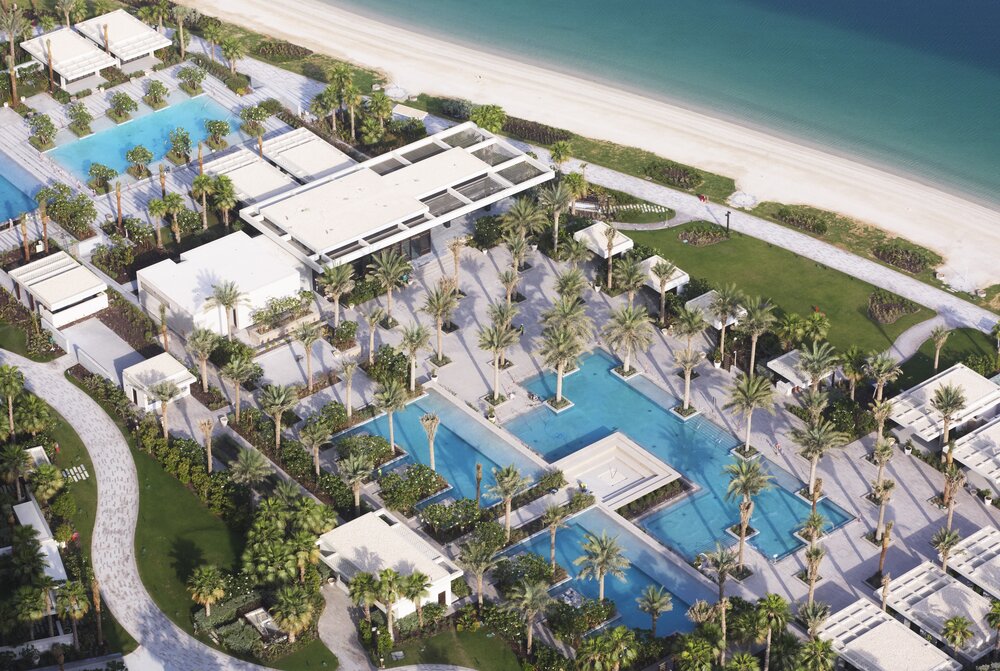 Atlantis The Royal has plenty of pools
Facilities: Designer boutiques line the Promenade, and a sizeable area of the hotel is dedicated to looking and feeling good. Awaken Fitness centre is especially well equipped; Awaken Spa offers facials, massages and hammam treatments; Alkemy does hair and nail styling, and AEON Clinic specialises in stem cell therapy and injectables. In addition, all guests have access to Aquaventure water park and all the facilities at Atlantis, The Palm.
On my last day at the hotel, lounging by the pool, the distant giddy squeals of children drifted over from the water park as I tried not to stare at bikini-clad influencers photographing each other in provocative poses, using the hotel's lush landscaping as a backdrop. It was clear to me at that moment that Atlantis The Royal will be a magnet to all luxury demographics: affluent families, couples, foodies and social status seekers. It's the most hackneyed term in hospitality, but there really does seem to be something for everyone here – except maybe anonymity, unless you can stretch to a penthouses.
Atlantis The Royal opens on 10 February 2023. For more information, visit www.atlantis.com/atlantis-the-royal