Laura French discovers Nizwa Fort and Nizwa Souq
The reception at the main entrance for unwelcome visitors was a rock over the head, reads the information panel.
A slightly comical (albeit gruesome) diagram of trap doors, dungeons and murder holes tells me everything I need to know. Intruders were not welcome here.
Nizwa Fort
Fortunately, I'm greeted with an altogether more pleasant reception as I'm led around the grounds of Oman's most famous fort. Originally built in the ninth century to defend the town of Nizwa (then the capital), it was rebuilt in the 17th century by imam Sultan Bin Saif Al Yarubi.
Today it's a cluster of sand-coloured stone buildings in traditional Omani style, with arched doorways, narrow spiral staircases and secret passages, with a striking, 30-metre-tall round tower at its centre.
WANT A NEW CAREER IN TRAVEL? CLICK HERE
As we amble through the maze of rooms we learn more about its history, browsing weapons, manuscripts, money and jewellery while hearing about punishments for trespassers.
Then we explore the grounds, stopping by a Bedouin-style hut where women sit weaving patterned scarves beside pots of fresh kahwa (Omani coffee), as smells of burning frankincense and cardamom waft through.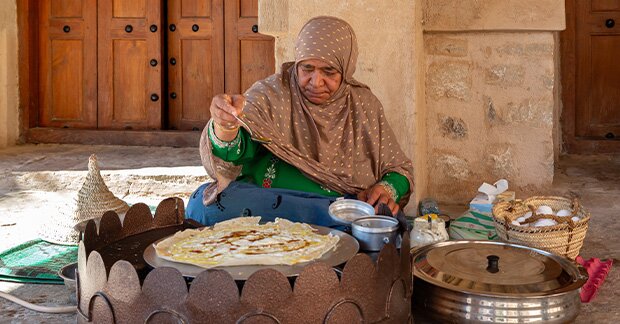 Making ragag bread
It gives me an appetite, and right on cue we're led outside to learn how to make a flatbread called khubz ragag. We indulge in the crispy creation while a craftsman sculpts a clay pot against the backdrop of thousand-year-old walls.
Nizwa Souk
It gives me a glimpse into Oman's traditional past, one I see more of when we later visit Nizwa Souk, one of the country's oldest markets, with stalls selling fresh produce, pottery and antiques every morning.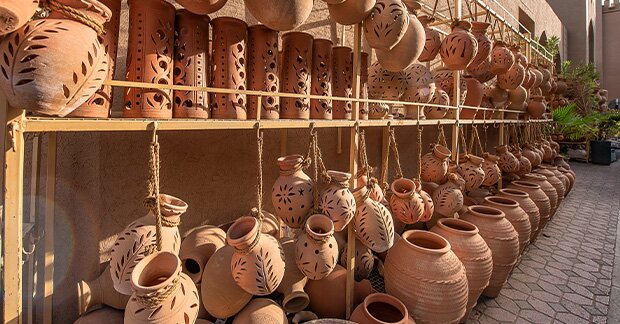 Traditional Omani clay pots
The souq is lively enough on a Tuesday, but I'm told it's at its rowdiest on Friday when traders come to auction off goats, cows and camels to breeders who shout out bids in a chaotic cacophony. This is the ancient heart of Oman that never gets old.