Sarah Hedley Hymers devours a weekend break in the Indian capital
Key selling points for travel agents:
Flight times from GCC countries to Delhi are just three to four hours, making it a convenient location for a short city break
Multiple airlines service the routes offering a wide range of ticket pricing and in a time of rising living costs, Delhi is a very affordable city to visit
Delhi can cater to all levels of traveller, from those on a budget to those looking for luxury experiences
The best time to visit Delhi is from October to March
---
Recommended itinerary for foodies:
Day 1: Street food tour with Delhi Food Walks; dinner at Indian Accent
Day 2: Lunch at Bukhara, dinner at Inja
---
New Delhi is the culinary capital of India. Its streets are filled with a bounty of dishes derived from all corners of the country, imported by masses drawn to the city through ambition and hunger. Time-honoured recipes mingle with modern creations and the smorgasbord never stops expanding.
Indian Accent is perhaps the capital's most famous restaurant. Open since 2009, chef Manish Mehrotra's nostalgic reinterpretations of classic Indian dishes put the destination on the global gourmet map – and on the prestigious Asia's 50 Best Restaurants listing for many consecutive years.
In 2023, Indian Accent ranks at number 19 on Asia's 50 Best Restaurants list
As the brand's culinary director, Manish – along with executive chef Shantanu Mehrotra (no relation) – has gone on to open a branch of Indian Accent in New York, and plans are afoot to launch a third in Mumbai, giving more diners a chance to experience intricately spiced ensembles such as 'pulled pork phulka taco with lime cream and salsa', and 'smoked duck shammi, with crispy sevai and barberry chutney'.
During my visit to Delhi, like me, chef Manish was dining at the latest New Delhi restaurant causing a stir, Inja. A portmanteau of India and Japan, Inja is the brainchild of chef Adwait Anantwar and hospitality powerhouse Panchali Mahendra.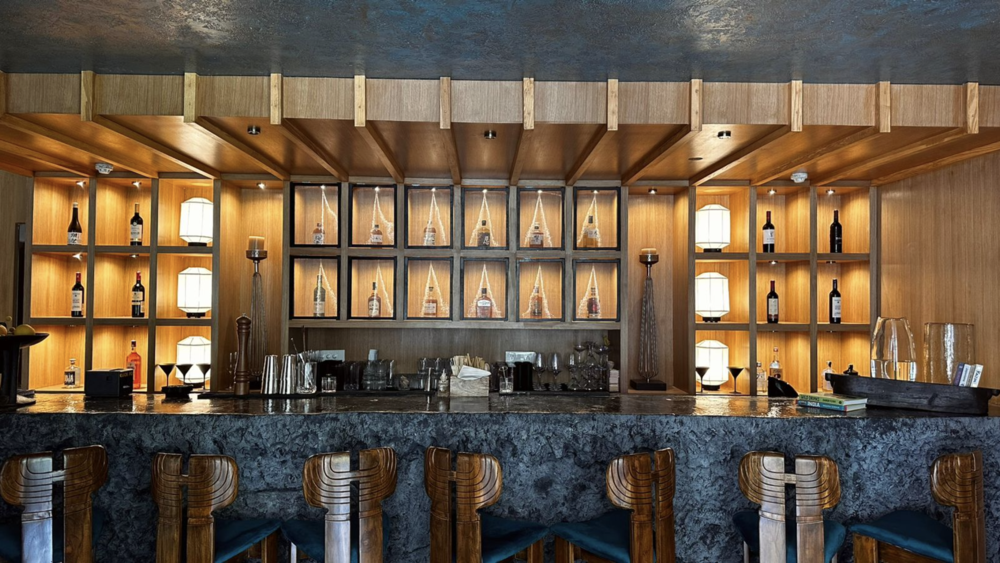 Inja
Mahendra is the managing director of Atelier House Hospitality, and Anantwar previously helmed the group's Mohalla restaurants in Dubai and Saudi Arabia. Today, he's cooking up an exciting fusion menu of dishes, including 'lobster rasam chawanmushi', a silky savoury egg custard concealing lightly spiced lobster, and 'buff tataki', using water buffalo in place of cow, an animal considered sacred in India.
The 'buff' is sliced razor-thin and melts on the tongue, leaving the sweet ponzu dressing to pleasantly linger. Testament to Anantwar's prowess, despite a packed culinary agenda, I return to Inja the same weekend for a second portion of buff.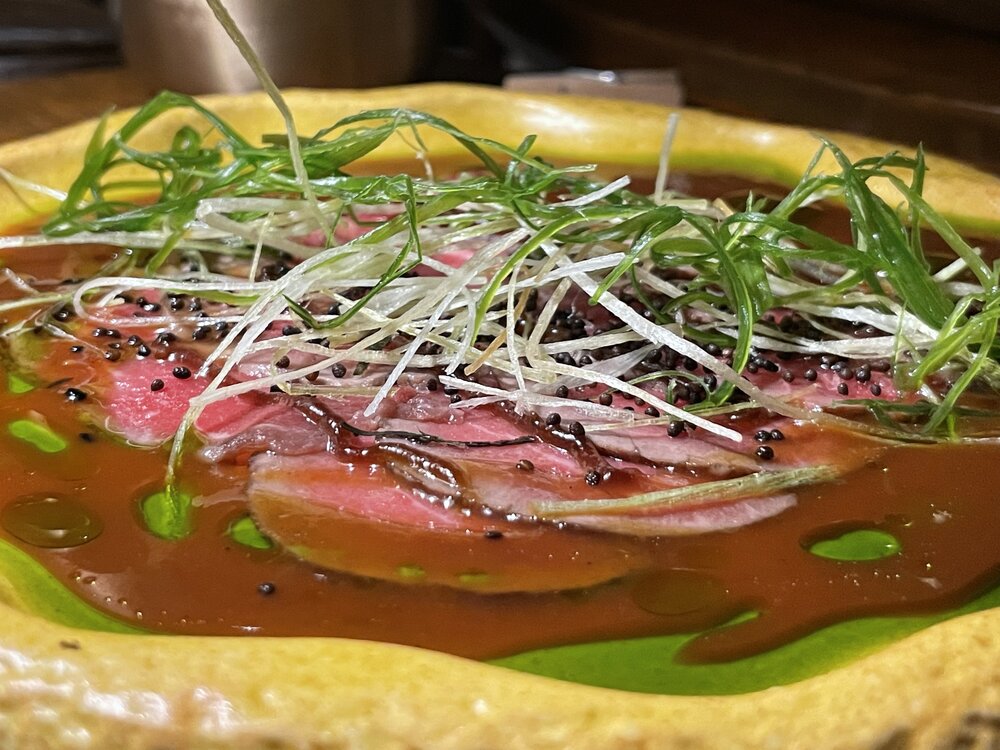 Buff tataki, Inja
By day, I lunched at Bukhara, following in the footsteps of actors, sports stars and politicians who have gone before me, among them Arnold Schwarzenegger, Roger Federer and Bill Clinton.
Nestled within the esteemed ITC Maurya hotel, Bukhara has barely changed its menu in almost 40 years – and thank heaven for that. The food is sublime. I've never tasted paneer like it; in fact, I've never tasted paneer I liked – until Bukhara. Previously, the curdled milk cheese lacked appeal, but in Bukhara's tandoor grill, the generously cut and lightly seasoned cubes of light, airy paneer were perfection.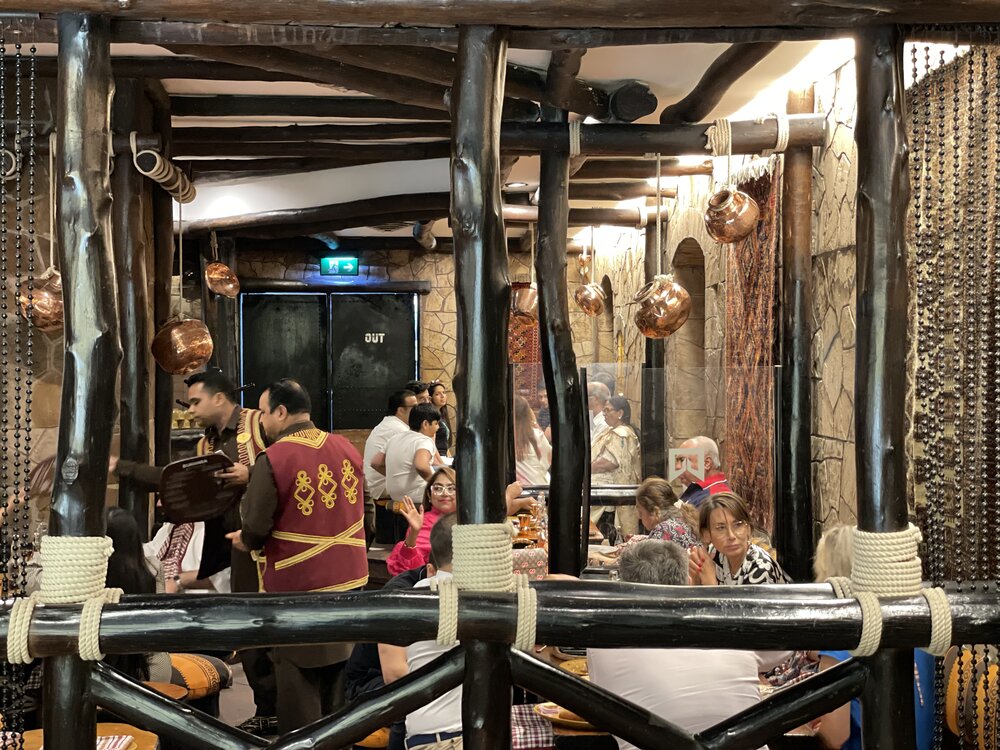 Bukhara
Other tandoor-caressed wonders include the very jumbo prawns. The signature buttery Bukhara dahl is legendary, served with naan bread the size and shape of stingrays. Cutlery isn't provided, but aprons are. Finger-licking fun times are guaranteed.
Advance booking is essential; Bukhara is always packed
My epicurean pilgrimage to New Delhi was made complete with a street food tour. Delhi Food Walks (@delhifoodwalks) led me on a merry path through the capital's insanely chaotic avenues and alleyways, accompanied by a symphony of sizzling pans, honking horns and insistent hawkers. From sweet sticky coils of deep-fried jalebi batter to piping-hot paratha breads in an array of flavours, from carrot and cashew nut to lemon, the carefully curated journey was a sumptuous education. New Delhi was delicious, and I'm ready to enrol for my next course.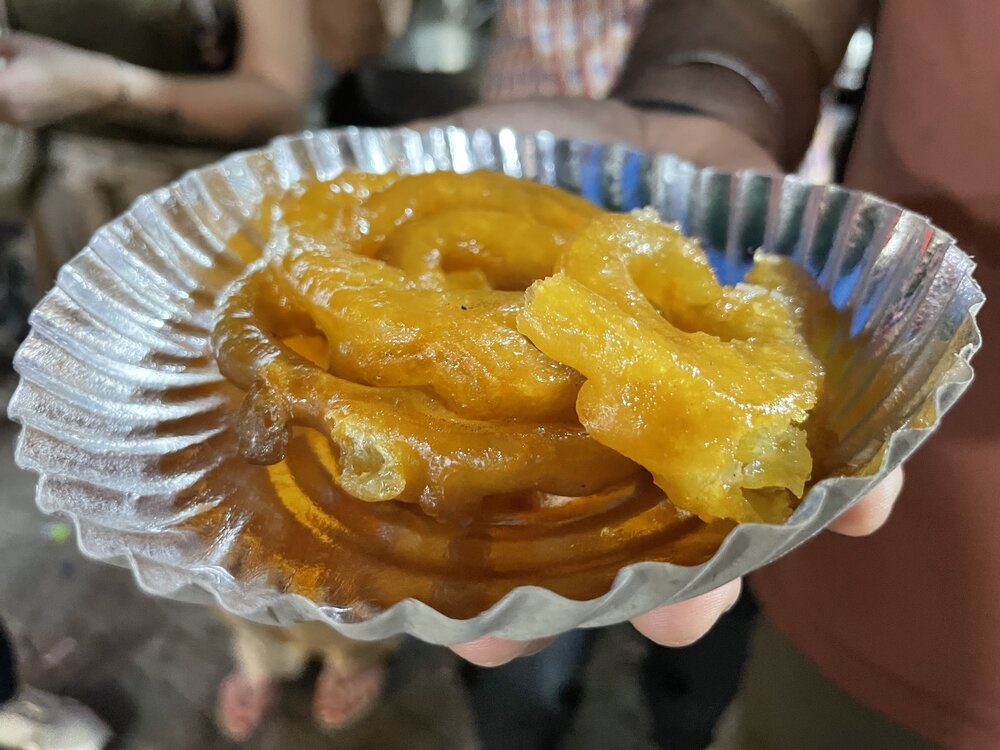 Jalebi
---
Where to Stay
Inja occupies part of the Manor Hotel (www.themanordelhi.com) in the exclusive and leafy New Friends Colony. The refurbished 1950s property was once home to Indian Accent before it relocated to the ultra-luxury Lodhi hotel (www.thelodhi.com) on Lodhi Road. The landmark ITC Maurya (www.itchotels.com/in/en/itcmaurya-new-delhi) is a gourmet destination encompassing multiple reputable restaurants, among them Bukhara and Dum Pukht biriyani specialists. All three hotels are solid options for a foodie's sleepover.