From May 2024, it will become the only ship in the region with two helicopters on board
Offering the most comprehensive helicopter programme in the Kimberley in Western Australia, Scenic Eclipse II aims to set a new benchmark in ultra-luxury cruising in 2024.
The new Discovery Yacht will sail the region with two state-of-the-art on-board helicopters, each capable of carrying up to six passengers.
As the only ship in the region with two helicopters on board, Scenic Eclipse II will offer unparalleled exploration in one of the world's most rugged and remote destinations. Guests will have unparalleled access to the wonders of this remarkable wilderness with a more extensive range of 'flightseeing' excursions than any other cruise operator can offer.
Scenic Eclipse II 's Airbus H130-T2 helicopters set new standards for tourism. With a spacious, air-conditioned interior and large windows, guests are fully immersed in the environment.
RELATED:
Airing of Antarctica TV documentary boosts Scenic sales
Starlink high-speed internet added to Scenic ocean ships
Where to go on a warm weather expedition cruise
Airbus H130-T2 helicopters are also the quietest helicopters in the sky and feature BOSE noise-cancelling headsets for optimal comfort.
With no need for transfers to an external operator and simultaneous landings and departures of both helicopters direct from the ship, guests have more time to spend in the air or at their destination.
On each voyage, the flightseeing programme will be complemented by up to 10 helicopter excursions, designed by director of Discovery Operations Jason Flesher.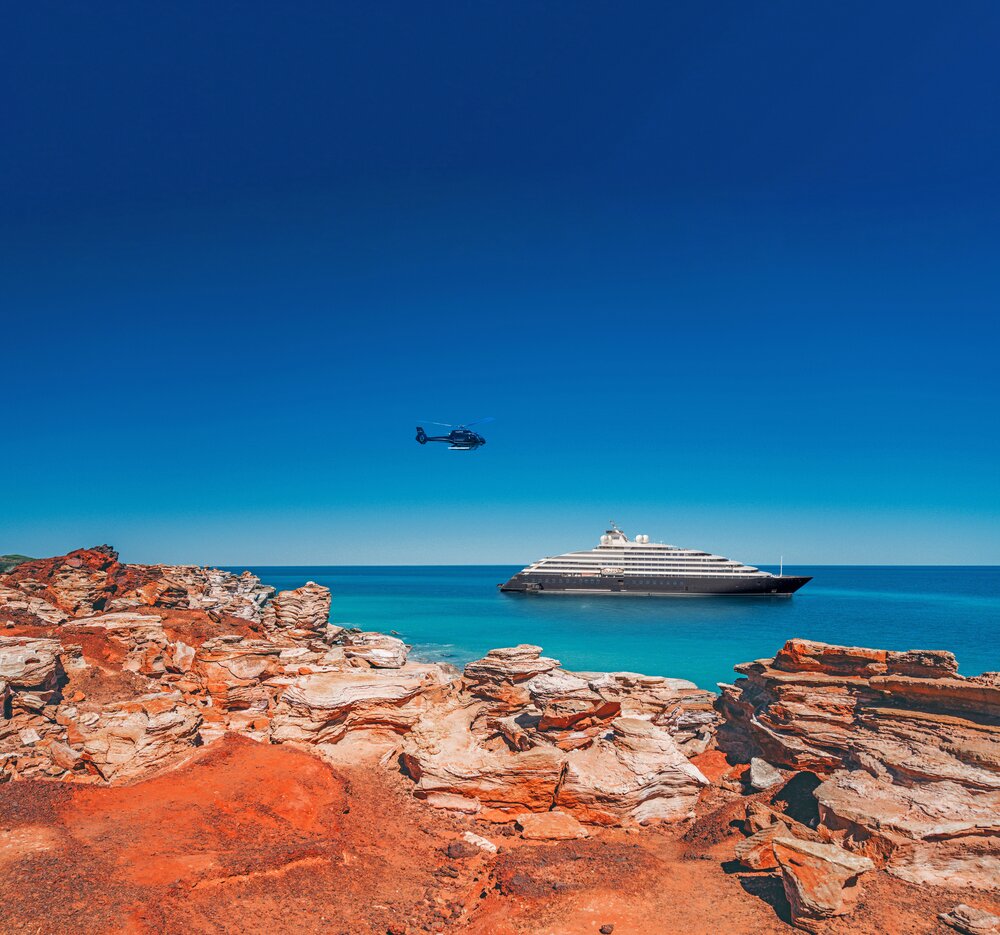 Guests can choose from 10 helicopter excursions
Flesher commented: "The Kimberley is truly an awe-inspiring experience. It's the hidden tropical jewel of the world. The only way to truly encompass all it is willing to reveal is by helicopters, direct from the ship, which only Scenic Eclipse II can offer."
The knowledgeable pilots will also be trained by a Kimberley expert who has been flying in the region for more than 13 years and will provide insightful commentary on every excursion.
Flightseeing tours will span the King George River and Horizontal Falls, visits to remote indigenous communities, landings at Darwin Aviation Museum and Willie Creek Pearl Farm for VIP touring and the strikingly remote Buccaneer Archipelago and Lacepede Islands.
GET YOUR FREE TRAVEL & TOURISM INSIGHT REPORT PRODUCED IN ASSOCIATION WITH DELOITTE
Barramundi fishing expeditions and private beach picnics will also be on offer, complete with expert guides and delicious fare from the Scenic Eclipse II galley.
Guests will also have the opportunity to create their own journeys, chartering the helicopters for private flightseeing and their own specialised tours.
Scenic has also announced that Mike Cusack will lead the Scenic Eclipse Discovery Team for the Kimberley season. Cusack, an award-winning wilderness expert with a passion for Australia's Northwest, has been guiding for more than three decades. He will be joined by marine biologists, wildlife veterinarians, historians, naturalists, geologists and ornithologists, making up a world-class Discovery Team.
Scenic Eclipse II Helicopter Excursions:
Darwin Aviation Museum Transfer: Discover the azure waters and striking landscapes that surround the Northern Territory's capital and enjoy a private tour of the excellent Darwin Aviation Museum. (Available for departing or arriving guests)
King George River Flightseeing (30min): See the King George River from above, be awed by the twin 100m waterfalls of King George Falls and spot marine life in Koolama Bay.
Hunter River and Mitchell Falls Flightseeing (30min): Admire the Upper and Lower Mitchell Falls cutting through an incredible gorge system, then fly over the rainforest and vast eucalypts on the Mitchell Plateau.
Talbot Bay, Buccaneer Archipelago and Horizontal Falls Flightseeing (40min): Fly over the 800 islands of the Buccaneer Archipelago, look for whales in Talbot Bay and hover above Kimberley's most famous landmark, the breathtaking Horizontal Falls.
General Flightseeing: Gain a unique perspective on the stunning landscapes of the Kimberley Coast with a custom flightseeing excursion. Available throughout the voyage and includes expert commentary from the pilot and guides.
Buccaneer Archipelago Landing (2.5hr): Fly over the beautiful Bucccaneer Archipelago and land at the remote Ardyaloon community on the Dampier Peninsula. Visit Ardyaloon Hatchery to feed barramundi or pat green turtles.
Lacepede Islands Landing (2hr 40min): A flight transfer over the stunning Coulomb Nature Reserve followed by an exclusive private tour of Willie Creek Pearl Farm, complete with champagne and the chance to open an oyster.
Helicopter Fishing (half-day): Catch the legendary barramundi in the pristine waters of the Kimberley. Suitable for both novices and experts and accompanied by an expert fishing guide.
Remote Beach Landing & Picnic (3hr): Accompanied by an expert guide, take a 15 min flight to an isolated beach to spend 2.5hr relaxing in superb scenery with a luxe picnic basket provided by the on-board chefs.
Helicopter Charter: Charter one or both helicopters for a private adventure. Enjoy bespoke flightseeing tours, photography expeditions, remote landings (pending permits) and special celebrations.
Between May and August 2024, 12 departures of the 11-day Discover the Kimberley Coastline: An Ancient Wilderness itinerary will be sailing between Darwin and Broome. The all-inclusive Kimberley voyages start from US$12,200 per person with savings up to US$1,300.
For more information, visit www.scenic.eu