Clare Vooght
explores the White Continent on Silversea's Silver Endeavour
A big, fat, blubbery elephant seal hauls himself along the rocks in effortful increments, rippling with every move. Finding just the right flat stone to rest his chin on, he settles there like an overstuffed sausage, eyeing us as we pass.
Orange-beaked gentoo penguins clumsily pick past the seals, occasionally toppling over on the ice. This is spring on Robert Island – our first Antarctic stop on Silversea Cruises' new ship Silver Endeavour – where the penguins are busy building their nests out of small rocks and incubating their eggs.
Penguin Parade
As one penguin approaches her mate, she tilts her head to the sky and calls out, a braying, squawking sound. "That's the changing of the guard," says our ornithologist guide Clouds, as the pair switch places on the nest. In a continent that's sparsely dotted with research stations and military bases – where no one lives permanently, and which spends entire winters in darkness without flights in or out – the wildlife is where the personality is.
The waddling, toppling penguins are the stars of the show: clumsy on land, but graceful and swift in the water, swimming at up to 22 miles per hour
During our time sailing around the Antarctic Peninsula I spot countless penguins from my cabin and from the Zodiacs – heads gliding above the surface of the water, before disappearing into inky blue waves.
And then there are the albatrosses, riding the winds above the swells, the dozing seals floating on icebergs, and the occasional flick of a whale's tail from the window, spotted while enjoying an evening cocktail in the ship's Observation Lounge.
Silver Endeavour – an impressive ship, inside and out, that sailed briefly as Crystal Endeavour before being acquired by Silversea – made light work of getting here. While the journey from Chile usually takes two days, our Drake Passage crossing from Puerto Williams handled the notoriously rough seas in just 36 hours.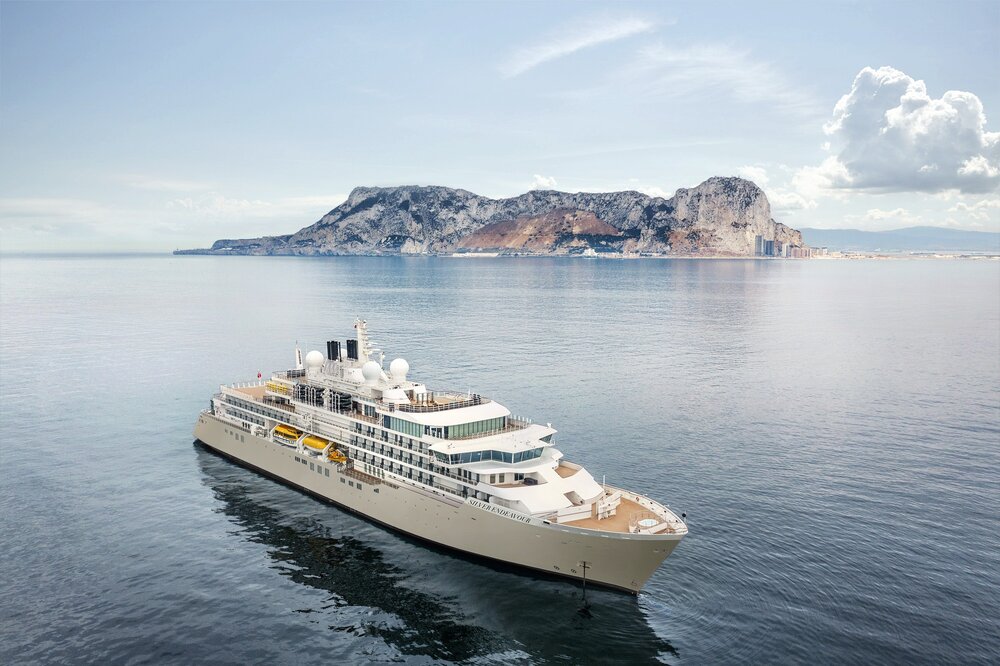 Air Bridge
As of our November sailing, though, Endeavour has been Antarctica-based, replacing Silver Explorer at King George Island. This move has increased the line's 'air bridge' capacity from 140 to 200, for guests who prefer to skip the days at sea and fly straight from Chile.
"The air bridge means you can do a full holiday – including six nights in Antarctica – in 10 or 11 days. It's about four days horter than if you were to do it by the traditional Drake Passage," says Peter Shanks, Silversea's managing director for the UK and Ireland. "We do it in our own private charter business-class aircraft.
RELATED:
Oceania Cruises announces new Mediterranean sailings for 2024
Oceania launches Simply MORE pricing programme
Oceania Cruises launches rare wine collection
Two hours, straight onto the runway at King George Island, straight off the runway into the Zodiacs, onto the ship and the same on return. It's perfect for those who don't have much time, but can afford that luxury experience." Shanks's top tip is to encourage guests taking the air bridge option not to book their own flights to King George Island to join the ship.
As plans can move at the last minute in Antarctica due to the unpredictable weather, booking a door-to-door package through Silversea means the line takes care of any last-minute changes.
Sense of Adventure
The need to be flexible and roll with any itinerary changes is something we experience first hand. The stellar expedition team on Endeavour plan each day the night before to avoid stormy weather, meaning we always leave the ship in safe, calm conditions. And frankly, being surprised each evening with news of where we'd be heading the next day made it all the more of an adventure.
Days in Antarctica unfold with moments that can't be planned, such as a plucky penguin stopping us in our tracks at Neko Harbour, flippers out, blocking our path to curiously size us up, or waking up to the coral and magenta glow of a 3am sunrise behind snow-hugged mountains, en route to the Lemaire Channel.
You can, however, bank on spectacular scenery wherever you go: snow-enveloped peaks soaring up from ice-blue waters; bobbing icebergs in all directions, whittled into all shapes and sizes by swells; and otherworldly white landscapes, thick with thousands of years' worth of compacted snow and ice.
It all reminds you of the continent's sheer remoteness, while nothing compares to the feeling of awe when you step onto the Antarctic mainland for the first time.
It's a feeling that more people will have the chance to experience as more cruise lines launch expedition vessels and capacity to the region increases.
There are currently 54 sites that cruise ships visit across the 800-mile-long Antarctic Peninsula, the northernmost tip of the vast White Continent, and Silversea is scouting out more sites for passenger visits, to spread out the lines' operations in the region and to ensure nowhere is overcrowded. Quite right too: travelling responsibly is something that's impossible to ignore here.
GET YOUR FREE TRAVEL & TOURISM INSIGHT REPORT PRODUCED IN ASSOCIATION WITH DELOITTE
Because the wildlife that thrives in this extreme-yet-beautiful landscape is truly something special – from those blubbery seals and majestic, cresting whales, to the clumsy, heart-melting penguins that couple up for life here and raise their fuzzball chicks, against all the odds.