Fine dining, spa treatments and island excursions wow Samantha Mayling
"Now, I've had the time of my life…" As the Dirty Dancing hit blasted out from the speedboat's speakers, we all sang in unison and toasted each other with bottles of Piton Beer. Brewed in Saint Lucia, its logo features the iconic volcanic twin peaks of Gros Piton and Petit Piton, the duo that formed the dramatic backdrop for one of many memorable experiences during a week-long cruise on P&O Cruises' newest ship, Arvia.
Just over halfway through my island-hopping Caribbean holiday, I was indeed having the time of my life. I'd joined the ship in Antigua and quickly embraced the West Indian vibe, thanks to speedy immigration and boarding processes. Despite hosting up to 5,200 guests and 1,800 crew, Arvia doesn't feel overcrowded.
About the Boat
There are more than 30 eateries and bars offering a huge variety of dining options, from fish and chips in The Quays and wild mushroom and black truffle arancini and pavé of line-caught sea bass in the Limelight Club to juicy steaks in the Keel and Cow gastropub and stylish Indian cuisine in Sindhu.
Entertainment ranges from silent discos in the atrium to jazz vibes in the 710 Club (created by Gary Barlow), drag act La Voix, music and comedy in the Headliners Theatre and song-and-dance show Play in the SkyDome, and Arvia features several P&O Cruises firsts, such as the high-ropes in the Altitude activity zone, a rum distillery and retractable SkyDome roof.
RELATED:
Explora Journeys takes delivery of Explora I
Explora Journeys unveils Owner's Residence on Explora I
Explora I unveils gourmet attractions ahead of inaugural cruise
Gleaning tips from fellow passengers, I'm told to try people-watching in the Grand Atrium and getting a free breakfast on room service. Main restaurants Zenith and Meridian, plus others such as the US-themed 6th Street Diner are all included in the fare, while speciality options are available for a supplement.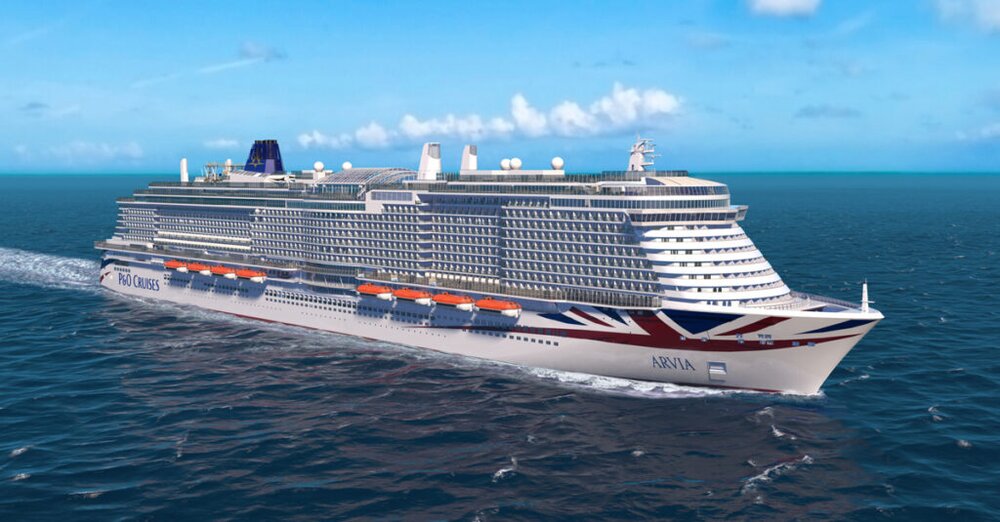 I was keen to experience some of the dining spaces and give my tastebuds some TLC so I started at fine-dining restaurant The Glass House. Here, I sipped wine chosen by TV wine expert Olly Smith and nibbled cheese from Blur bassist-turned-cheesemaker Alex James – both 'Food Heroes' for the British cruise line.
All Aboard: Days at Sea
The following day was a full day at sea, so I indulged in a Swedish massage, chatting to Polish masseuse Anna while gazing at the Caribbean gliding by the spa window. I then headed to the Retreat, where passengers can pay extra to access a premium VIP open-air deck area.
Later, at Brodie's bar, I chatted to footie fans watching Premier League matches in their shorts and flip-flops. There's so much to do on board that time at sea passes quickly, and new activities are added regularly.
In the new Mission Control escape game (fees apply), I tried out fictional submarine roles, such as navigator and oceanologist, to solve a mystery. This activity would be ideal for families with kids. But excursions and the chance to explore a range of Caribbean islands were my main focus.
RELATED:
Oceania Cruises announces new Mediterranean sailings for 2024
Oceania launches Simply MORE pricing programme
Oceania Cruises launches rare wine collection
At our first port of call, St Kitts, I joined a catamaran excursion to Peninsula Cove and Shitten Bay for snorkelling and the chance to see parrotfish and sergeant major fish darting about the coral and sponges. Lunch at the Chrishi Beach Club on sister island Nevis offered eye-catching views of the Love Shack bar and a deserted beach.
The next day, I joined an excursion on the French island of Martinique, noted for its Gallic architecture, French signs, food market and Creole cuisine. On a catamaran cruise we spotted a pod of dolphins leaping over the waves, then snorkelled amid shoals of tropical fish, while pelicans circled above, looking more like pterodactyls than sea birds.




Location Scouting
Our third port of call, Saint Lucia, brought a change of pace, from the relaxed catamaran vibe to the adrenaline rush on a speedboat towards the island's most famous site, the Pitons. Stopping at Sugar Beach Resort in Soufrière gave us a spectacular view of both peaks, which can be climbed on an excursion.
I opted for more leisurely snorkelling – adding cuttlefish to my tally of marine life spotted – then lunch at Dasheene restaurant at Ladera Resort, where red-throated lesser Antillean bullfinches foraged for crumbs, while we gazed at the Pitons.
GET YOUR FREE TRAVEL & TOURISM INSIGHT REPORT PRODUCED IN ASSOCIATION WITH DELOITTE
Back on the speedboat, our crew gave us a thrill ride punctuated by some laid-back pootling past pretty pastel houses clinging to the clifftops and tranquil beaches framed by lush rainforest. We spotted the Love Arch, featured in Pirates of the Caribbean, before arriving in Marigot Bay – the location for more movies such as Doctor Doolittle and Blue Lagoon.
The mega yachts moored here were evidence of the bay's appeal to not just location scouts but millionaires and stars such as Kevin Hart and Serena Williams. Our final port of call was Bridgetown, Barbados, where an island tour took us past the famous cricket ground, the Kensington Oval, and Rihanna Drive – named after the pop star to mark the location of her childhood home.
Along the way our driver told us about Bajan fauna, such as mongooses and monkeys, and pointed out flora, including pawpaw, sugar cane, breadfruit, avocado and mango trees – plus the long, hanging aerial roots of the banyan tree, which look like a beard and prompted the name of the island: Los Barbados, meaning the bearded ones.




A quick yoga session at Eco Lifestyle + Lodge was followed by a dish of creamy butter cassava, then it was back to Bridgetown for a tour and tasting at Mount Gay rum distillery, the oldest running rum distillery in the world.
An idyllic day was rounded off with a sunset cruise, with a shipwreck snorkel to see turtles up close, followed by dinner at a farm-to-table restaurant, Local & Co in Speightstown, which specialises in sustainable, locally produced food. At tables overlooking the sandy beach, it was a perfect spot from which to dip our toes in the warm waters and reflect on the time of our lives.