Tamara Hinson takes a cruise on the line's newest ship, the 199-guest Ultramarine
Just three days into my seven-day sailing around Spitsbergen, the largest and the only permanently populated island of the Svalbard archipelago in northern Norway, expedition leader Bertie interrupts my lunch to inform me that "our fifth bear has just put in an appearance".
For a moment, I fear for the walrus I spotted minutes earlier, recalling our first day, when – hours after sailing out of Longyearbyen, which is the starting and finishing point for our cruise – we watched wide-eyed as a bear feasted on the bloodied carcass of a bearded seal.
The bear, like the other creatures we spot, is nonplussed by our presence. The 102-cabin Ultramarine, which set sail on its first Arctic cruise in late 2021, is one of the quietest expedition ships at sea. Additionally, staff avoid making announcements over the Tannoy when wildlife is nearby. If it's late at night, they'll telephone individual cabins.
SEARCH HURTIGRUTEN EXPEDITION CRUISES
My first polar bear alarm call came on the first evening, after which I threw on my parka and dashed to the top deck to gawp at the huge bear lounging on a distant ice floe. Bog-standard wake-up calls suddenly seemed rather boring.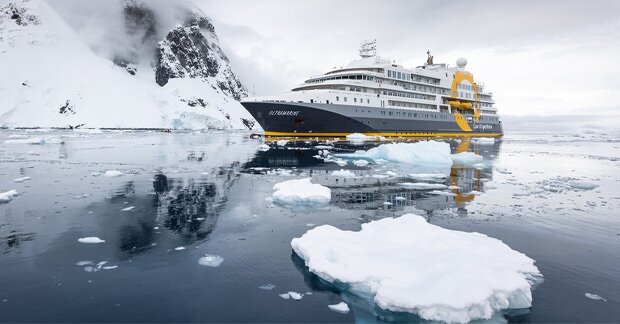 Quark Expeditions' newest ship offers a lavish take on traditional expedition vessels. Unexpected perks include the underfloor heating in my bathroom and the nightly turndown service (standard in all cabins), which includes chocolates on the pillow and a menagerie of towel animals.
Ultramarine looks and feels incredibly luxurious, although there's no doubt it's been built with Arctic explorers in mind. Areas such as the two 'ready rooms', where passengers don their expedition gear, offer much more room to manoeuvre than similar areas on other ships of this size.
Designers have gone all out to make the most of the views, whether it's with the wraparound deck on level five, the glass-walled Panorama Lounge and Bar or the floor-to-ceiling windows in the spa, sauna and gym, which is one of the largest I've come across on an expedition-style ship.
RELATED:
Royal Caribbean Group to implement Starlink for enhanced connectivity on board
Windstar Cruises adds Middle East to sailing schedule
Ponant launches summer 2024 Arctic sailings
Creature Comforts
The 102 cabins are split between nine categories, ranging from the solo Panorama Cabins (which measure an impressive 132 square feet) to the sprawling Ultra Suite.
Beyond the cabins, which all have either huge windows or balconies, there's a wonderful sense of space; hallways and corridors, adorned with beautiful monochrome murals depicting Arctic wildlife, seem wider than usual.
Meals are sumptuous affairs – buffet-style breakfasts and lunches, and a three-course dinner, which includes red and white wine. Standout dishes include a delicious tuna tartare and a seafood paella.
The one night when we're warned of rough seas serves as a brilliant reminder of the ship's innovative design – the captain announces that stabilisers have been deployed to reduce the vessel's movement, which turns out to be minimal, despite the frothing waves outside my window.
There's plenty of tech elsewhere too, whether it's the supersized, high-definition projectors in the theatre or the Mags (Micro Auto Gasification System), which transforms waste into energy.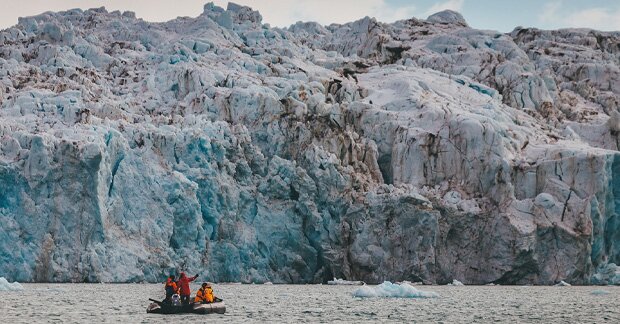 I grow to embrace the slow pace of life and enforced disconnection (a basic internet package is included as standard, although the remote location means the brief moments of connectivity allow for little more than the sending of messages, rather than emails).
One of my favourite spots is the small library, where I spend hours reading books about Arctic explorers who didn't have the luxury of heated floors and three-course meals.
There's a slick water-level hangar for the ship's 20 Zodiacs and, on the uppermost deck, two helipads, although laws imposed by the Norwegian Environment Agency mean flights aren't possible on Svalbard cruises.
Not that there's any shortage of activities. There are daily Zodiac cruises along the shoreline or among the walrus-dotted ice floes, and there's only one day when we're unable to head to dry land for guided hikes, which are divided into four groups based on the speed we wish to hike at.
WANT A NEW CAREER IN TRAVEL? CLICK HERE
In addition to Quark's legendary Polar Plunge, where passengers don swimsuits and throw themselves into the icy water, thrill seekers can sign up for a package that allows them to embark on daily guided kayaking sessions when conditions allow.
I plump for a single session. The water is as smooth as glass, disturbed only when a curious seal pops up metres from the canoe being paddled by our guide Tara.
She casually reveals that she once spent 71 days kayaking around the Svalbard archipelago, and later treats us to a fascinating talk about the experience (complete with video footage showing curious polar bears sniffing around her camp).
These nightly presentations become my favourite events, whether it's the talk by ornithologist Santiago, or the one by marine biologist and polar bear expert Grigory, who reveals polar bears can swim up to 430 miles and are often spotted in open water (probably not what people on the Polar Plunge wanted to hear).
Experts on Hand
When we're on land, the guides bring destinations to life, offering fascinating insights into the vast frozen wilderness we're sailing through.
On a Zodiac cruise along one particularly barren stretch of frozen shoreline, glaciologist Austin Hart points out the silvery sections of marble, threaded with calcite veins formed millions of years ago when glaciers shaped the region.
They're experts at noticing things I'd never have spotted, like the patch of melted snow that turns out to be the recent resting place for a reindeer, or the clump of Arctic fox fur spotted by our guide, who hands us tufts of the downy material and explains how the hollow construction of the fibres allows the animal to survive in extreme temperatures.
On a walk around the frozen wasteland of Midterhuken, we stop by a wooden hut. It's the sole remnant of Camp Millar, built in the early 1900s by the Northern Exploration Company, which came in search of gold – or so it was claimed.
We learn that the UK government gave huge amounts of money to such organisations, with the main aim not being to find gold (hardly any was mined here) but to gain a foothold in Svalbard.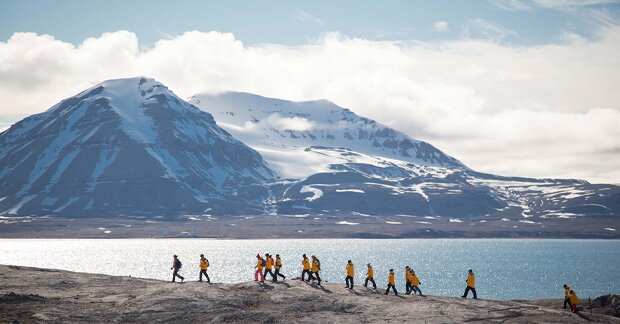 When British miners weren't present, local trappers were paid to stay in the huts and keep the Union Jack flying. In Kongsfjorden, near the Kongsbreen (Kings Glacier), the desolate landscape is littered with reminders of the geological investigations carried out by Ernest Mansfield – another Northern Exploration Company employee – between 1910 and 1920.
We're shown the hut named in his honour, and the rusting hulk of a steam train engine (built in Leicestershire) that helped cart huge chunks of marble to the shoreline.
The best bit? There's never a bad time to do an excursion like this. Clients who opt for sailings earlier in the year (one of the best times for polar bear viewings) will enjoy great views of endless expanses of sea ice, while those who sail in July stand a better chance of seeing whales and a wider range of birdlife.
Onshore excursions can be easier too, because there's less ice and snow. For me, the beauty of the Arctic landscape is its diversity – the way sheer cliffs filled with clusters of screeching kittiwakes merge into creaking glaciers the size of small towns, and the presence of unexpected reminders of the hardy, weather-beaten adventurers who mapped the region long before ships like Ultramarine sailed onto the scene.
Then again, I have a sneaking suspicion pioneers like Ernest Mansfield wouldn't have said no to some underfloor heating and a chocolate on his pillow.
Quark Expeditions' Spitsbergen Highlights sailings run in May, June and July and start from US$5,420 per person, excluding flights. For more information, visit quarkexpeditions.com
Don't Miss...
Hurtigruten's plans for fam trips and other 130th anniversary activations