Hotels moving into the cruise sector are providing new sales opportunities, says Jeannie Williamson
High-end hotels are entering previously uncharted waters with a raft of superyachts that provide an ocean-going experience mirroring their land-based offerings. Using terminology such as 'luxury lifestyle travel' and 'guests' rather than 'passengers', they're aimed at overcoming cruising stereotypes.
The Ritz-Carlton Yacht Collection
Ritz-Carlton, part of Marriott, was the first hotel brand to enter the cruise market. The Ritz-Carlton Yacht Collection launched the 298-passenger Evrima in 2022, and near-identical sister ships Ilma and Luminara will follow in 2024 and 2025.
Inspired by the sleek design of private yachts, the ships feature nearly one staff member for every guest. They also boast the highest space ratios at sea, with large suites measuring up to 1,091sq ft, five restaurants, six bars and a wine vault.
Signature spaces on Evrima include a marina for easy access to the sea while at anchor, and a Ritz-Carlton Spa
Edwina Lonsdale, managing director at Mundy Cruising, said: "For years, high-end travellers selecting the finest hotels around the world have turned their noses up at cruise, believing it to be downmarket and unsophisticated. As luxury hotel brands lend their names to new ships, the perceptions are beginning to change."
Four Seasons Yachts
Following in The Ritz-Carlton's wake is Four Seasons with the newly formed Four Seasons Yachts. The first of three 190-passenger superyachts will be unveiled in late 2025.
Lonsdale added: "These new entrants are trying to find new language to escape the 'stigma' of cruise, with lavish use of the word 'yacht' and, tellingly, Four Seasons launched its 'new category of luxury lifestyle travel' at a yacht show rather than a cruise one."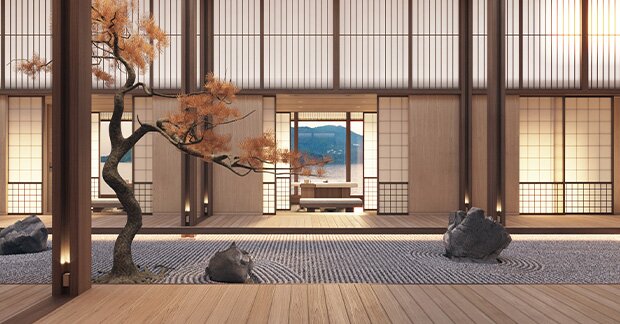 Project Sama by Aman
Project Sama is Aman Resorts' new yacht-style venture, which will also debut in 2025 with a yet-to-be-named vessel that holds 100 passengers.
Ponders Travel managing director Clare Dudley said the new hotel-brand ships could help clinch the deal with clients unsure about booking a cruise. She said: "We should all have more confidence that with these new yacht-style ships, which will replicate the well-known hotel brands, we will easily be able to make that perfect match and ensure our clients book the right cruise. They will be safe in the knowledge that they understand how the brand works and that it matches their holiday requirements."
RELATED:
Get 30% off for every guest with Royal Caribbean
Search all available cruises at the Connecting Travel Cruise Hub
Enjoy 35% discount on all NCL cruises
Complement vs Comp Set
Lonsdale said the new breed of hotel ships would complement rather than compete with high-end classic cruise lines. She said seasoned cruisers would prefer to travel farther afield to exciting off-the-beaten track destinations on other lines, while clients loyal to the hotel brands would choose the chic "on trend" ports of call that were on offer, often with overnight stays.
"The outcome will be that each group feeds into the other, which will be good for everyone, and should also bring younger family groups into the luxury market," she added.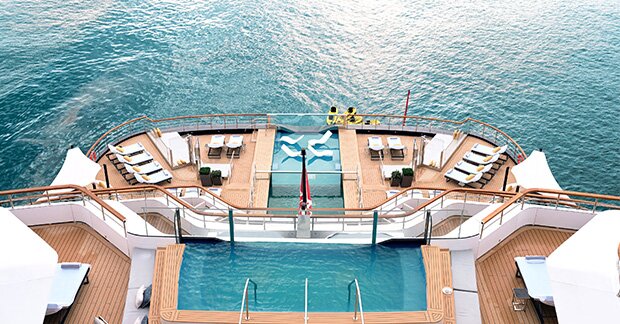 Exclusive Access to Small Mediterranean and the Caribbean
The ships will relocate to chase the sun in the Mediterranean and the Caribbean. There will be seasonal sailings, such as cruises to see the spectacular colours of autumn in New England and Canada, and culture-rich itineraries in the Baltic and Northern Europe.
The lines will moor at small and uncrowded destinations that are inaccessible to larger vessels and feature overnights and longer stays in port for an authentic taste of local culture. Meanwhile, Aman Voyages will focus on Indonesia, including one of only two islands on the planet where the famous komodo dragon – the world's largest lizard – can be found.
New Sales Opportunities
The Ritz-Carlton reported that 75% of bookings have come from new-to-cruise customers, so this provides an excellent opportunity for agents to switch-sell to clients with a track record of staying in luxury resorts. Also target existing luxe-loving cruise customers – including those who have previously booked high-end lines or stayed in ship-within-a-ship venues on mainstream lines.
Recommend these hotel brands to honeymooners and anyone celebrating an anniversary or special occasion
Agents can emphasise that these ships will offer a familiar and very similar 'lifestyle' experience that fans of these respected brands are used to. For example, passengers can expect the highest levels of service; about 50,000 people applied for 250 jobs with The Ritz-Carlton, enabling them to select the crème de la crème.
New-to-cruise clients can also combine a sailing with a stay in one of the hotels, which provides the customer with a seamless introduction to cruise. In short, these ships offer all the trappings of the world's leading hotels in a holiday that happens to be on water, with an ever-changing panorama outside the window.