Betty Wright got a surprise upgrade from single cabin to Premier Suite on dream Norwegian Fjords cruise
Fred Olsen Cruise Lines has made a dream of a lifetime come true for a centenarian who celebrated her milestone birthday on board with four generations of her family. Betty Wright described the cruise as an experience "far beyond my wildest dreams".
Commenting on her experience, Wright said: "I can't fly anymore and so we looked at alternative options. I have only ever been on a cruise ship twice before and it's always been a dream of mine to do something like this with my children, grandchildren and great grandchildren. Fred Olsen made it happen. In fact, they went above and beyond to make it an experience of a lifetime."
The team at Fred Olsen Cruise Lines arranged a surprise upgrade for Betty from her single cabin to a Premier Suite, filling her room with balloons and scattering petals on the bed.
RELATED:
Fred Olsen to host TV star Michaela Strachan on Greenland and Iceland cruise
Fred Olsen 2025 world cruise 'inspired by explorers'
Partner with cruise lines at the CT Cruise Hub
She was also treated to a private tour of the Bridge to meet the Captain, presented with birthday cards filled with messages from all the 645-strong crew and had a champagne breakfast and dinner party on her big day.
A 100-themed birthday cake was baked by the ship's galley and was given the seal of approval by Wright, who spent her life working as a baker and achieved a City and Guild's certificate for her expert cakes and breads.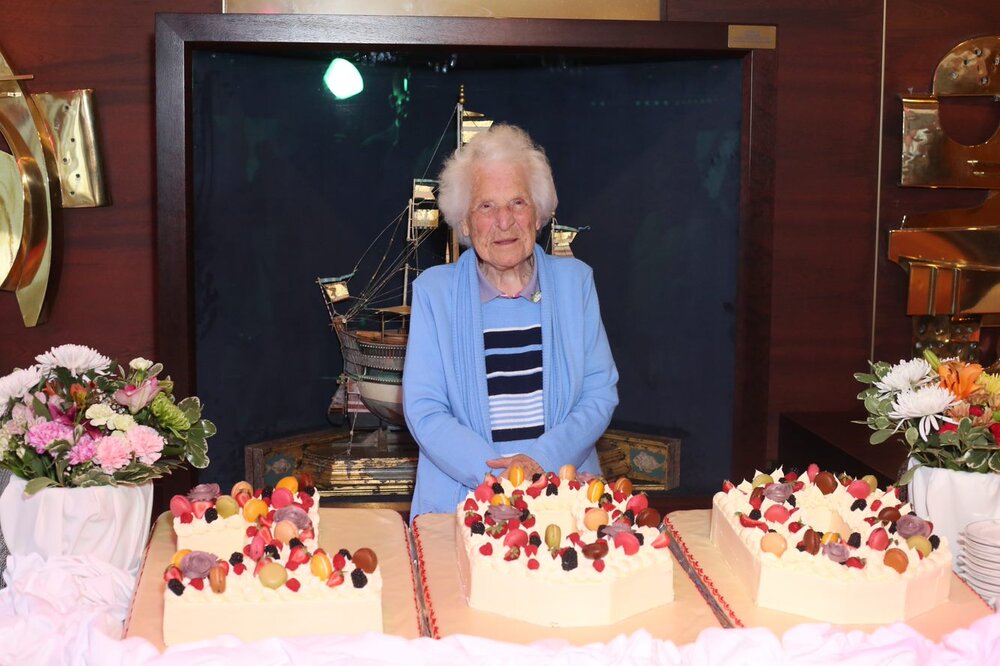 Betty Wright's 100-themed birthday cake
Wright was joined on board by her daughter Janice and husband Steve who live in the UK and her son Chris and wife Walla who live in Minnesota, USA, among other family members.
Chris said: "She has been on a cruise once before with my dad and then again with my sister and I knew how much she had loved it. We also knew how much she loves Norway. That's where the seed of an idea began. We couldn't believe there was the exact cruise she wanted to go on that coincided with her birthday."
GET YOUR FREE TRAVEL & TOURISM INSIGHT REPORT PRODUCED IN ASSOCIATION WITH DELOITTE
He added: "One of the most magical moments for me was when we checked in at the terminal and an announcement was made to everyone that Betty was in the building, and everyone applauded. I also will never forget her face when she saw her room or when she got to meet the Captain."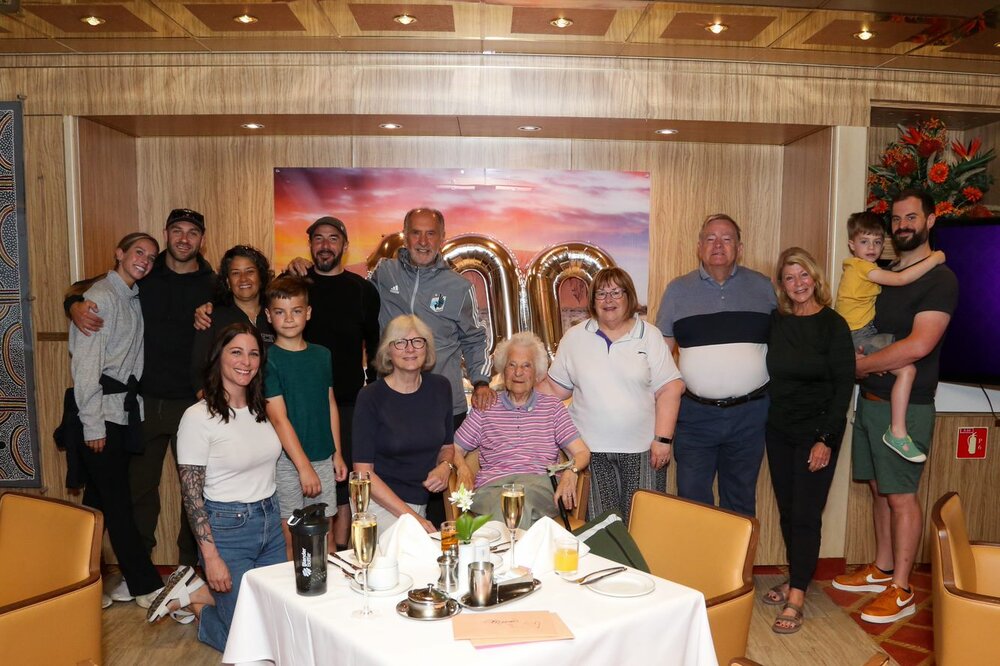 Wright celebrated her milestone birthday with her family
Throughout July and August, there are upper berth offers on a selection of sailings departing from Liverpool, Newcastle, Rosyth and Dover in the UK.
Prices start from US$130 per person for a third and fourth guest when sharing with two full fare paying guests in selected grades. Terms and conditions apply. For more information, visit www.fredolsencruises.com