Queen Mary 2 is the largest ocean liner ever built
Dubai Harbour, the emirate's new seafront district, has welcomed the iconic Queen Mary 2, the world's only ocean liner, on its Centenary World Voyage
Observing the maiden call of this spectacular vessel, Captain Hashmi met with Dubai Harbour officials in a plaque exchange ceremony, a customary maritime tradition.
During the 2022/23 cruise season, Dubai Harbour expects to welcome more than 300,000 passengers expected before June.
Queen Mary 2 is the world's only ocean liner offering regularly scheduled transatlantic crossings between New York and Southampton and remains the largest ocean liner ever built.
RELATED:
Oceania Cruises announces 20th anniversary sale
6 of the best Middle East cruises to book in February
Oceania Cruises brings forward debut of new ship
Queen Mary 2's classic British heritage and Cunard hallmarks of nostalgia, opulence, and style are present in its sweeping staircases, grand ballroom and wraparound promenade deck. With three pools, 10 restaurants, 14 decks of lounges, bars and shops, and a planetarium, she is one of the most spacious ships at sea. She also boasts the largest dance floors at sea.
Dubai Harbour is set to play a major role in rekindling the city's connection to the sea. Designed to process over 3,250 passengers per hour, the highly efficient and modern terminals at Dubai Harbour have recorded exponential growth over the past two years.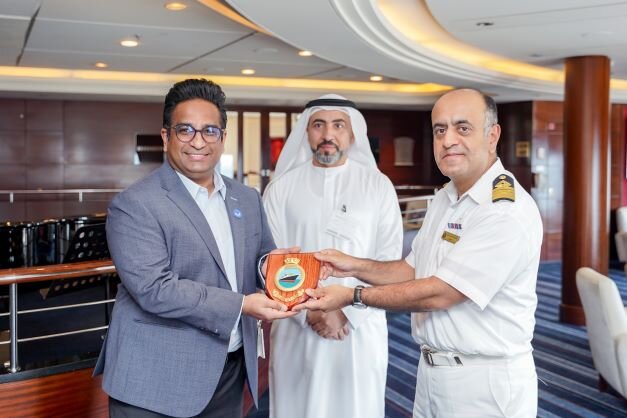 Angus Struthers, acting senior vice president of Cunard, said: "Dubai is a special place for Cunard as we briefly join the same seas as our flagship, Queen Elizabeth 2, and we are grateful for the Arabian hospitality that always gives us the warmest of welcomes.
"Dubai Harbour's highly efficient and modern terminals have helped us ensure seamless passenger turnaround, despite our shorter stay in the city, and we look forward to continuing this partnership in the coming years."
WANT A NEW CAREER IN TRAVEL? CLICK HERE
Abdulla Binhabtoor, chief portfolio management officer of Shamal Holding, the owner and curator of Dubai Harbour added: "It is with great pleasure that we welcome the Queen Mary 2 by Cunard, which is the epitome of cruising heritage and excellence.
"We are grateful for our continued collaboration as we continue to welcome iconic international cruise liners to the first ever dedicated cruise port in the region, with the largest standalone dedicated twin cruise terminal developed in the eastern hemisphere. Our maritime infrastructure has been purpose-built to provide comprehensive and easy access to and from the sea, allowing thousands of international passengers to access some of the world's most outstanding tourist attractions."