The second co-operative Middle East cruise trade event connected the region's agents and suppliers
The second edition of the Cruise Travel Mart took place on 16 March 2023 at the Shangri-La Dubai in the UAE.
The event was attended by more than 200 travel professionals and provided a platform for cruise partners, agents, airlines and ancillary suppliers to discuss business opportunities and ways to promote the emerging cruise market in the Middle East.
Supported by Spain Tourism, agencies representing various cruise lines based in Dubai came together for meaningful discussions and interactions.
Industry leaders agreed there has been a marked shift in consumer's mindsets, behaviours and preferences, which is also impacting future cruise trends and influencing the cruise lines in their product offerings. Travel agents' key takeaways included information on new hardware, ports and destinations.
RELATED:
Get 50% off NCL cruises here
Partner with cruise lines at the CT Cruise Hub
Get 30% off Royal Caribbean cruises here
The cruise industry has rebounded back with increased confidence and, using forward bookings as an indication, 2023 is set to be a profitable year.
Speaking about the event, Cruise Master's Ashok Kumar – representing Cunard, Princess Cruises and P&O Cruises – said: "Our cruise awareness day, which started in 2022, has received very positive feedback from our travel industry partners. We aim to make this an annual event and, with the support of cruise industry clients, have additional programming to engage with travel agents."
VISIT THE CONNECTING TRAVEL CRUISE HUB TO CONNECT WITH CRUISE LINES TODAY
Among the cruise lines in attendance was Norwegian Cruise Line. Rebecca Ransom, business development manager, MEA, said: "This was an insightful event for us, an opportunity to meet with agent partners, be part of the current trends conversation and see first-hand how much confidence there is in cruise, and what a fantastic year it will be for our industry.
She added: "We were delighted to see a great demand for our European 2023 sailings – in particular great interest in our latest ship, Norwegian Viva, which will launch this summer and sail the Mediterranean and, in The Haven, by Norwegian, our exclusive ship-within-a-ship concept that appeals particularly well to younger luxury clients in the Middle East and larger families ."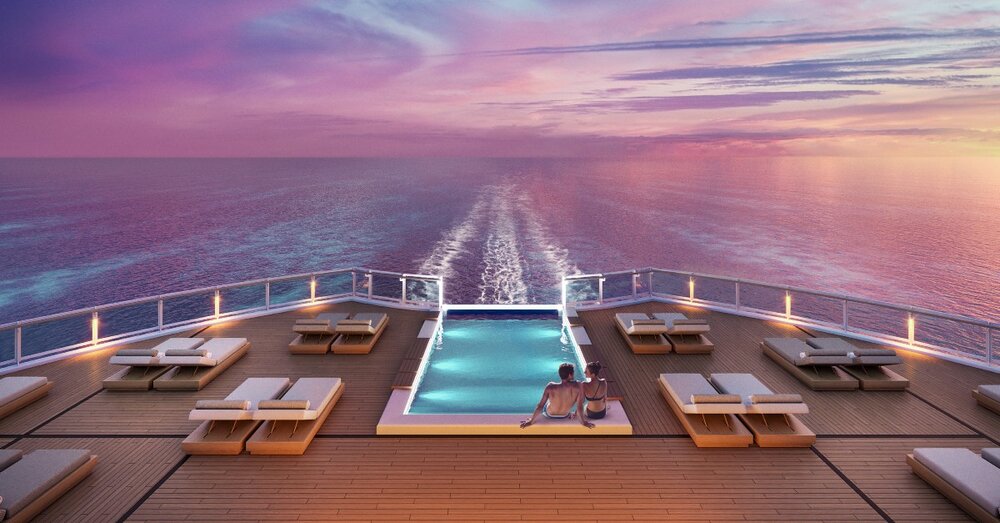 Norwegian Viva, coming soon
Also in attendance, Mohamed Saeed, managing director of Royal Caribbean Cruises International Middle East, said: "I'm thrilled to be part of Cruise Travel Mart. I want to extend my gratitude to all the trade partners for attending this event. It's been a challenging time for the cruise industry, but we're excited to be back and ready to offer an exceptional experience to the travellers".
Another key player in the Middle East cruise industry, Lakshmi Durai, CEO of CruiseXplore, representing Holland America, Seabourn and Windstar, commented: "The response to the second edition of Cruise Travel Mart has been very positive and we are glad to see the interest in learning about different cruise products by our trade partners.
"Reports show that 2023 is expected to see the continued rise of "revenge travel" and we're confident these kinds of events help create more cruise specialists in the industry, who can sell cruises confidently in the coming years."
BECOME A TRAVEL COUNSELLOR:
JOIN THE NEXT VIRTUAL DISCOVERY SESSION ONLINE
Representing Disney Cruise Line, Asif Hussain of Al Tayer Travel said that Cruise Travel Mart "is here to stay" and that travel partners were urged to "take advantage of the trendsetting all-in-one cruise vacation".
Hussain said: "Travel Agents are requested to invest their valuable time in learning more about cruise vacations to diversify their product offering to their clients and benefit from the sizeable commissions on the offer. Cruise Travel Mart and its participants are more than willing to make available e-collateral, product training sessions, joint promotions and much more to turn travel agents into cruise specialists."
Travel Counsellor Basel Atassi was one of the travel agents at the Cruise Travel Mart. He praised the event for providing the latest news and product information, and said it would inspire sales.
Don't Miss...
Learn about Hurtigruten's plans for fam trips and other 130th anniversary activations
For all the latest cruise news and features, plus a free cruise search function, visit Connecting Travel's Cruise Hub